There is nothing more idyllic than sitting in a piazza in an Italian city, enjoying the sun and eating the perfect bite of food. The only dilemma is what piazza to eat in and what food to consume. When it comes to visiting Italy, there are simply too many options. With so much variety and variation from region to region, a short stay is just not enough time to delve into the depths of each city's culinary traditions.
Luckily, in Rome, there is a way to see and eat a whole cross-section of the food without being forced to eat multiple lunches and dinners each day: Secret Food Tours.

Our daytime tour began in Piazza Navona, built on the site of the Stadium of Domitian, from the 1st century AD. We ducked into a small cafe just off the square for the late morning tradition of espresso. Our tour guide, Lorenzo, explained the traditions of coffee consumption in Italy and specifically Rome, including the steadfast rule of no cappuccino after morning time. We stood (as per tradition, as it is more expensive to sit down), and drank our cafe macchiatos, consisting of a shot of espresso with a small drop of warm milk.
As our guide instructed us, the glass of water provided with the coffee is to be taken after drinking the coffee, not before. Apparently, drinking the water first is a Naples tradition, so do as the Romans do!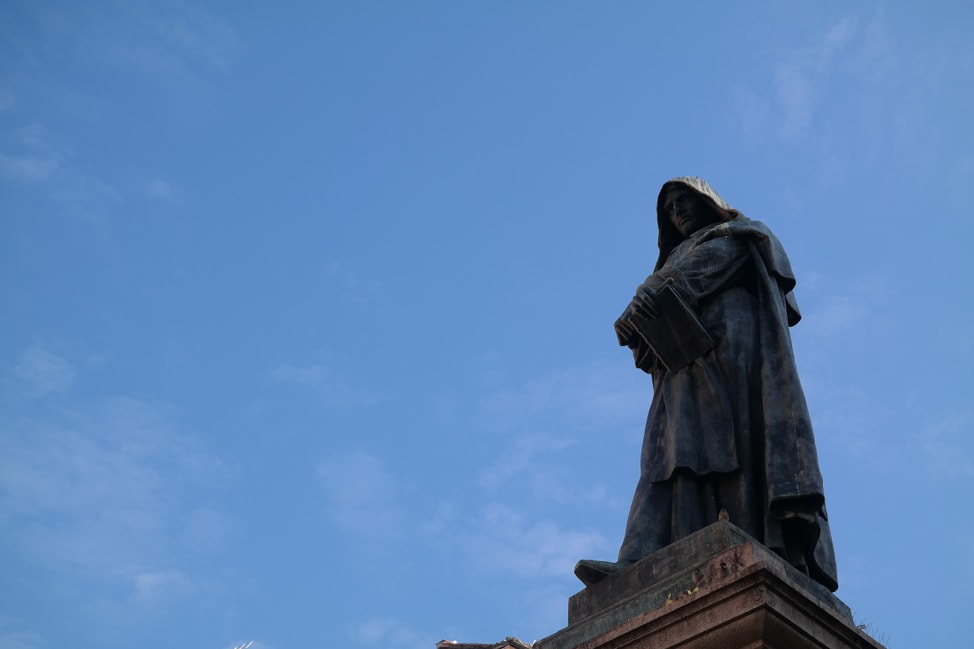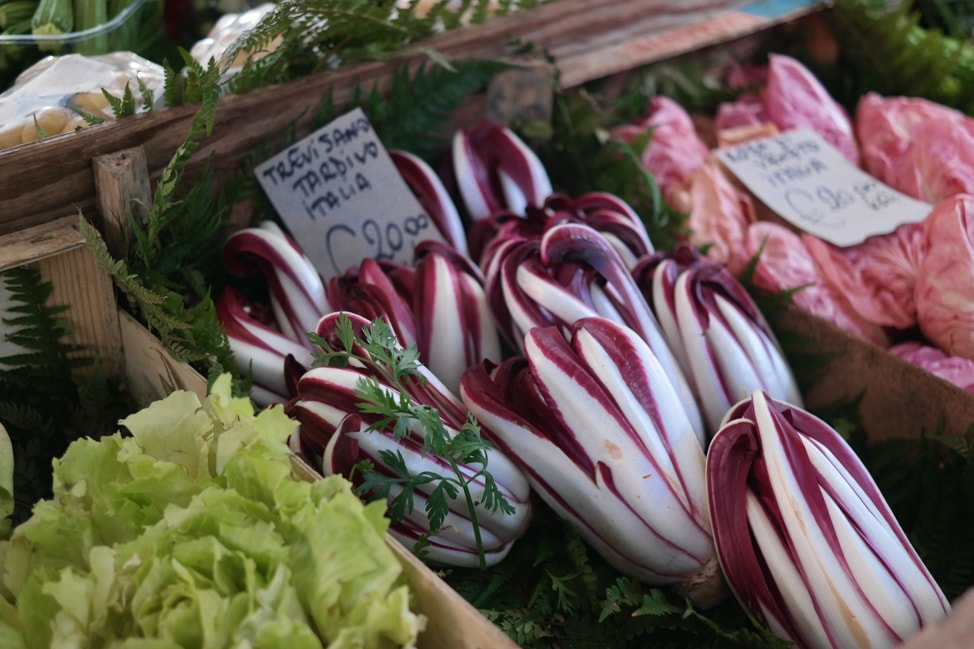 We sauntered over to Campo de' Fiori, a piazza with a bustling produce market, buzzing from our late morning caffeine boost. The market overflowed with stunning colors from a variety of fruit and vegetables. It was the height of the artichoke season, so stalls were packed with the large, colorful vegetable, as well as many hearty, winter greens like chicory. While we browsed, Lorenzo shared some of his favorite preparations when cooking at home.
We then dipped into the small pizzeria and bakery called Il Forno Campo de' Fiori, which specializes in baked goods. The small space was packed with locals, buying up loafs of bread, sweet pastries, and slices of pizza.
Roman pizza is quite different than other areas of Italy. For starters, the dough is extremely thin, with an almost cracker-like crust. The dough is shaped into a long, oblong base, then sold by weight, rather than by the slice or whole pizza. Simply inform the person behind the counter how much you want (usually involving hand gestures, since we are in Italy after all!), and they will weigh the slice and charge you accordingly.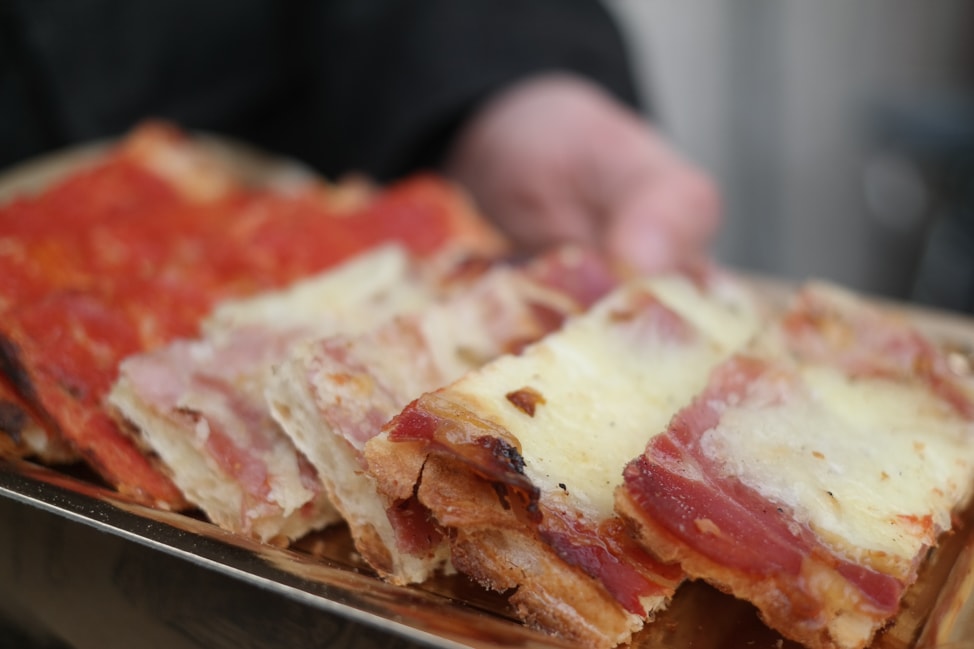 We got to try four variations, including the basic dough topped with only olive oil and salt, a marinara (just sauce), a tomato sauce and mozzarella, and a mozzarella and speck (a cured ham from northern Italy). Needless to say, they were delicious. I loved the thin, crispy base, and the Italians have a true understanding for the perfect ratio of sauce and toppings. No extra cheese pizzas here!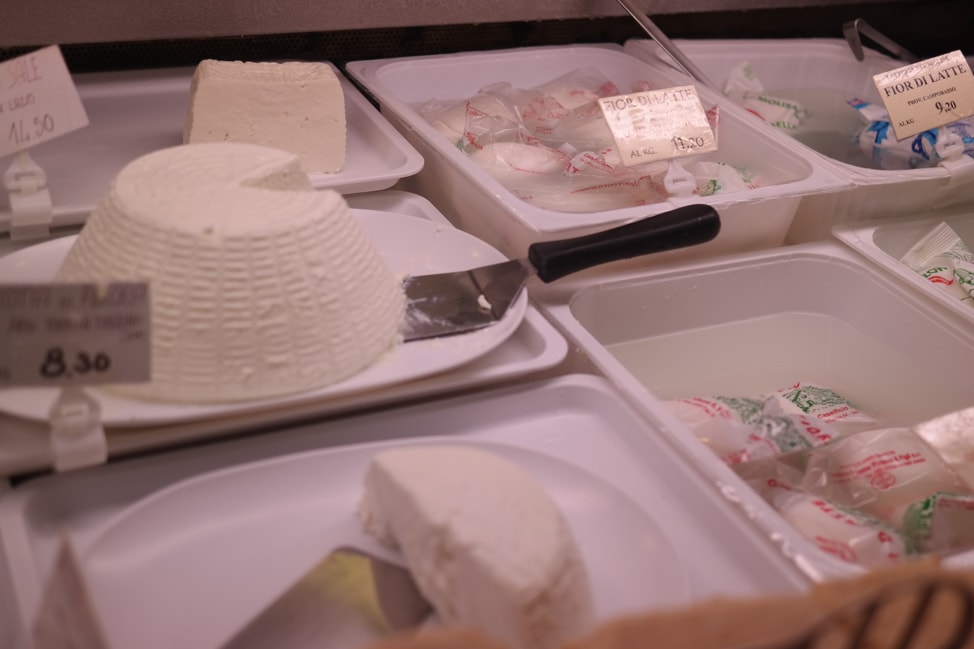 Our first of two cheese shop stops (yes, you read that right) was at Cooperativa Latte Cisternino, a cheese co-op near Campo de' Fiore that is known for its fresh varieties like ricotta and mozzarella. We learned about the history of the shop and how it is known as one of the best places in Rome to purchase burrata, the mozzerella-like cheese with a dreamy creamy center. Our guide gave us a tasting of the burrata and scamorze, a smoked version of mozzarella.
The burrata was indeed stunning, and one of the creamiest, most decadent versions I've ever tasted. I could have eaten a whole portion, no problem.
We finally got to rest our feet at Supplizio, a tiny hole-in-wall place located on a beautiful side street in Rome's Centro Storico. As we settled into the soft leather sofa, Lorenzo brought over a plate of suppli, a classic Roman snack food. Sold most often at pizzerias, Supplizio only sells suppli, offering a wide variety.
Suppli are better known outside Italy as arancini (a Sicilian creation), though suppli are slightly different, as Lorenzo told us. In Rome, the fried rice balls are cooked a little longer, so they have a darker, crunchy exterior, and they always contain mozzarella. The two classic versions are suppli rosso and suppli bianco. They are similar, with risotto rice, mixed with Parmesan, mozzarella, and an egg, but the rosso version includes tomato sauce.
If there was a suppli spot in my neighborhood that was open at 11pm after a few pints at a pub, I would be in trouble.
There was a quick break for some sweets, as we meandered down to i dolce di Nonna Vincenza for some Sicilian-inspired snacks. The mini cannoli, with its crunchy shell filled with soft, sweet, vanilla-scented cream, was an ideal bite before continuing our tour.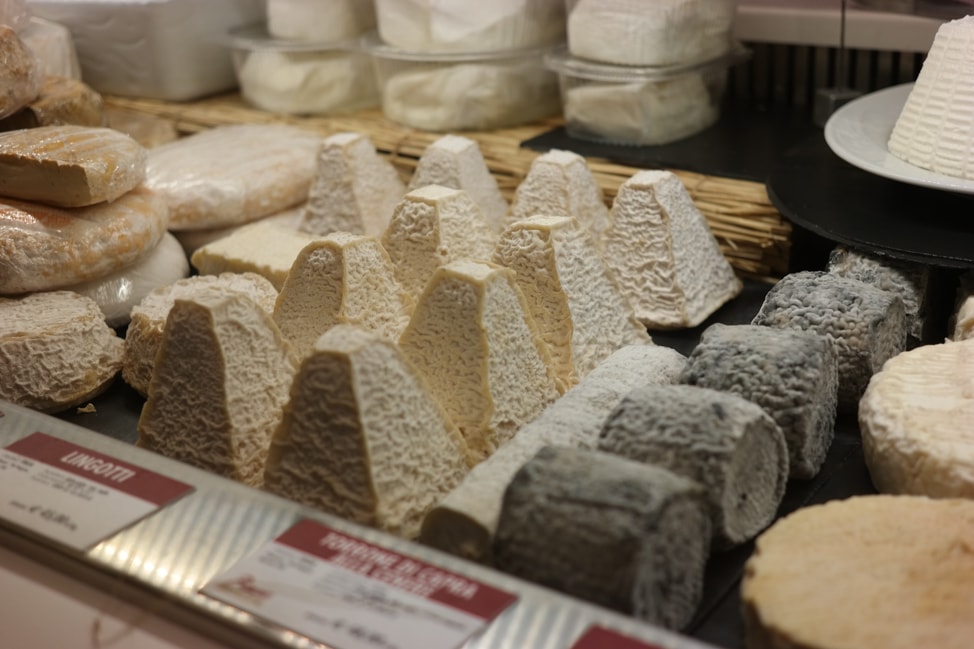 A short walk later we arrived at one of the best cheese shops in Rome, Beppe e i Suoi Formaggi for a glass of wine and a full cheese tasting. There is nothing like the smell of a quality cheese shop, a pungent aroma that hits you the second you walk in the door. The glass display case filled with creamy gorgonzola, sharp pecorino, and fresh goat cheese caused us to pause and stare.
The store lined up a slate cheeseboard with some of Italy's best cheese, as we relaxed, surrounded by an amazing selection of treats and whole legs of cured ham. Not a bad way to spend an afternoon!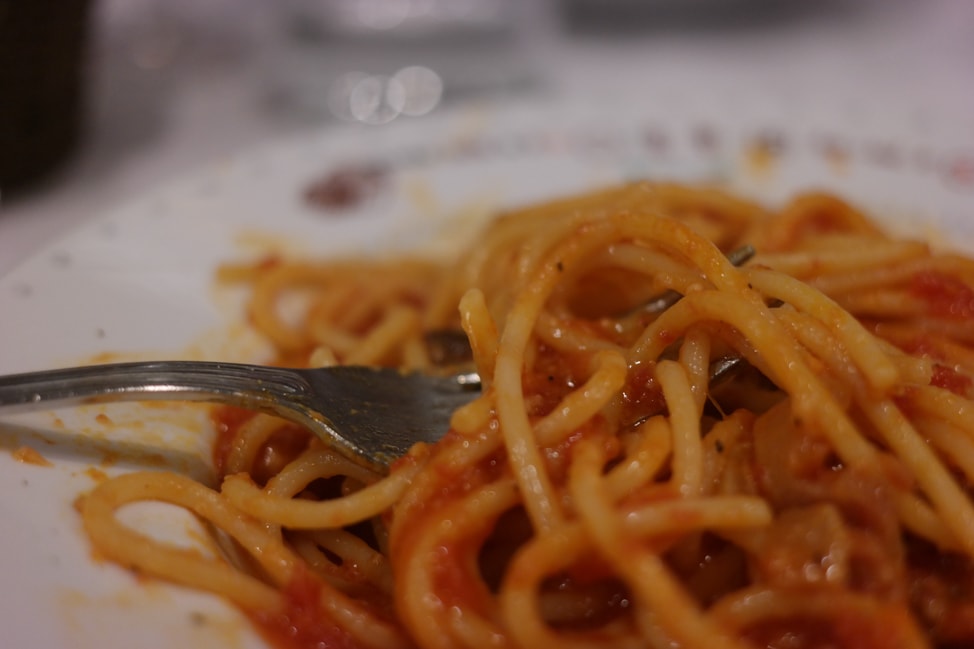 After all of this eating, it was time to get serious, with pasta. The Romans are famous for cacio e pepe (pecorino and black pepper), carbonara (guanciale, pecorino, black pepper, and egg yolks), and alla matriciana (pecorino, guanciale, and tomatoes). We sat down together at a neighborhood trattoria near the entrance to the Jewish ghetto and shared some red wine and a tasting of carbonara and alla matriciana (we had cacio e pepe the night before!) to complete our sampling of Roman pasta dishes.
We actually lost track of time, talking about life and Italy with Lorenzo and the two other people on our tour. Before we knew it, we were actually running late for our appointment to enter The Vatican Museum and Sistine Chapel.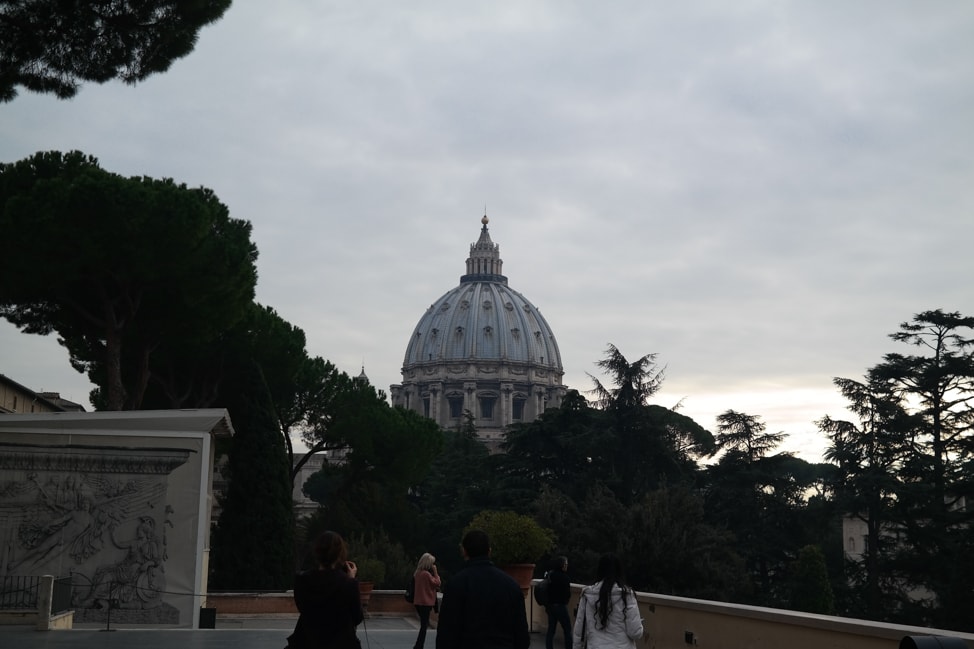 As we hustled over to The Vatican, missing the final stop for gelato, we both reflected on our tour. We got to sample a whole range of Roman staples, albeit in slightly smaller portions, all over the course of four hours. The stops weren't too quick and we didn't feel uncomfortably full afterwards, just pleasantly satisfied. Our tour guide was phenomenal, as we learned about the food history and culture of Rome, as well as a bit of general Roman history.
In a city so packed with so many tempting choices, the Secret Food Tours was a perfect way to sample small bites of some of the best bits. All of our stops were crowded with Italians, not big tour groups from foreign countries. It felt like an insider's tour of Rome.
And and don't worry. We found some gelato for ourselves later in the day!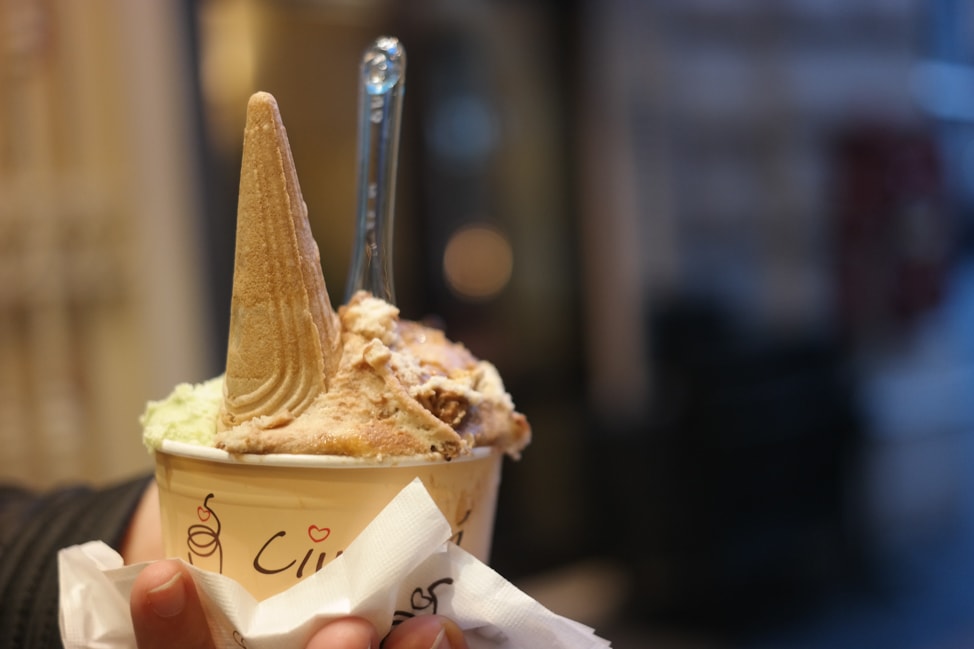 Thank you to Secret Food Tours, who provided our Rome food tour free of charge. As always, the opinions in this post are our own. Though, how could you not love eating Italian food for an afternoon?