San Sebastian, Spain is the culinary epicenter for Basque Country in Northern Spain. Many visitors come to this region for the myriad Michelin-starred restaurants, which dot this small city. With a population of just under 200,000, San Sebastian manages to pack in a combined 16 Michelin stars, including 3 of the 7 three star restaurants in all of Spain.
It is easy to get caught up in the glitz and glam of Michelin stars and high-end dining, but the real heart of Basque cuisine in San Sebastian can be found on the back streets and alleys of the Old Town, in the tiny bars with counters full of tempting treats. For me, San Sebastian is all about pintxos.
To make it easy to navigate, here is our guide to pintxos in San Sebastian!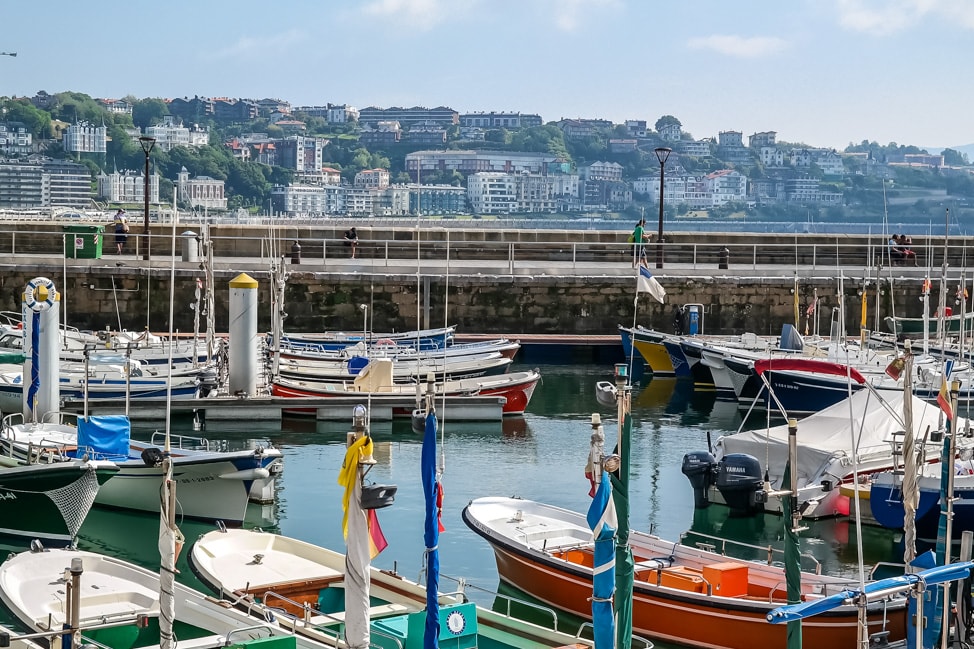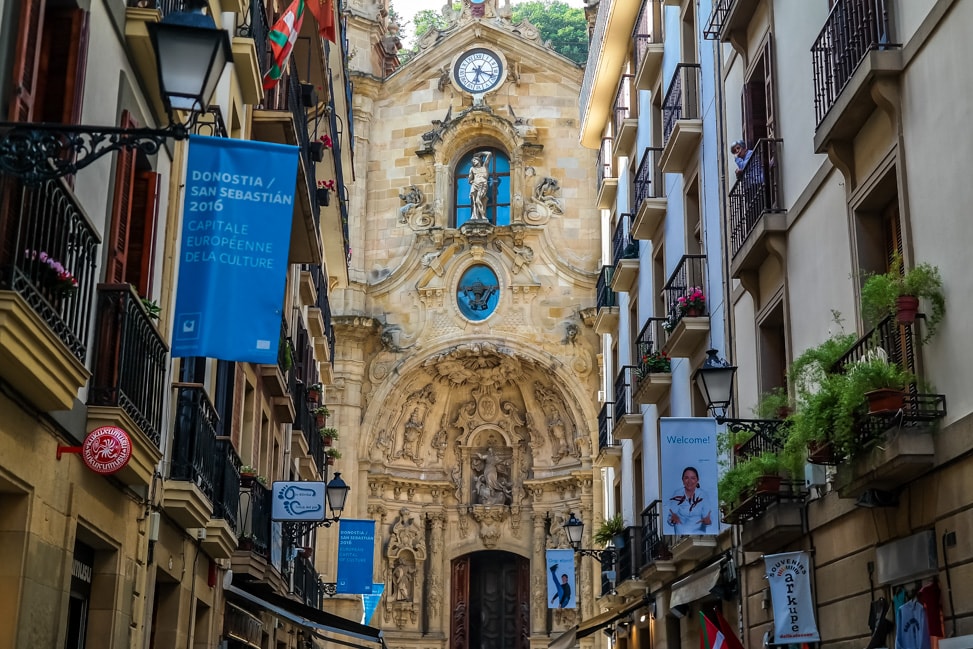 So, what are pintxos?
Pintxos are the Basque version of tapas. Tiny cafes and bars line their counters with platters of bite-sized creations, typically eaten with your hands and often served on a piece of toasted bread. The fare at traditional pintxos bars is pretty straightforward, and heavy on meat and seafood. Items like: gildas (a spanish chili pepper wrapped around an anchovy and olive, speared with a toothpick), tortilla (Spanish-style frittata), jamon (Spanish cured ham), fried croquettes stuffed with salt cod, anchovies (in many forms), and grilled shrimp with ham, can be found in almost every pintxos bar.
Since the food is laid out for self-service, you just order a drink from the person behind the bar and ask for a plate. You can take as many pintxos as you want, which range from €1.50-€4 per piece, depending on the item. There also may be a blackboard displaying additional menu items, which are cooked to order dishes, so don't overlook those items either. When you are done eating, the bartender will ask you to help tally what you've eaten, and your bill will be calculated. Simple as that!
Note that some specific bars may operate a variation of this process so we just like to watch a few other people asking for plates and calculating payment, to make sure we're doing it right.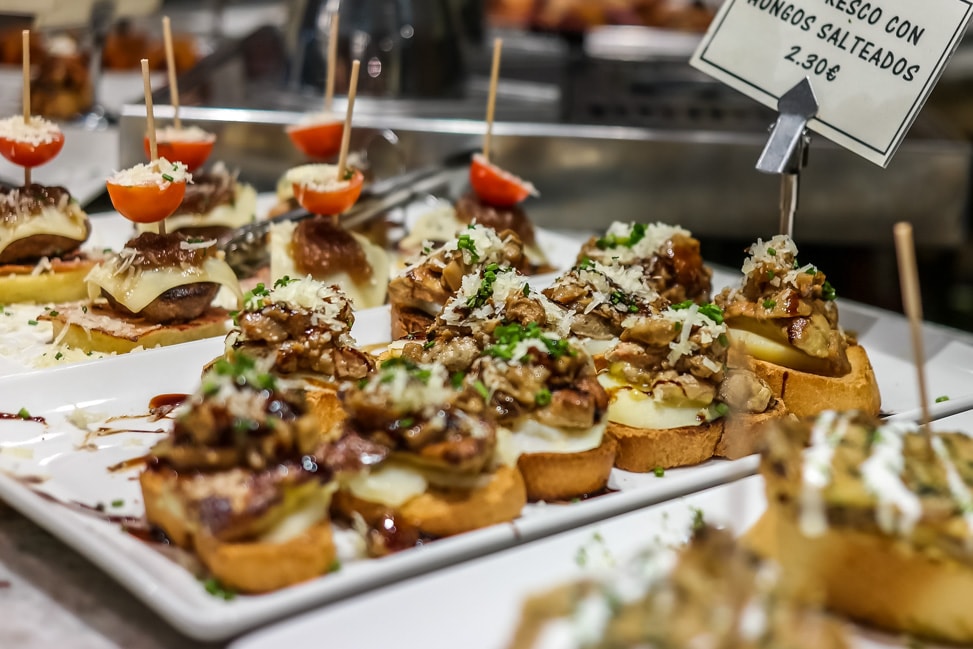 It may be tempting to just grab a seat or a place standing at the bar and feast away, but you should fight the temptation. Pintxos culture encourages people to bounce around to different establishments all night, sampling just a few bites from each. Since most of the best pintxos are found within the compact Old Town section of San Sebastian, you never have to walk more than a few minutes to your next destination.
To avoid looking like a tourist, make sure to ball up your used paper napkins and throw them on the floor when you are done.
Don't worry, you won't offend anyone. It's considered rude to place used napkins on the counter next to prepared food, so go ahead and litter, just like the locals.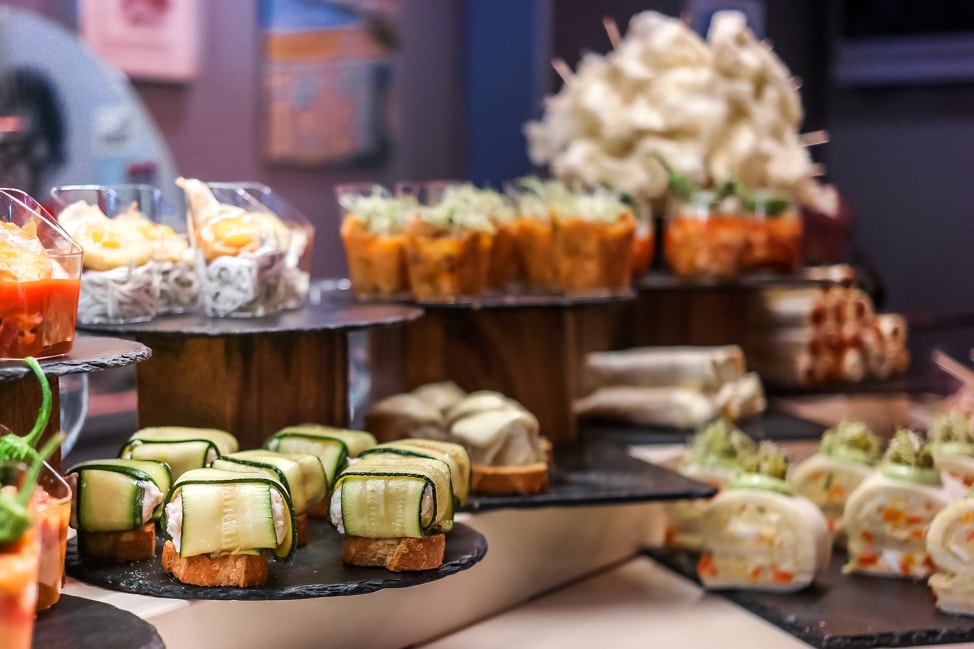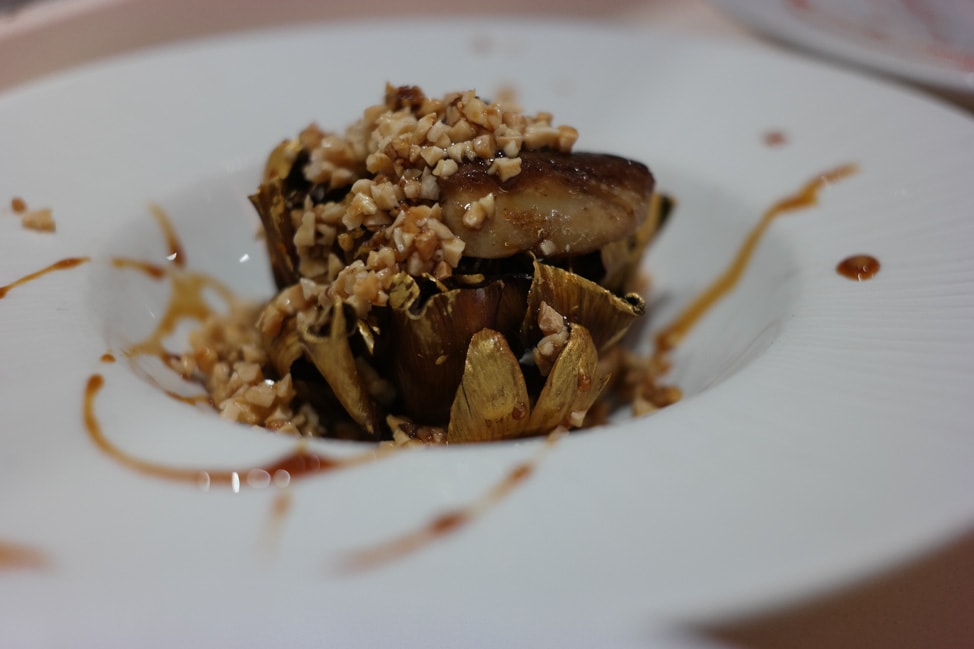 While most pintxos bars have the food laid out, there are some bars that only offer pintxos to order, often displaying a simple board of menu items that you order at the bar. Despite having a printed menu like a 'regular' restaurant, these places are just as busy and frantic as any other pintxos bar. In fact, during prime dining hours (1-2pm, 9-10pm), do not expect a lot of room or a seat at any pintxos bar.
If you are looking for a romantic, relaxing night out, pintxos bars are not for you. They are all about socializing, eating, and drinking in small, confined spaces. The more cramped, the more frenzied, the better.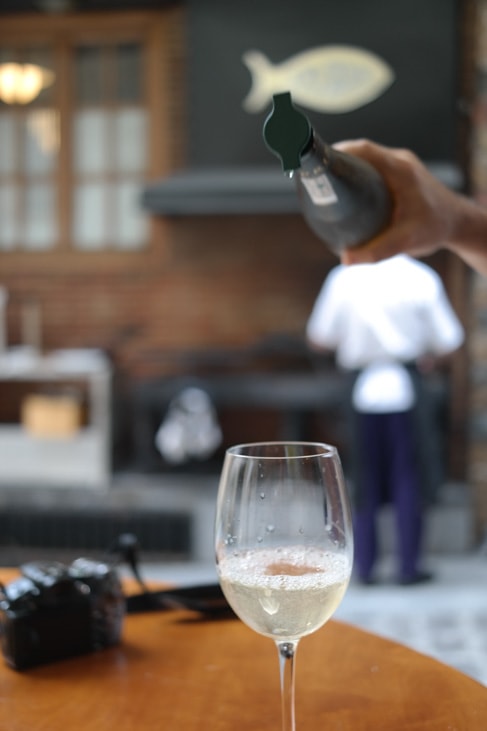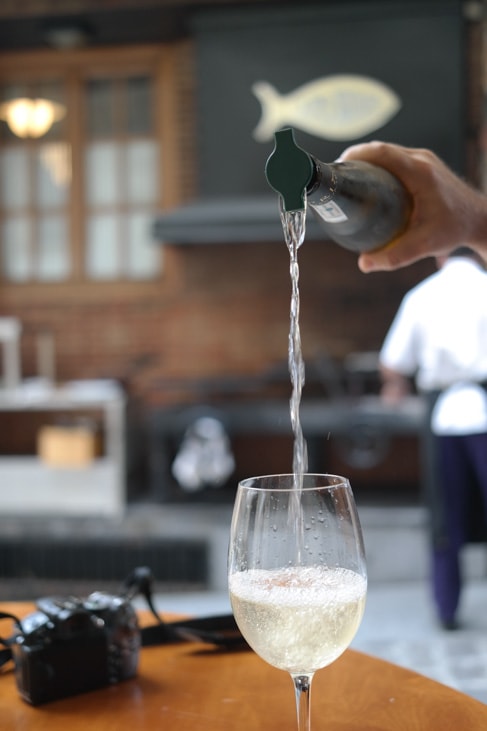 To wash down all of these amazing pintxos, the beverage of choice is txakoli (pronounced "chock-oh-lee"). It is the white wine of the region – light, crisp, dry, and with a slight fizz, not unlike one of my other favorite white wines, vinho verde from Portugal. To showcase that slight carbonation, txakoli is usually poured from a height with a little touch of flair, so that when the wine hits the bottom of the glass, it fizzes and releases more carbonation. Luckily, it is low in alcohol and very inexpensive (€2-€4 per glass), so you can indulge without terrible repercussions during a night out.
There are a lot of options for pintxos in San Sebastian, and just walking around, drinking txakoli and stopping at pintxos bars at random is not a bad option.
In case you want a little more of game plan, here is a list of a few places worthy of a stop:
Bar Nestor (Arrandegi Kalea, 11)
The legendary Bar Nestor is known for two things, tortilla and txuleton (massive T-bone steaks for two). The tortillas (€2) are only made at 1pm and 8pm and have to be pre-ordered, with queues starting at 11:30am just to reserve a slice for 1pm. The txuleton (€38) is huge and meant for two, and always served rare with plenty of salt. There is no food laid out here, so ordering off the menu is the only option.
Zeruko (C/Pescadería 10)
Zeruko is a modern take on the pintxos bar, with elaborate displays and garnishes. Many of the classics can still be found, but all with a twist. Here, the ordering system is a bit unique. You are given a plate by the bar staff, and select the pintxos yourself, but here, you hand the plate back to the staff. Then, they garnish each plate individually and hand it back to you. That last step is where a lot of the most delicious bits are added to the dish, and it was the most gorgeous food I saw in San Sebastian.
Bar Txepetxa (C/Pescadería 5)
A classic pintxos bar famous for its anchovies. It has other things on offer, but stick to the anchovies because they are some of the finest marinated anchovies in the Basque Country. The marinated anchovies with blueberries sounds horrible, but tastes delicious and is a specialty of Bar Txepetxa.
La Cuchara de San Telmo (31 de Agosto Kalea, 28)
One of the most popular spots in town, this bar requires patrons to order dishes from a blackboard menu. It is perpetually packed, so just elbow your way in and order at the bar. The beef cheeks and seared octopus are delicious. We missed out on the foie gras, which is another specialty. There is always next time!
Borda Berri (Fermin Calbeton 12)
From the people behind La Cuchara de San Telmo (above), many of the dishes are similar, including the slow braised beef cheeks. They also serve mushroom risotto (made with orzo, not rice), and a sweetbread ravioli, which was amazing.
Have you eating pintxos in San Sebastian? What are some of your favorite spots? Let us know in the comments section below!