What I love best about a quick Napa Valley getaway is how accessible it is.
Located just over an hour from San Francisco, the Valley is an ideal location to explore during a visit to the Bay Area. There are world class wineries and restaurants, all nestled in a beautiful valley, just waiting to be explored.
Napa Valley has one big drawback: it is is a high-end destination, one that has Michelin-starred restaurants and five star hotels, but not much in the way of budget-friendly options. Napa Valley is the place to go when you want to indulge and blow your normal frugal budget. And that's fun, at least in small quantities.
Fortunately, sampling Napa Valley in a small, expensive dose is completely possible, and the approach we took on a recent visit.
We were in the Bay Area, our 10 year wedding anniversary fast approaching. Our initial ambivalence around doing anything super special gave way to the realization that we were close to one of the locales known for just this kind of celebration. Plus, jokes about where our youth has gone are often best dealt with in a luxurious hotel with too many glasses of red wine.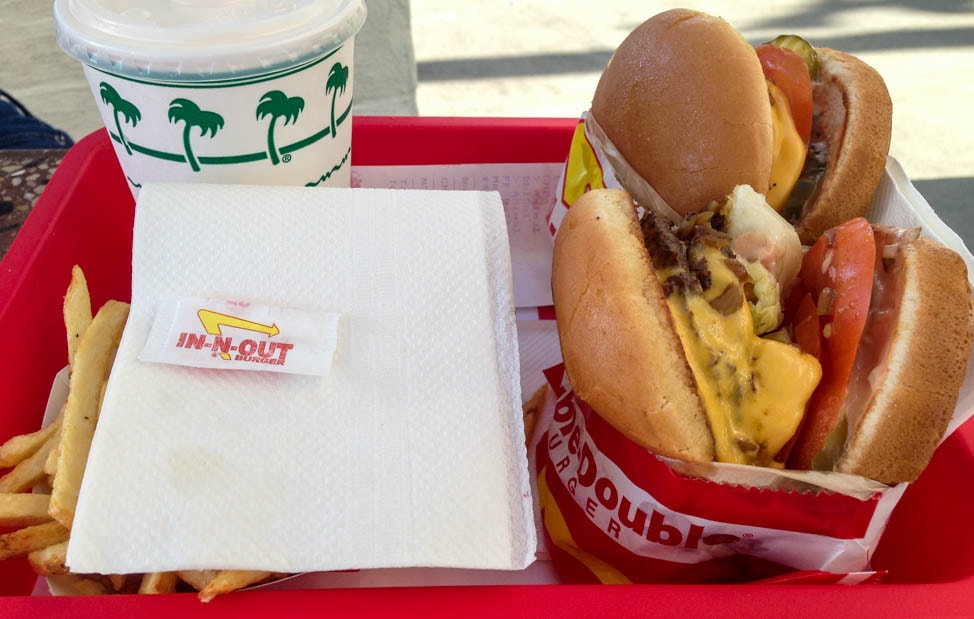 Like any good road trip, our perfect Napa Valley getaway began with a double-double "Animal-style" from the legendary In-N-Out burger chain. Sounds crazy, but it was an integral part of the agenda. We specifically Googled locations between Oakland and Napa, and coordinated our departure to precisely time our meal.
Nothing says romance like fast-food dining in a strip mall with a view of a parking lot.
I know we're not the only ones who worship on the altar of In-N-Out. It's our first stop any time we're on the West Coast. The griddled burgers are perfect, smothered in perfectly melted American cheese,"secret sauce," pickles, lettuce, and tomato. It sounds like any other burger, but trust me, it just tastes better.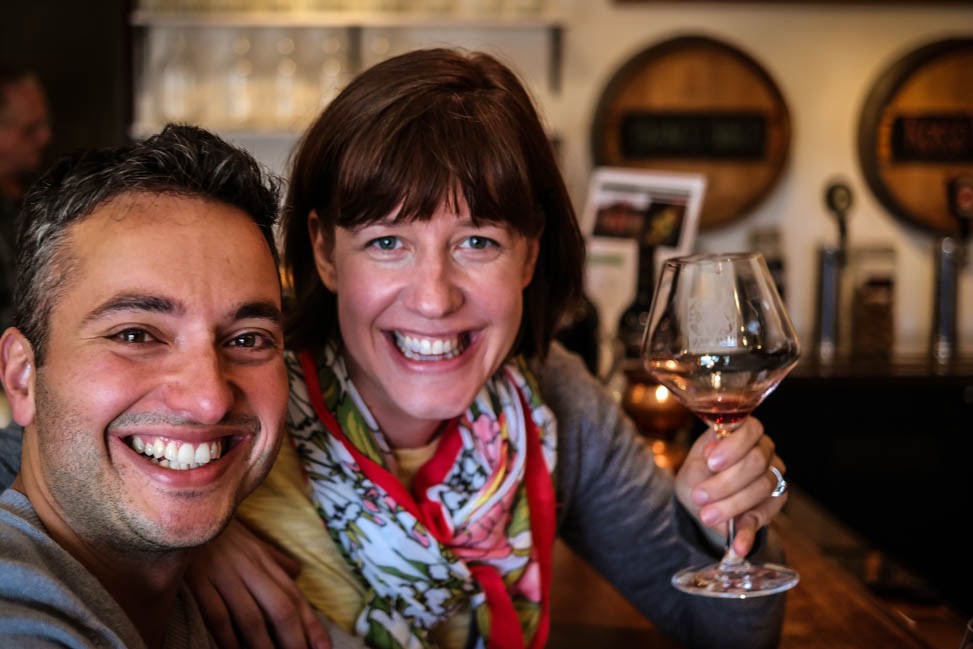 With our burger craving satisfied, we moved to the primary reason for our visit to Napa: wine tasting.
Napa Valley, once a small time wine producing region, has exploded in the past few decades, with almost 400 wineries spread across the valley. It is the epicenter for intensively oaky, buttery Chardonnays, and jammy, highly tannic Cabernets that became cult wines for collectors around the world in the 1990s and resulted in skyrocketing wine prices. That trend has slowed slightly (though the prices keep climbing), but many wines in this region are certainly not known for their restraint and subtlety.
We took it easy on the wine tastings this visit, visiting just two in two days. Our first tasting was at Heitz Cellars, a well-known producer that has been around since 1961 and is still family owned. Amazingly, in a region known for pricey tastings (often costing $40-60/person at the most famous wineries) Heitz Cellars has stuck to its policy of free tastings.
The standard tasting includes four wines, including their signature Cabernet. We arrived toward the end of the day and the busy tasting room emptied soon after. I began talking wine with the tasting room manager, while Julie played with the resident dog.  As often happens when like-minded people start gabbing, four tastings led to many more, and our glasses were topped up frequently and without request.
"Oh, have you tried the rose?"
Well, no we have not.`
"Here is a taste of our older vintage Chardonnay." Don't mind if we do.
"Do you like Port? Try this." Lovely.
The generosity of Heitz (we even got to try their famous Martha's Vineyard Cabernet which retails for $275 per bottle), and the free-flowing wine left us itching to purchase something special for our anniversary. The tasting room stocked some older vintages not available in most retails shops, and I noticed they had a bottle of 2007 Trailside Cabernet.
It only felt appropriate to get a wine from our wedding year. Good husband points for me.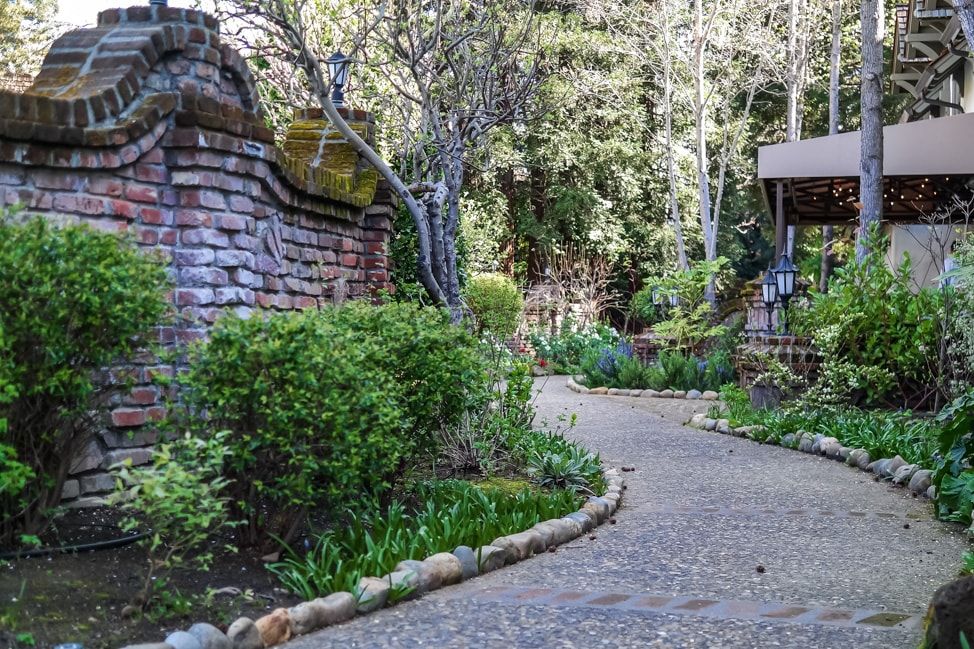 We booked a room at the gorgeous Harvest Inn, conveniently located just across the street from Heitz Cellars. The property is a collection of small buildings and lodges, all nestled in a wooded area, and overlooking vineyards and Spring Mountain beyond. It lies right on Highway 29, but feels remote, thanks to the surrounding trees and beautifully landscaped gardens.
The hotel kindly upgraded us to a Vineyard View suite, which featured a beautiful patio with our very own jacuzzi, mere steps from the edge of a vineyard. The oversized room featured a humorously large fireplace and a massive bed overflowing with luxurious pillows, a particular perk for Julie who is notoriously finicky about pillows.
After a few hours of relaxing and catching up on some trashy reality TV shows (we agree, not the best way to spend our precious time), we felt inspired to open the complimentary bottle of wine the hotel left in our room and enjoy the views from our jacuzzi.
As the sun began to set over Spring Mountain, glass of wine in hand, the small fortune we were spending on the room felt entirely worth it.
For dinner we traveled less than a mile up the road to Farmstead in St. Helena, a favorite of ours when we are in the area.
The barn-like interior features reclaimed wood and exposed beams. The dining room is lively and perpetually busy, especially when the weather gets nice and the outdoor bar and fire pit opens up. It is not exactly fine dining, but rather something I call 'Napa casual,' which translates into a comfortable dining room, eclectic menu, and a laid back vibe where dinner will still cost $100 for two people.
Napa is where budgets go to die.
One thing we love about Farmstead is its $5 corkage fee, one of the few places in the valley that offers that deal. Many similar restaurants charge up to $35 to open and pour a bottle of wine you bring in. So we popped our bottle of 2007 Heitz while sitting at the bar, and enjoyed some of the Southern-inspired cuisine, like mini-ham sandwiches with pepper jelly and deviled eggs with pimento cheese.
The next morning we sampled the breakfast buffet in the Harvest Inn's dining room (included in our room rate). The spread was ample, and included more than a few cups of coffee to revive us after our ambitious red wine consumption the previous evening.
After check-out, we made our way up Spring Mountain to Stony Hill Vineyards, for a private tasting we had arranged.
We got lucky with a last minute booking, but if possible, book well in advance to secure your desired time. This type of individualized tour and tasting is available at many of the highest end producers and while not cheap, is an indulgence worth exploring.
The road up to Stony Hill wound up from the valley, narrowing to a single lane as we neared the estate. We even came across the largest wild turkeys we've ever seen, who were blocking the road and certainly in no hurry to move along.
We reached the top, and met Alex, who coordinated our visit. Unlike most tastings, where you stand in a big tasting room with dozens of people and are poured wine rather quickly, the experience at Stony Hill was personalized.
We began with a walk down to the cellar, learning about the history of Stony Hill, with a bottle of their Gewurtztraminer and Riesling and a few wine glasses in hand. We sampled the two delicious and aromatic white varietals surrounded by wine barrels in a tiny stone barn, the vineyard dog not far behind.
From there, we walked back up to the main house, where a table was set on the stone patio, complete with an unrestricted view of the whole valley. There we had a private tasting, relaxed and quiet, not a single other visitor in sight. We sampled their truly spectacular chardonnays (the wine they have become known for) and talked wine with Alex.
Julie even got to spend some time holding the other winery dog, Lefty, fittingly missing an eye.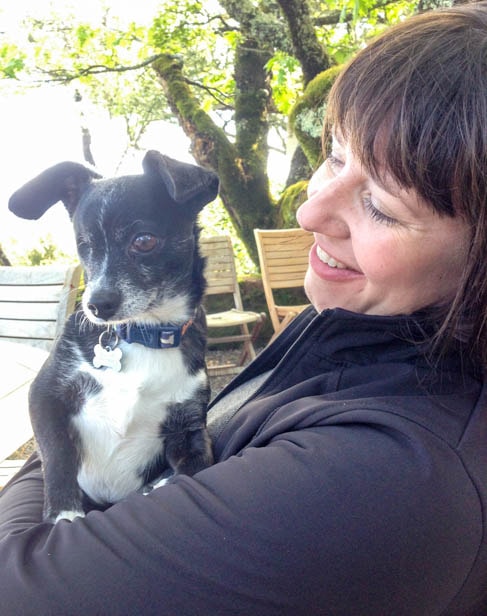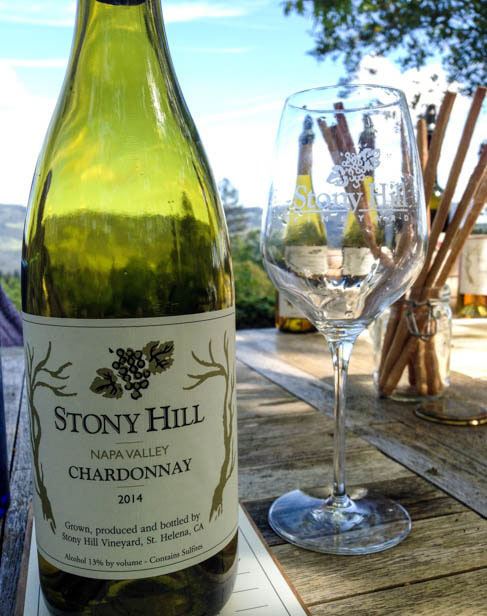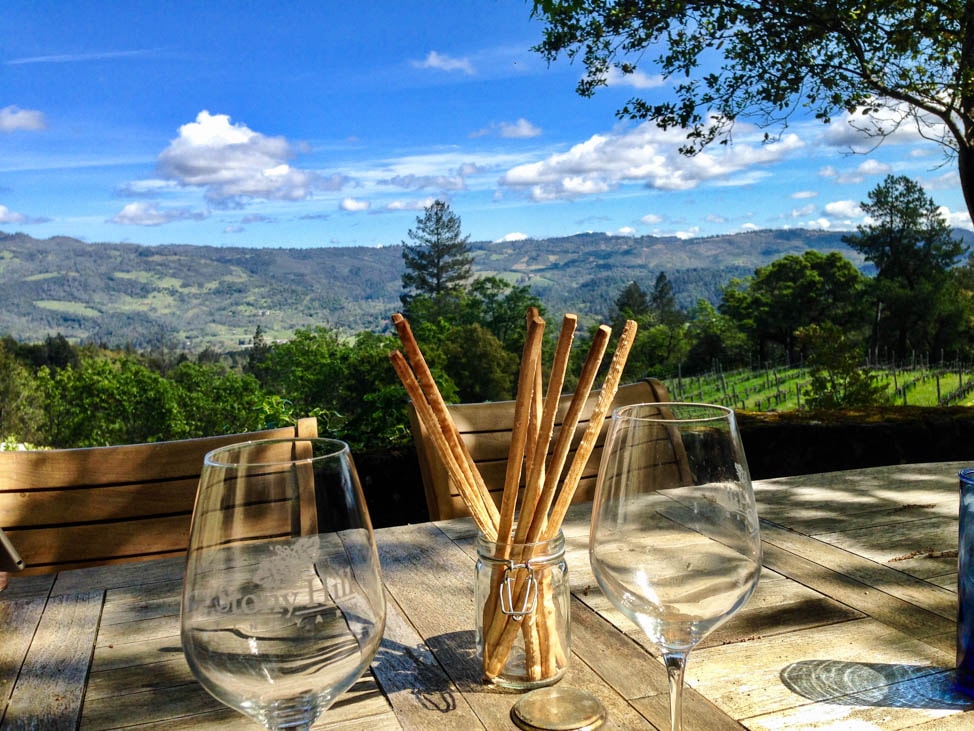 After we concluded our tasting, and purchased a few bottles, we realized that without trying, we had spent almost two hours lounging around Stony Hill. It didn't come cheap, but you can't put a price on the memories from a special day, in a special place.
Have you ever experienced a proper Napa Valley getaway? Share your thoughts and experiences below!
LOGISTICS
While there are organized tours and buses available to take people from San Francisco to Napa Valley for tours, we found that car rentals can be a much more economical option. We saw car rentals from Oakland and Berkeley as low as $20/day.
If you are worried about driving and doing wine tastings, UBER is now prevalent around Napa, and is significantly cheaper and more flexible than any existing private driver service.
The Harvest Inn is located on the edge of St. Helena, which is our favorite town in Napa. Room rates start around $300/night, and usually include free wifi and breakfast. The rooms and property are beautiful, the location is great, and amazingly, it's one of the better values we found.
If you want to sample the best breakfast sandwich ever, head to downtown St. Helena to Model Bakery, our normal breakfast spot in the valley. Their homemade English muffins are the perfect base for the fluffy scrambled eggs. Simply one of the best bites in all of Napa Valley.
The free tasting at Heitz does not require reservations, and is frankly, one of the best deals for wine tasting. Stony Hill requires a deposit and credit card to reserve a time slot. Tastings cost $45/person for their truly special experience.