Is early October too soon for 'chestnuts roasting on an open fire'? I love to spend time thinking about the nuances of culture and nothing quite defines a place more than its appetite for Christmas sparkle. Given my homegrown American background, with lots of major holidays clumped together clumsily at the end of the year, I'm never surprised by the errant Christmas tree display next to the pumpkins or turkeys. In September.In other places, where CHRISTMAS IS KING, the holiday markets appear fast and furious and high street twinkle lights glow. Germany, an 'enthusiastic embracer' of holiday cheer, and home to many of Europe's best holiday markets, seems to get started in October.
The autumn air was biting, the leaves crunched underfoot and that lingering smell of pop-up chestnut stands followed me around as I explored Munich. The tourist crowds didn't seem to get the memo that October is too late for summer holidays, too early for winter breaks, and the wrong weekend for Oktoberfest, but the streets hummed along with tour groups and shoppers regardless.
Munich is a massive city, certainly to big to explore fully in one day, but a day was all I had this time around.
I actually began my Munich day in Heidelberg, jumping on a morning train heading east. The train overflowed with young people dressed in kitschy German lederhosen and sexy milkmaid dresses. A quick Google search brought up the fact that some German cities have their version of Oktoberfest over staggered weekends, and the masses on my train were heading for the celebrations in Stuttgart. The fact that most people have one of these traditional outfits stuffed in the back of their closet to wear just for the annual beer festivals makes me chuckle.
Munich finally came into view after a few hours of lovely and relaxing train travel. I ducked outside into the chilly late morning air, and walked to my nearby hotel to drop my stuff. With only eighteen hours in the city, I decided to keep my expectations reasonable, choosing a single massive tourist attraction rather than attempting to see them all. That, paired with my normal hours of wandering and photo-taking would prove to occupy me just fine.
The old town of Munich is a compact area, the perfect size for zigzagging over a couple hours. Zig this way and out of nowhere appears a church that looks old and famous. Zag that way and boom, a lovely outdoor market. Note that I did no actual research on Munich until the night before I arrived, so anonymous churches are par for the course.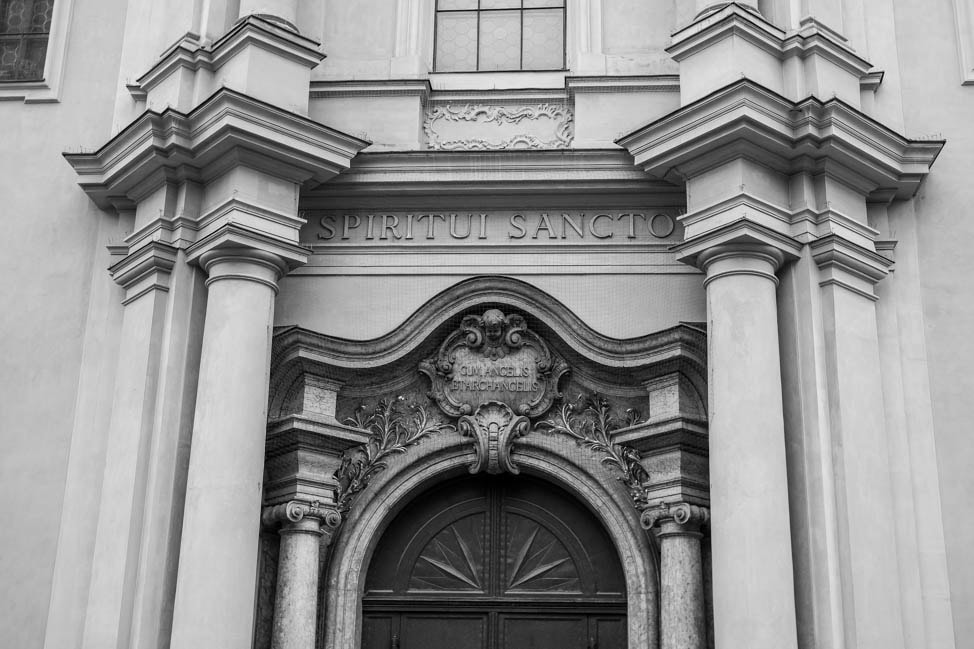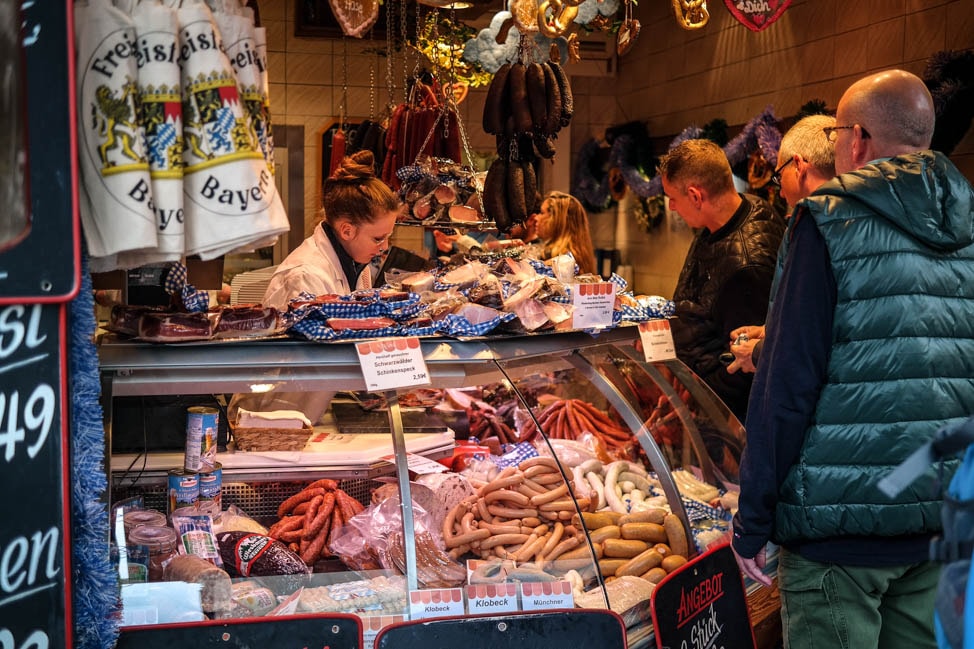 The big attraction I visited is one of Munich's best known, the Munich Residenz, which housed the government and was home to kings and elected officials for about 400 years. It's literally the biggest residence I've ever seen. According to its website, the complex is the biggest museum in Bavaria, but it feels bigger than that to me. Maybe it's the number of rooms that are open to the public – around 70 or so. Compared to some palaces and royal residences, this is a huge number.
Anyway, no cameras were allowed, but after wandering through 70 rooms of gilded furniture, and two (yes two!) indoor churches/chapels my feet were burning and I was in desperate need of a nap.
I love the buzz of Munich's center, the massive pedestrian street, the way that life lingers outside even when it's threatening rain and the wind is whipping. Those Germans are a hearty bunch.In Munich, I was also drawn to the darkness, the stained stone, the carvings, the columns. It has a melancholy vibe that I found delightful and I was drawn to the dark details.
I don't think I will be picking up my Oktoberfest outfit quite yet though.
Have you been to Munich? Explored its Christmas market? Tell me all about it below!