Standing in the Shenzhen Airport terminal, Julie searched the departures board. Not to find the gate, or whether the flight was delayed. Nope. She didn't know where we were going.
For the previous two weeks, I planned a weekend getaway with absolutely zero input from Julie. So we arrived at the airport, bags packed and ready to go, and one of us was completely in the dark. Were we off to Hanoi, perhaps? Or maybe Taipei? Bangkok could be a possibility. I left it to the departure board to unveil the secret, as she searched for our scheduled 9:10 flight time.
"Sanya? Sanya! Wait, isn't Sanya beachy? Well, I guess I'll find out."
If you are wondering where Sanya is, let me fill you in quickly. Sanya is a major Chinese tourist hotspot on the island of Hainan, just off the coast of Southern China. It is the tropical destination in China, full of palm trees, beaches, and resorts. It even earned a spot on the NY Times '52 Places to Go in 2017′ list.
To extend the fun, I also kept our destination in Sanya a secret. I had arranged for a transfer from the airport, and I figured that uniform and car logos would spoil the surprise. Against all odds, Julie missed multiple clues and was unsure of our final destination fifteen minutes into our drive to the hotel. She somehow overlooked the following:
The driver who picked us up had on a uniform with the name of the property on it.
The airport transfer van had the hotel's logo and name on the side.
We were provided with branded, chilled towels during our ride.
The water bottles stashed in the van had the hotel's logo on the side.
(Editor's Note: To be fair, the logos were subtle, as you would expect from a classy establishment. Missing out on these clues does not, in any way, reflect on my observation skills in general…)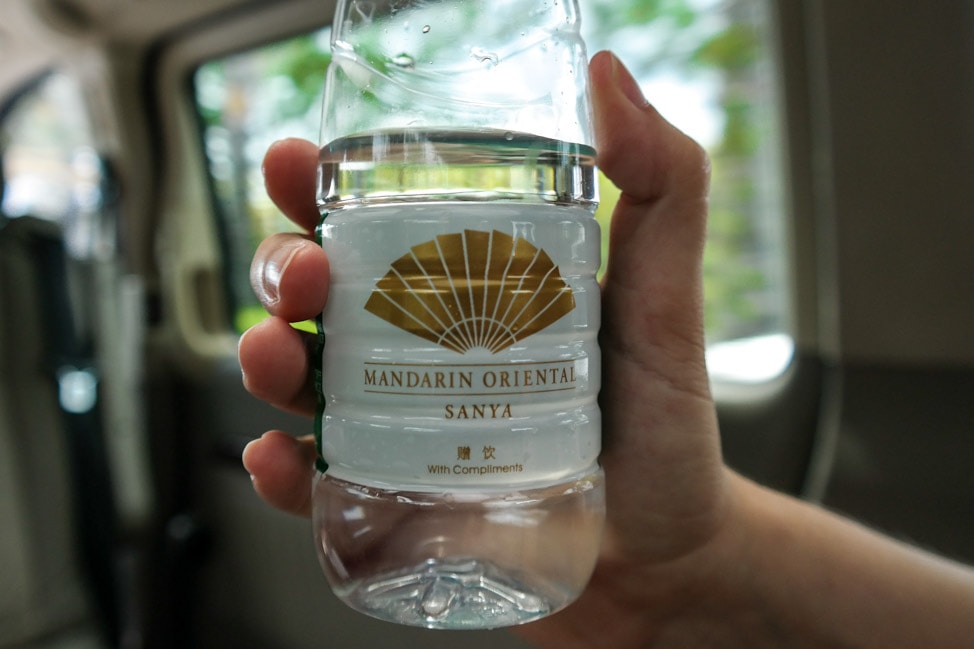 Halfway through her water, Julie flipped the bottle around and realized that we were heading to the Mandarin Oriental Sanya. After an amazing experience at the Mandarin Oriental Macau, I stumbled upon fantastic rates at the Mandarin Oriental Sanya for our chosen weekend away and couldn't resist.
Let's be frank: I didn't really pick Sanya. I picked a weekend at the Mandarin Oriental, which happened to be in Sanya.
We drove through the gates in a secluded cove away from many of the large resorts, and arrived at the open-air reception area. We were immediately greeted, draped in flower leis and ushered to a golf cart to go to our room. We whisked through the resort, taking in the impressive grounds and the view of 1.2km of protected coral bay.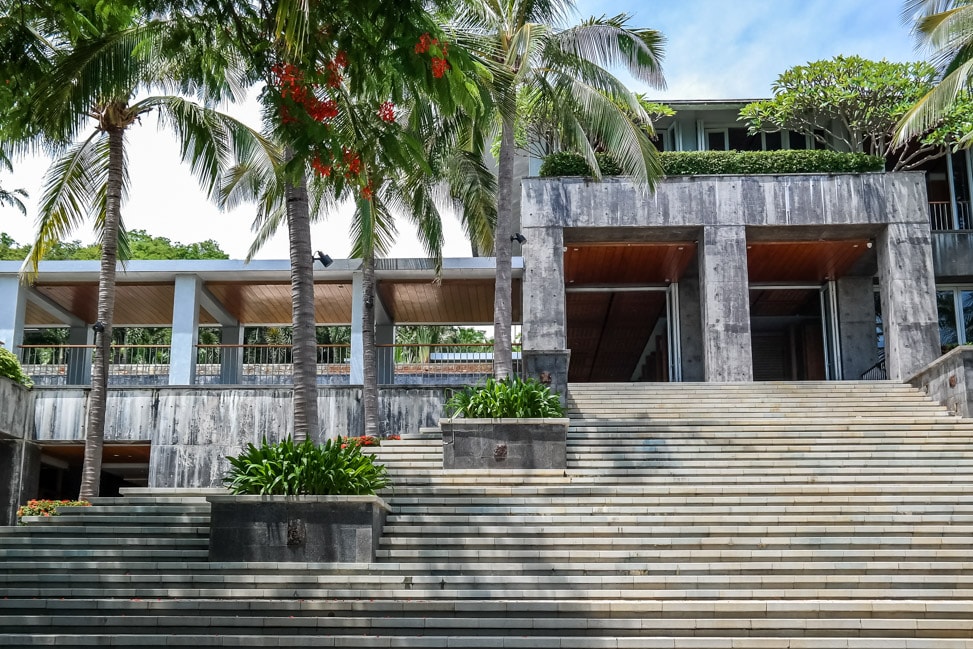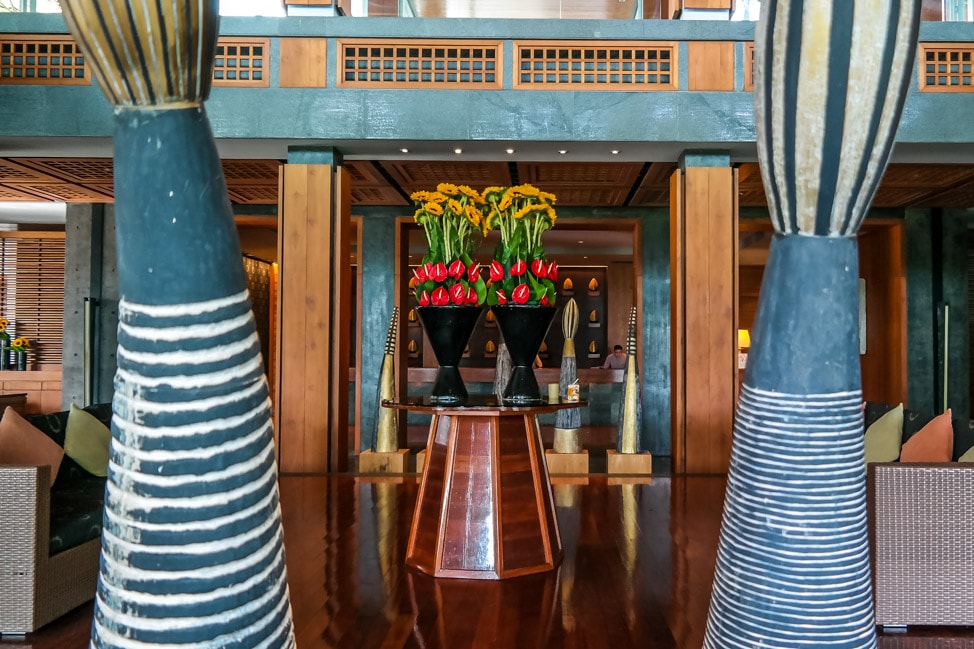 The Mandarin Oriental Sanya Accommodations
We were escorted to our new home for the next three days, an Ocean Breeze Pavilion room. There, we were greeted by the sound of waves crashing just outside our room. The room was incredibly spacious, and felt like a true tropical hideaway complete with a large balcony and an open-air marble bathtub.
We quickly assessed that our location on the property was ideal. We were a few steps from the ocean, a short walk to the main pool, and a quick stroll to the main building. While many guests must call for a golf cart buggy to shuttle them to and from their room, we happily walked to and fro.
It was then and there that we decided we were not going to leave the resort for the whole weekend. The next view we had of the outside world was when we were transported back to the airport for our return flight home.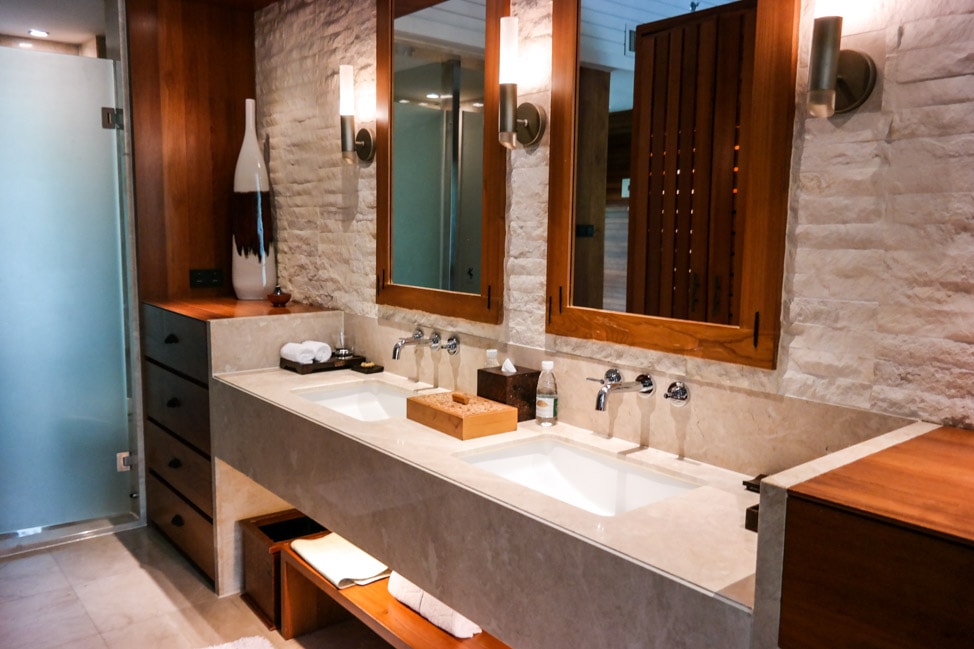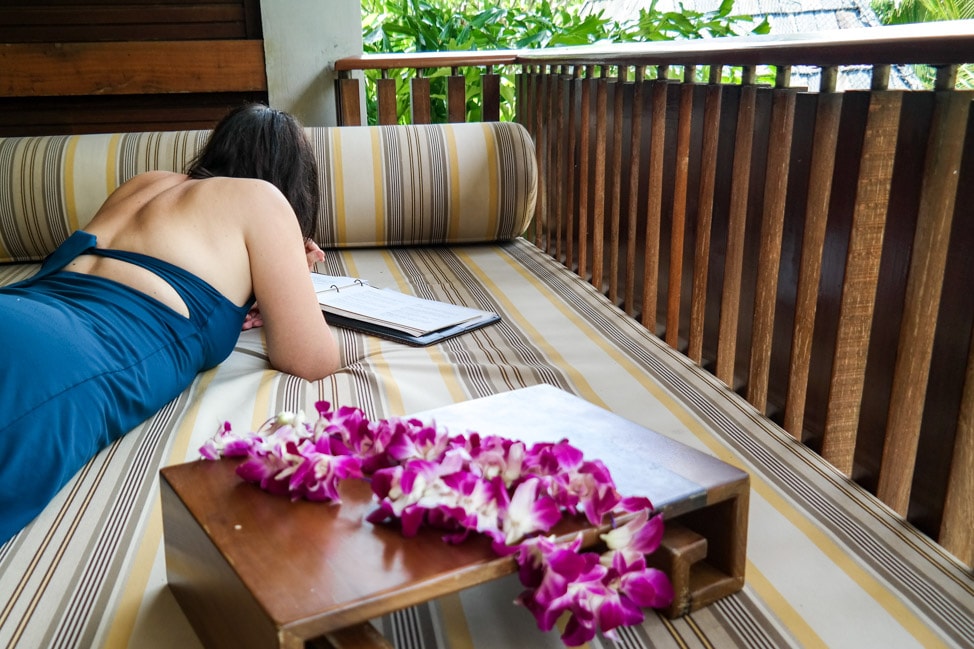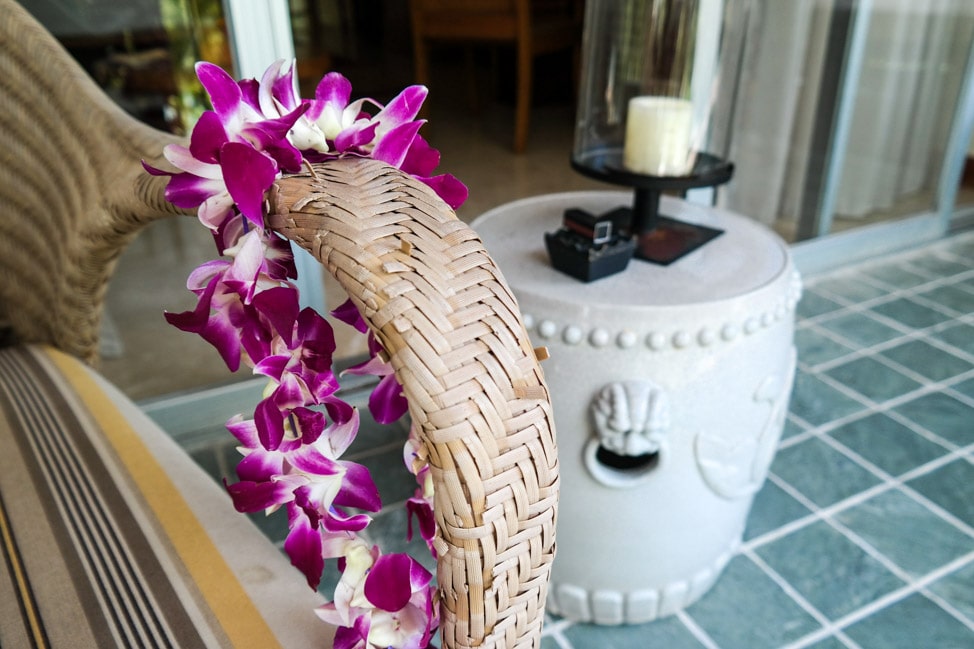 The Food at the Mandarin Oriental Sanya
To be honest, we are not resort people. We have not purposefully avoided them, but we haven't exactly sought them out, either. The idea of staying in one place always felt, well, boring.
The Mandarin Oriental Sanya is different, thanks in no small part to the food. This relatively small property has six dining options, from a casual noodle restaurant, to more formal seafood and Cantonese affairs.
Our mornings all began the same way, with the breakfast spread at the Pavilion. There is a large pastry display, cooked to order eggs, thick-cut French toast, and all the necessary fixings for a classic English breakfast. Of course, this is China, so there are barbecue pork buns, green tea sponge cakes, braised chicken feet, and a congee bar, with a variety of toppings.
My favorite station was the fruit station, situated front and center. Here, two dedicated chefs work all morning, slicing whole pineapples, mangoes, papayas, and dragonfruit. It is not often I pass up hash browns for fruit, but I just couldn't resist.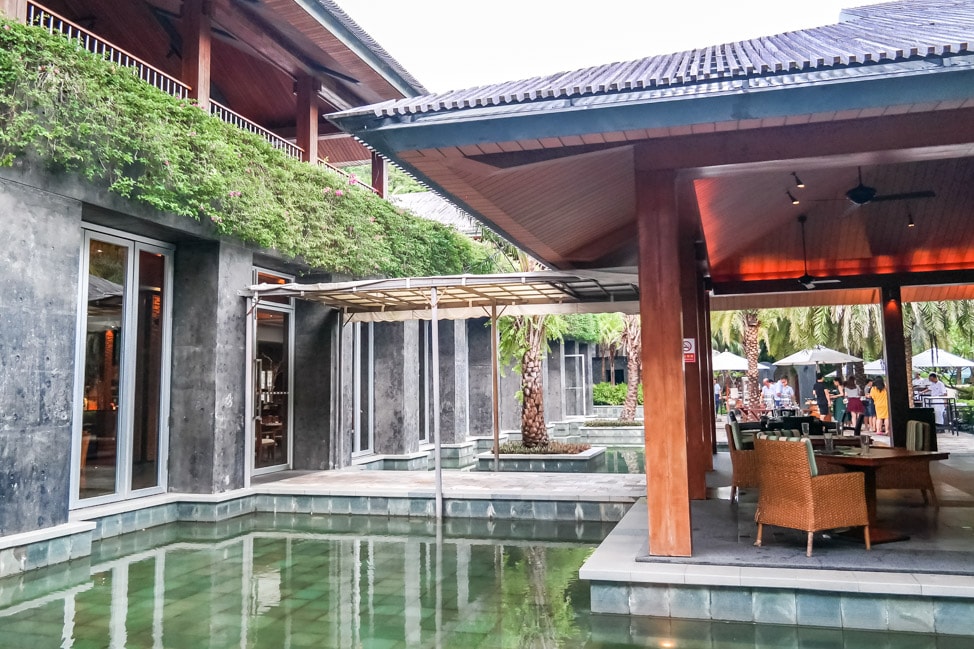 For lunch each day, we stopped at Mee & Mian for a quick bite. The compact menu features regional noodle dishes, from hand-pulled noodles with braised beef in broth from Lanzhou, to cold wheat-noodles from Beijing. Quick, easy and casual – the perfect break to a lazy day of swimming.
On Friday night, we indulged in a tasting menu at the seafood restaurant, Fresh. The open-air restaurant is beautiful, situated only a few meters from the ocean. There were Coffin Bay oysters, local Hainanese shrimp, gin cured salmon, milk poached black cod, and roasted scallops. We sipped a few glass of white wine, and watched the sunset.
We felt spoiled. And full.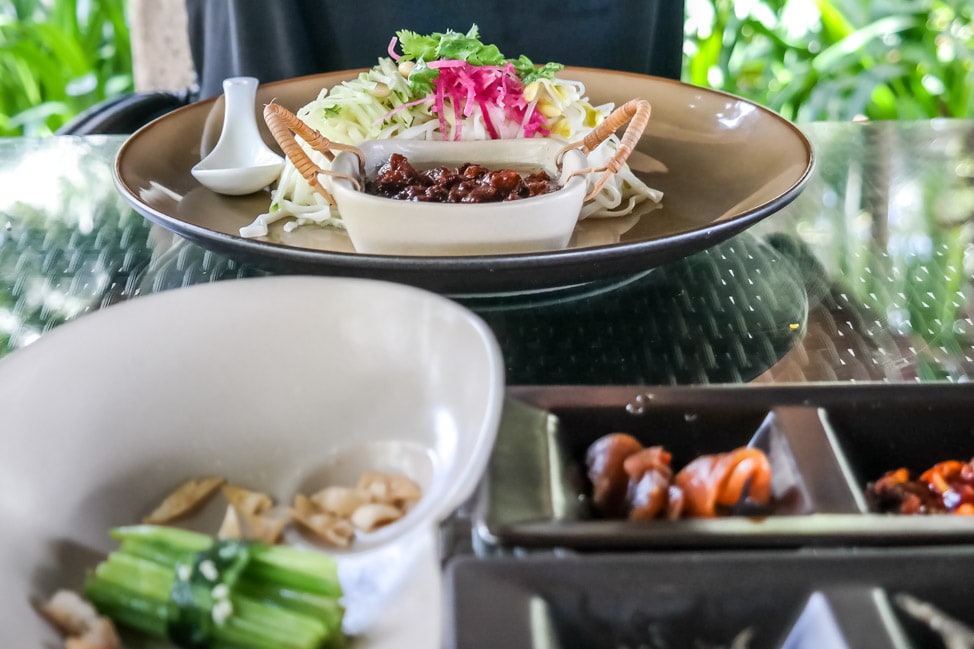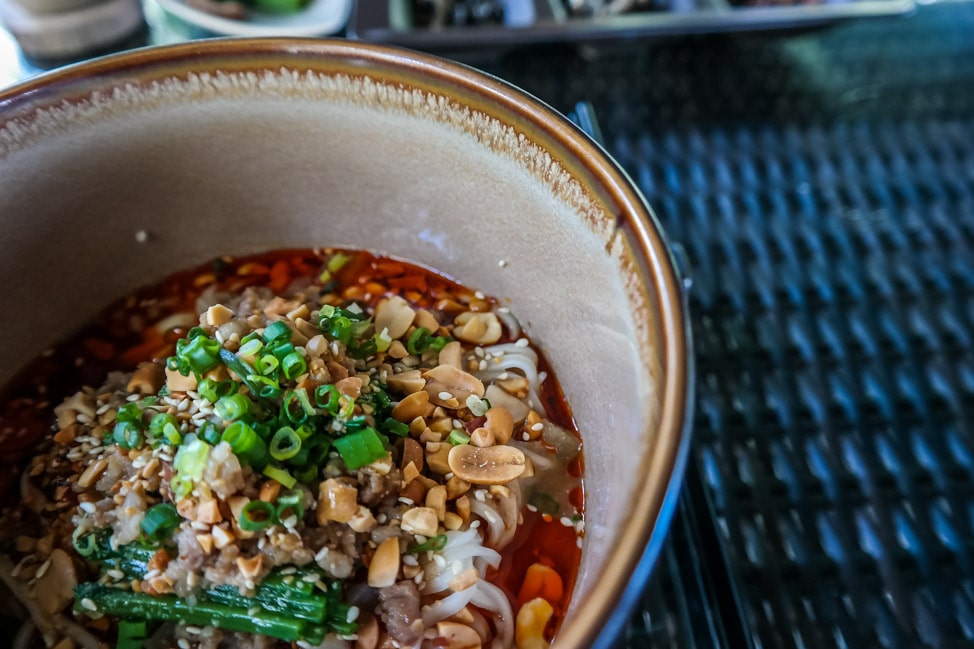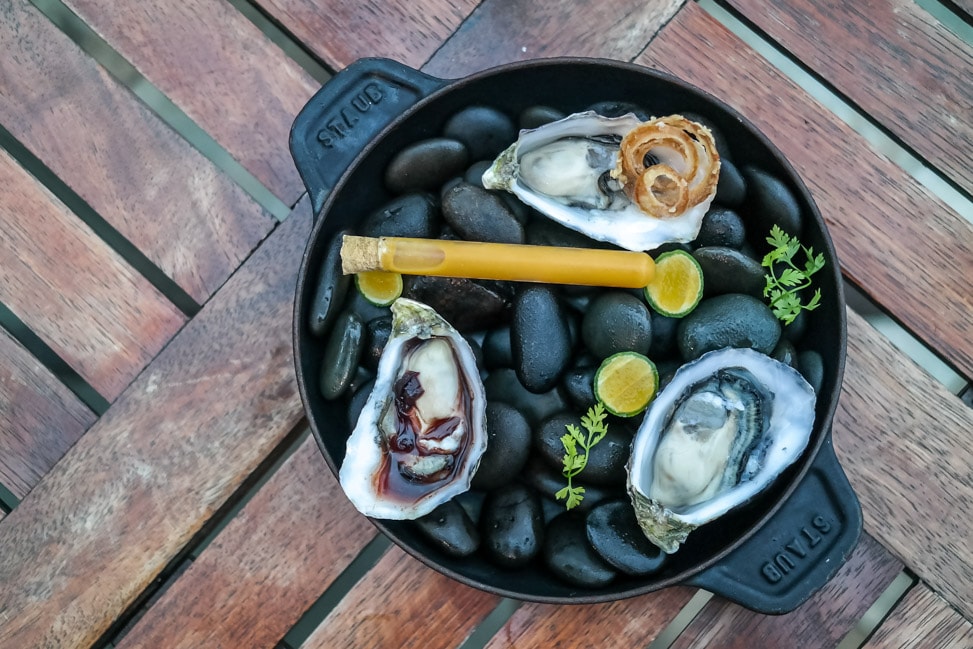 On Saturday evening, the Pavilion Restaurant hosted a barbecue dinner for the guests, complete with multiple outdoor grills cooking whole fish, squid, lamb chops, beef filet, pork ribs, and a variety of vegetables. The centerpiece was a whole suckling pig, slowly roasted over the fire all afternoon. If that wasn't enough, there were stir-fried noodles, pots of local clams, and even a cart full of fresh coconuts, full of refreshing coconut water.
After a weekend of eating, we spent Sunday evening at the Sunset Bar. There, we sipped on tropical cocktails and filled up decadent bar snacks.
We rarely so no to an extra margarita or two.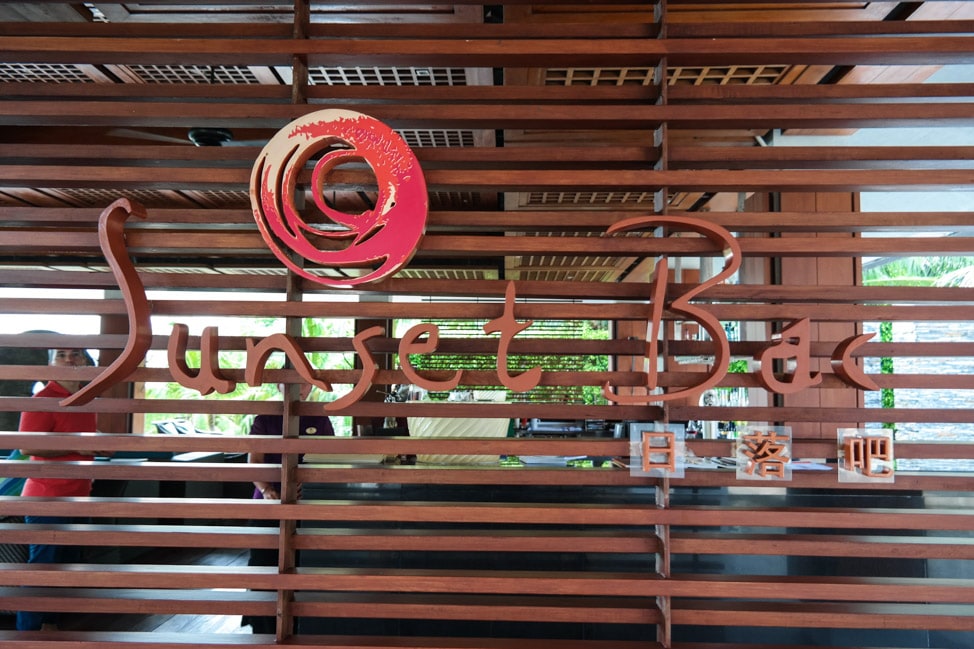 Staying Active at the Mandarin Oriental Sanya
We spent most of our days at the property's three pools, including the enormous Activio Pool, complete with a waterslide, basketball hoops, and a massive inflatable unicorn for floating around. When we needed a change of scenery, we moved to the smaller oceanfront pool or the adult-only pool down the beach. Each pool felt private, surrounded by palm trees and the lushness befitting a tropical resort.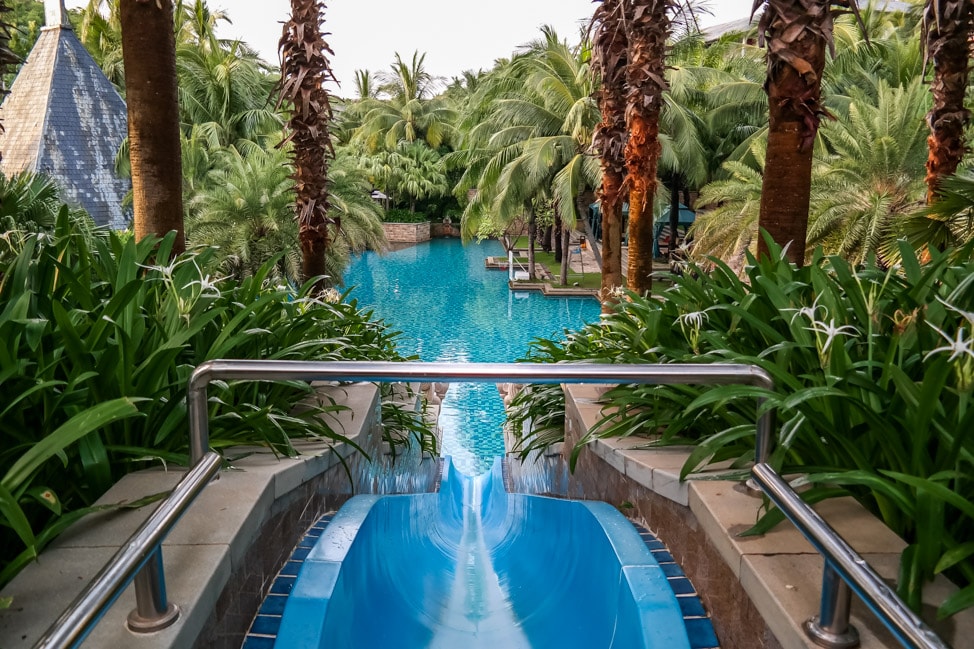 Every pool is equipped with lounge chairs or cabanas. Once we parked ourselves somewhere, the staff was quick to arrive with towels and a cold bottle of water. This being the off-season, crowds were non-existent, and we floated in relative peace and quiet.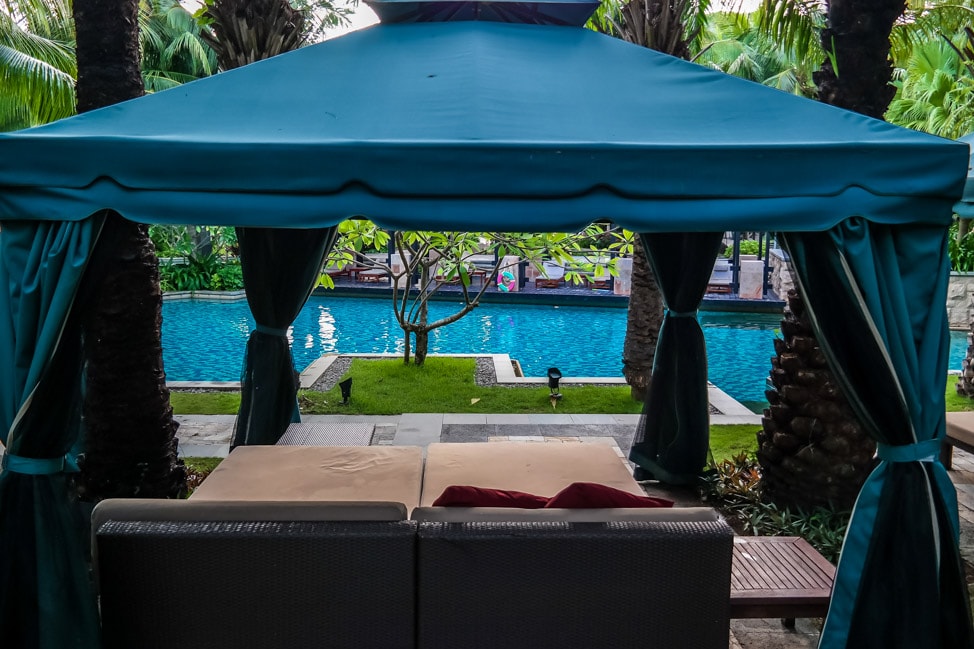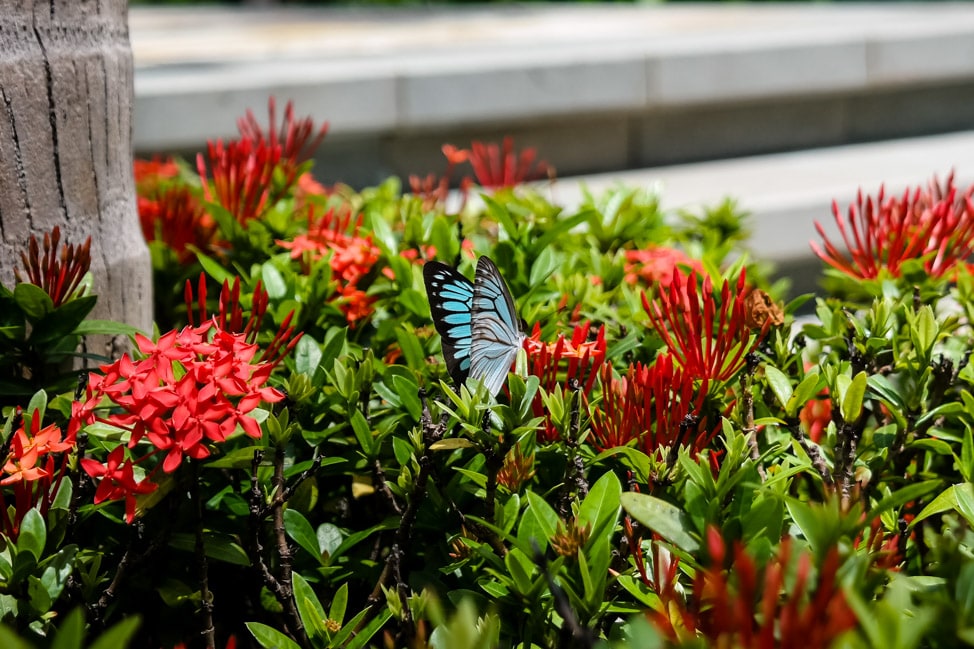 Health and Happiness at the Mandarin Oriental Sanya
Like most Mandarin Oriental properties, the spa is a key draw for many guests.
The Spa at the Mandarin Oriental is an oasis. As you climb the stairs and enter the reception area, you are enveloped in a peaceful energy. The treatment rooms are in individual suites (sixteen suites and two VIP spa villas in total) scattered around the spa complex.
We took part in a moxibustion class by the spa's Chinese medicine expert, Dr. Li. He taught us all about pressure points in our bodies, and how to exert pressure on them to relieve things like headaches or for just general health. We also covered how heat can be applied to pressure points (using a smoldering herbal stick) to help a variety of ailments.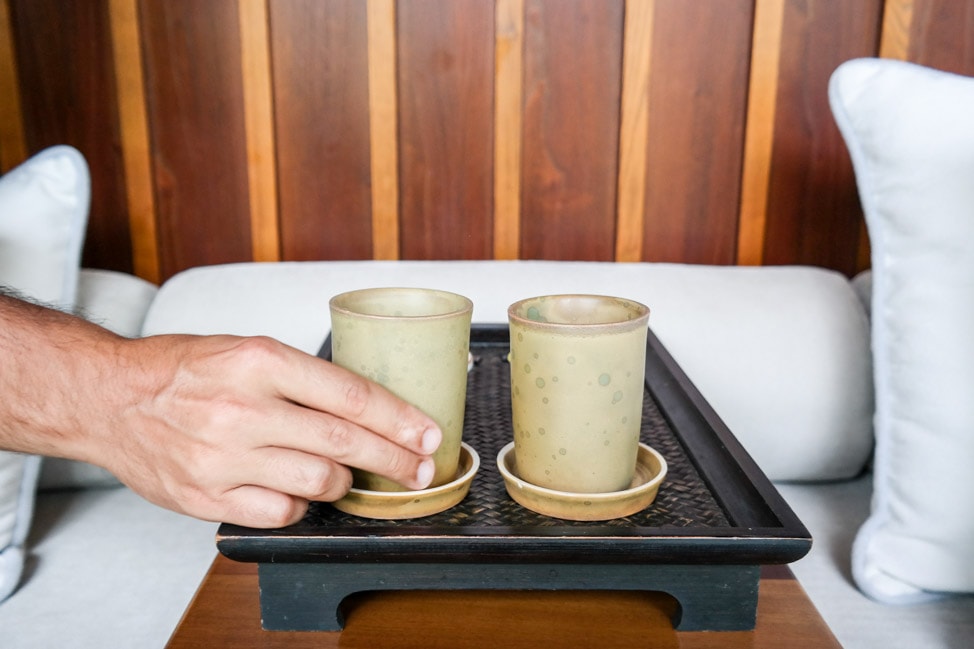 This treatment is part of a focus on holistic wellness by Mandarin Oriental Sanya. They have consulted with acclaimed French naturopath Liliane Israel to help develop healthy dishes at some of the resort's restaurants. And the emphasis is not on boring spa food – think plain lettuce on a plate – but on a more well rounded diet that does not sacrifice flavor.
I must say, we kinda loved the whole healthy vibe.
Yes, we enjoyed a few adult beverages at the Sunset Bar, but we sipped fresh coconut water each day, and found ourselves skipping pastries for the array of fresh tropical fruits for dessert. It wasn't necessarily our intention, but it felt right. We tend to overindulge in both food and drink when we travel, but we returned from Sanya feeling great. And we didn't feel like we missed out on anything or held back. We ate and drank well, it just happened to be healthy.
Given the reins to plan our entire weekend, I guess it's no surprise we ended up at a luxurious retreat.
But even I was swept up in the fun of it all. We were spoiled by the privacy, and the subtle touches that differentiate run-of-the-mill high-end from the truly special. From the smooth airport transfers (which happen, by our count, barely ever) to the personal note in our room, to the cold bottle of water handed over at just the right minute. It's all in the details and the Mandarin Oriental Sanya has got the details down to a perfect, choreographed, science.
Have you stayed at a Mandarin Oriental? What are your thoughts? Share you comments below!