After a few weeks of exploring the capital cities of the Balkans (Sarajevo, Belgrade, Skopje), we were about ready for a break.
Not that any of these cities is overwhelming or crammed to the brim with people, but a city is a city, with its traffic and busy corners and other tourists. So, we headed south, to one of the widely proclaimed gems of the Balkans, Macedonia's Lake Ohrid. Several of my trusted blogging friends count Ohrid as among their favorite places in the world.
In. The. World. We don't hear this kind of praise frequently, so clearly we had to see Lake Ohrid for ourselves.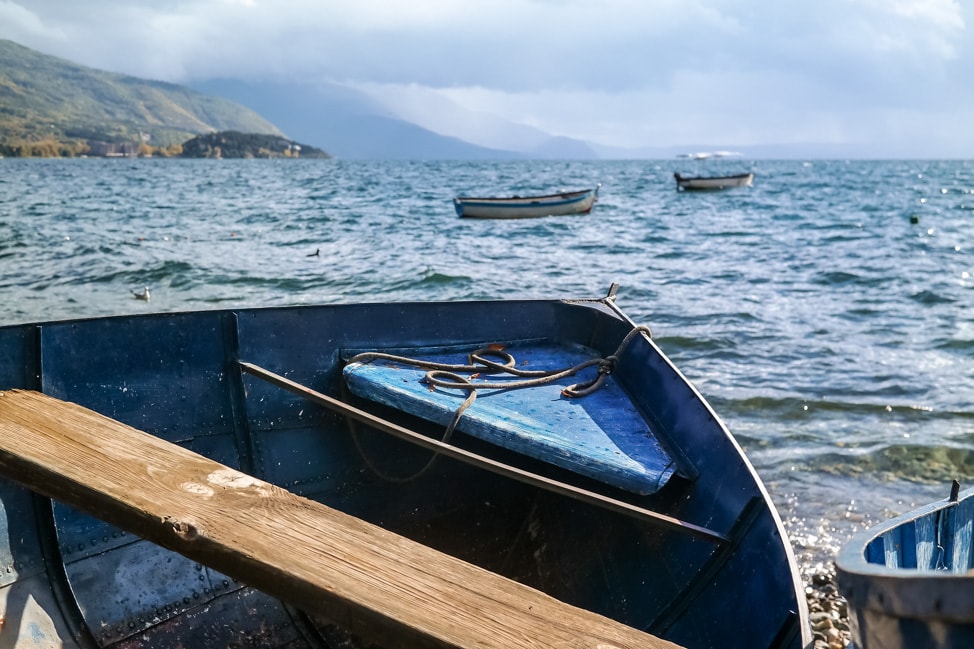 We drove into Ohrid (the main town on Lake Ohrid) mid-October as the leaves were turning and the summer crowds were long gone. This lake is a massive summer destination for the Balkan region, and there are plenty of characterless hotels dotting the lake to prove it.
But when we were there, the place nearly to ourselves, it was difficult to even imagine what it's like during peak season.  Instead, we were one of a few tourists spotted at the handful of attractions. As we wandered up and down the main promenade in Ohrid, we mostly nodded and smiled at families taking a walk, the lone fisherman or two, and plenty of swans. It was peaceful.
And there is nothing like a horizon of water to help rejuvenate a couple of weary travelers.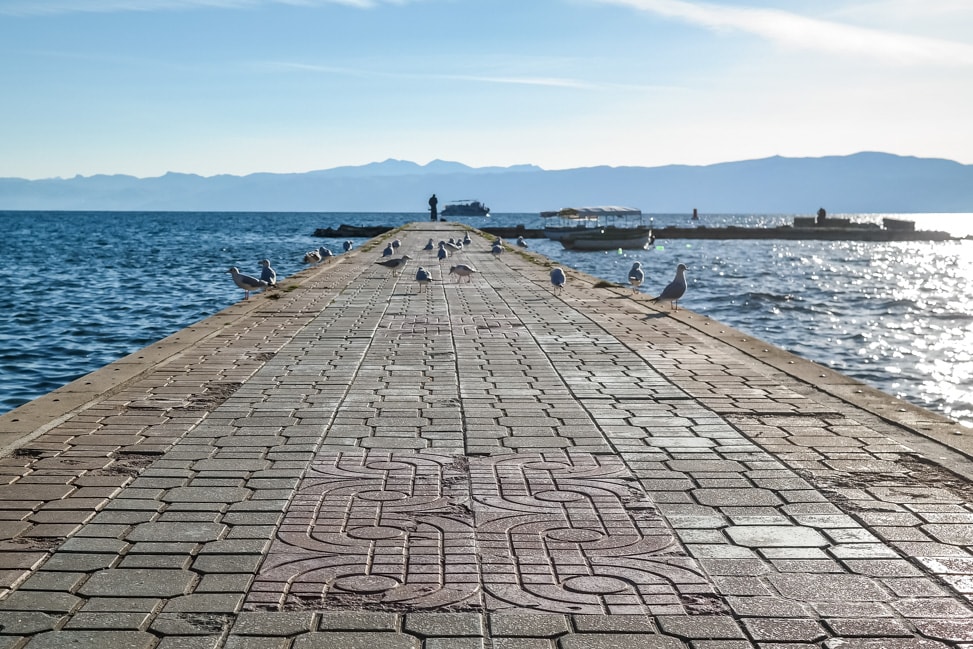 In Ohrid, we decided to stay in a hotel rather than our normal AirBnB option. We hadn't stayed in a hotel for over a month on our road trip, and we were getting the itch for some pampering. Not that Ohrid has much in the way of glitz and glam, but having someone else make your breakfast and clean your room for a few days makes a world of difference. Plus, the price of hotels in Ohrid is quite low, and we found a gem with Villa Jordan for less than $40 per night.
A steal, and right on the promenade running along the lake.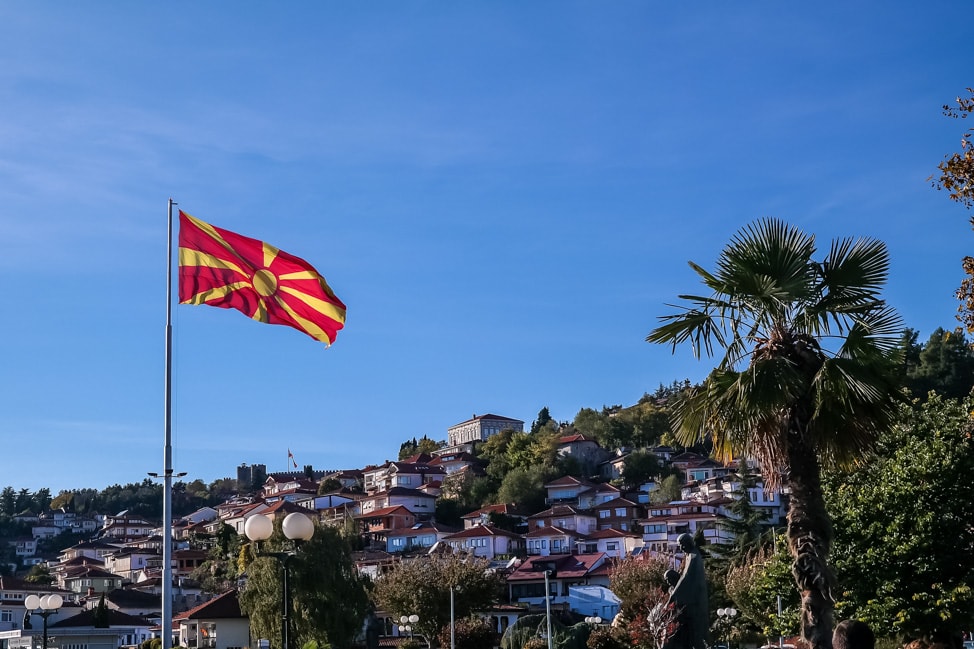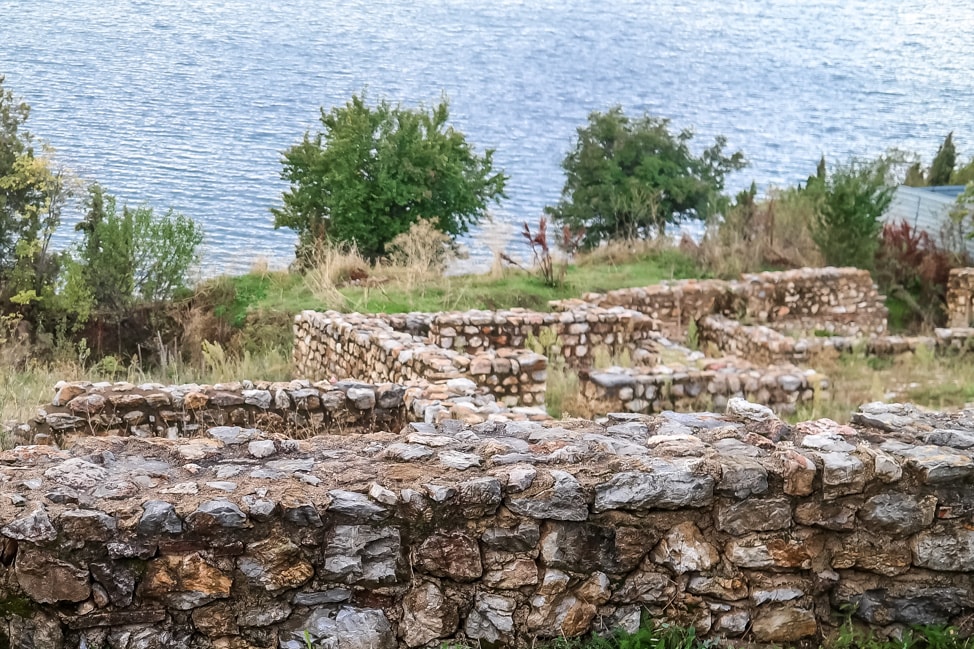 We spent one day ticking off the handful of tourist attractions in town. They are, thankfully, all within a short walk of each other, so we followed the wooden signs from place to place, snapping pictures. Ohrid's most famous monument is a small monastery St. Jovan Kaneo, overlooking the lake. We assumed it would be prominent in town, kind of like all-roads-lead-to-st-jovan, but alas. It took us several laps in the village to figure out how to actually find St. Jovan.
The lakeside path, bobbing in the water, felt secretive, hugging the rim of the water a few hundred meters beyond the end of town. Cafes and restaurants line the lake, but they were mostly boarded up.
Once we saw St. Jovan for ourselves, well, let's just say we understand why this photo graces every article ever written about Lake Ohrid.
Among other monasterial highlights were St. Clements (Sveti Kliment Ohridski) and St. Sophia.
Instead of paying the entrance fees into each and every destination, we picked two. St. Clements is newly restored, and while it cost a few euros to visit, there's something about paying a fee that makes us wander more slowly and take our time.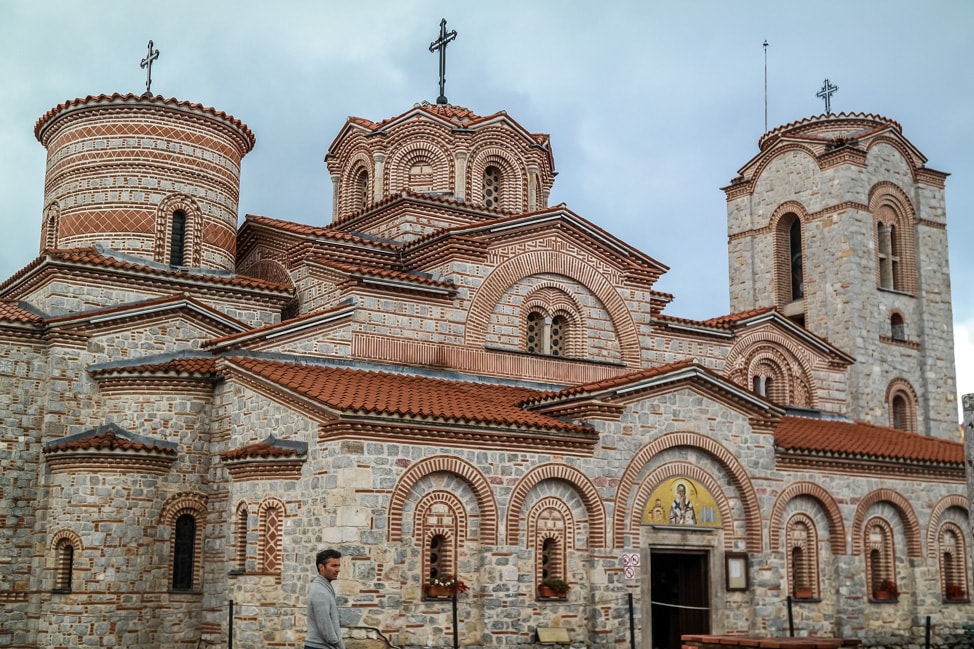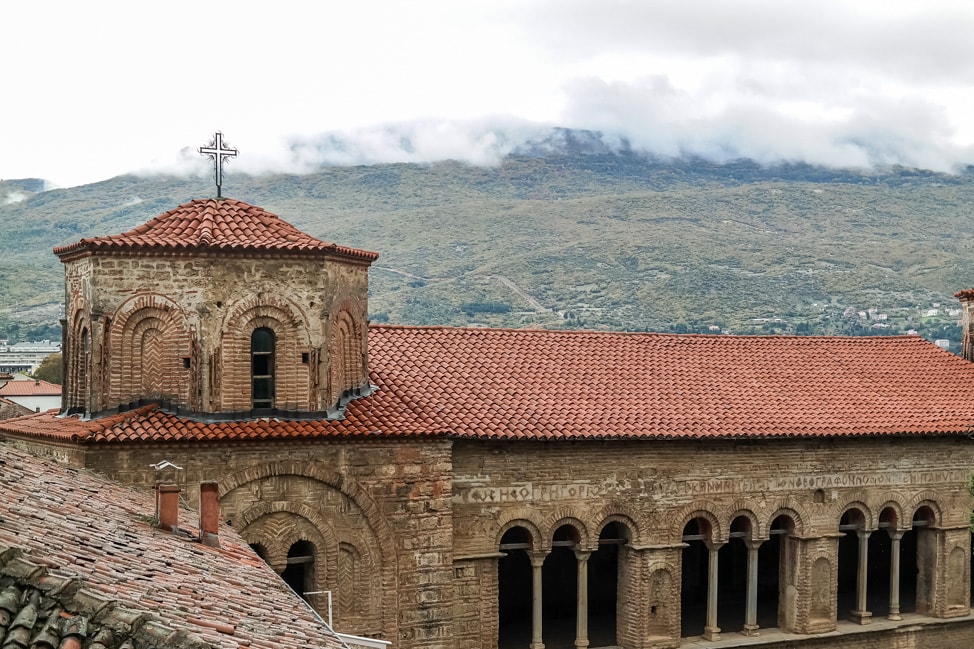 We also decided to visit Tsar Samuel's Fortress, with a whopping ticket fee of just over $1 each. We wanted to see the lake from the top of the fortress. The impending rain and the whipping winds that afternoon cut our visit a little short, but we still got the views, and a photo of a waving flag.
Because Macedonia's flag is awesome.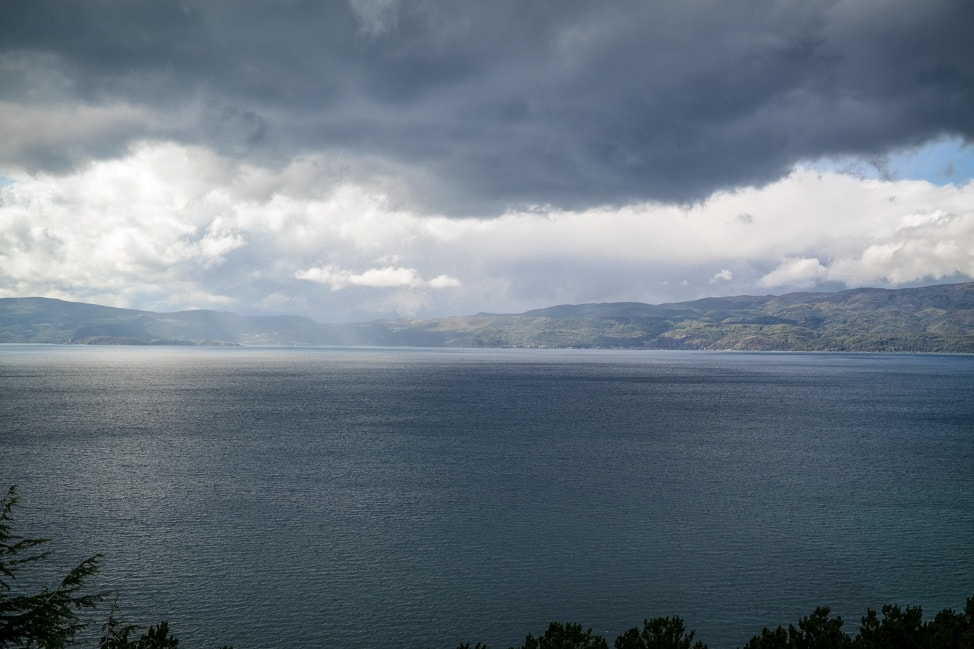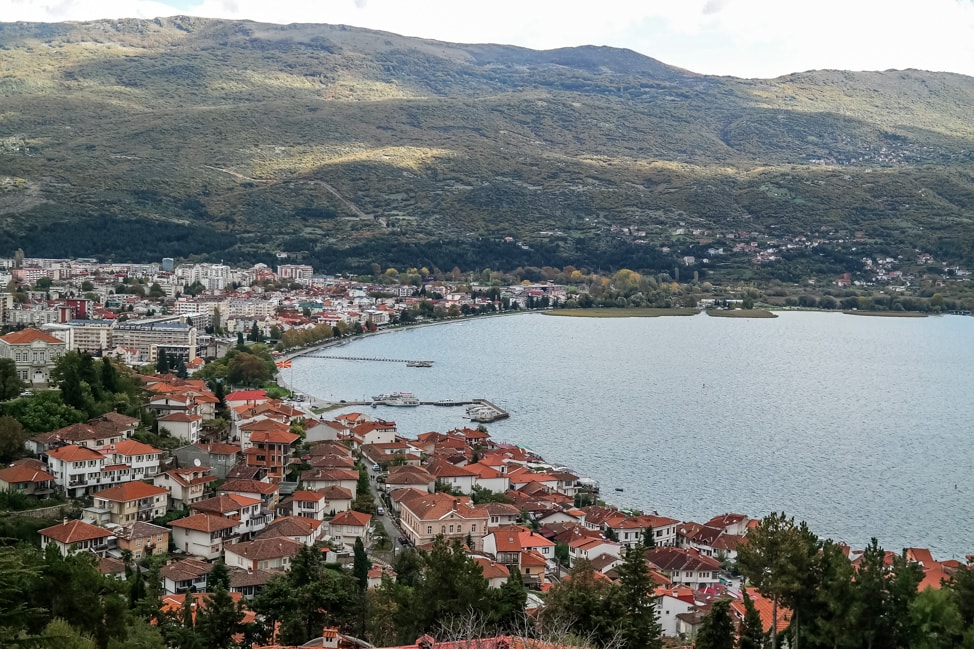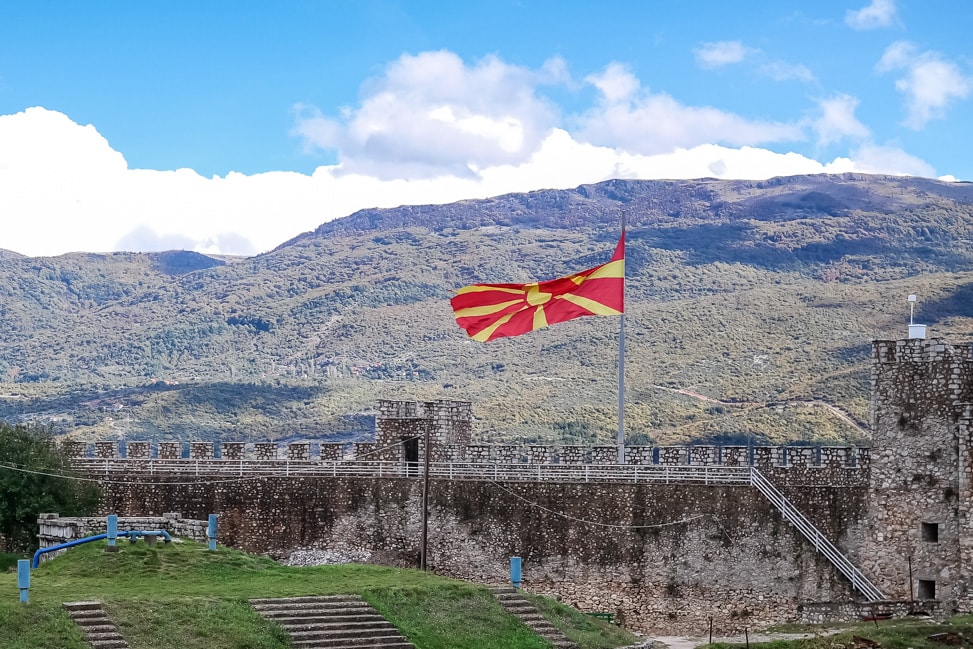 The rest of the afternoon was a complete wash. The winds became more than just a nuisance, and the on again off again rain had us seeking shelter in our nice whitewashed hotel room with a bed made by someone other than ourselves. We got lost in a Netflix binge and spent the rest of the day holed up, emerging only for take out falafel.
We needed the rest to prepare for our activity the following morning!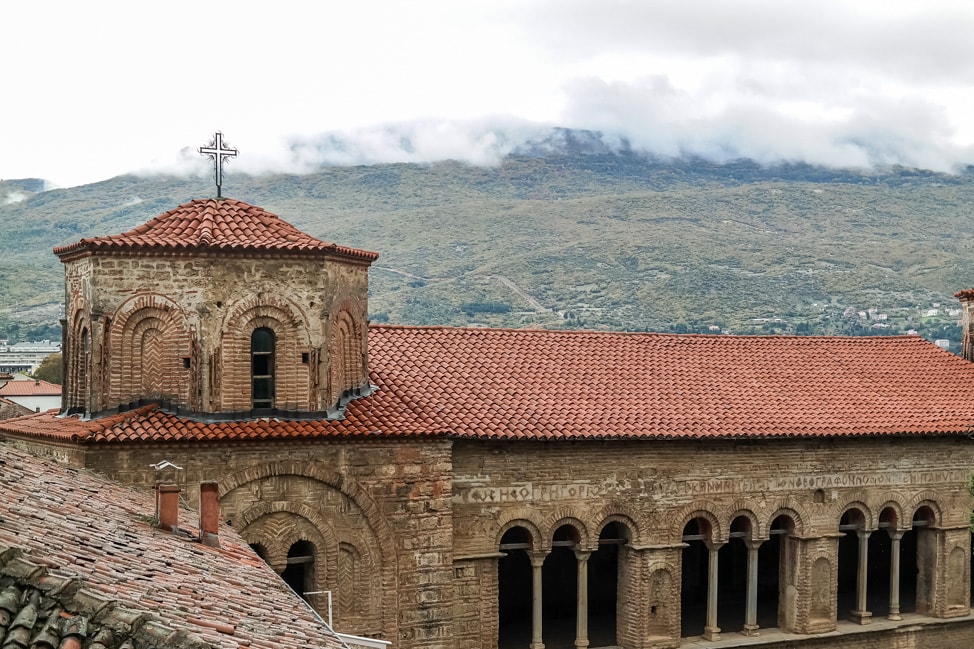 On our very last full day on Lake Ohrid, we decided to brave one of the monster hikes from nearby village Elshani.
The village, within the confines of Galicica National Park, is the jumping off point to several hikes. We decided on a 10-mile loop, the longest we've ever done by ourselves in one day. For two notoriously unprepared hikers, we spent our time making sure we had plenty of sustenance, multiple working GPS devices and lots of water for the afternoon.
We also read up on the many tips for hiking in this region. The tip that caught my attention was the one about the sheep. It is very common to come upon herds on the trail. If and when it happens, it's important to get the attention of the shepherd, just in case their herding dogs get nervous about potential pack intruders. As we started on our hike, I casually mentioned to Drew that I would be happy if we didn't see a single sheep or shepherd for our entire hike.
Two minutes later, we heard the unmistakable bells of a herd, and saw a dog on high alert staring at us from up the trail.
We nearly turned right around, back to the comfort of our car. But we soldiered on, yelling up to the void, hoping to alert the shepherd that we were nearby. An elderly man, deeply wrinkled from the sun, motioned to us to come up. We pointed to his dog, and he smiled and continued to motion to us. We cautiously approached and the dog relaxed, happily accepting our pets and coos. We're always quick to befriend a friendly canine, and this one was, fortunately, no exception.
The shepherd pointed us on our way (straight up the mountain) and we hiked the rest of the ten miles without incident.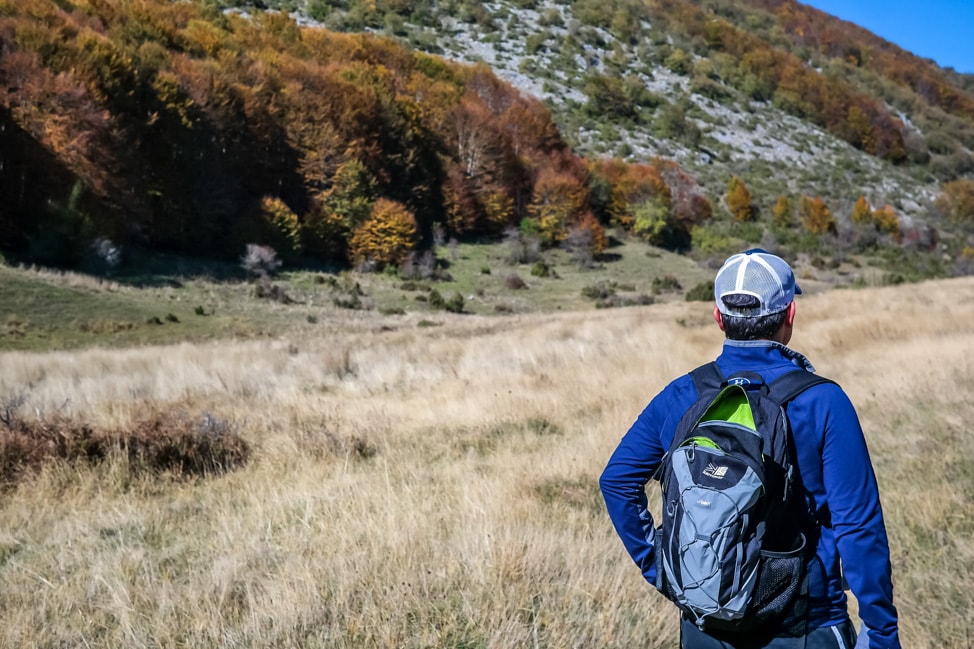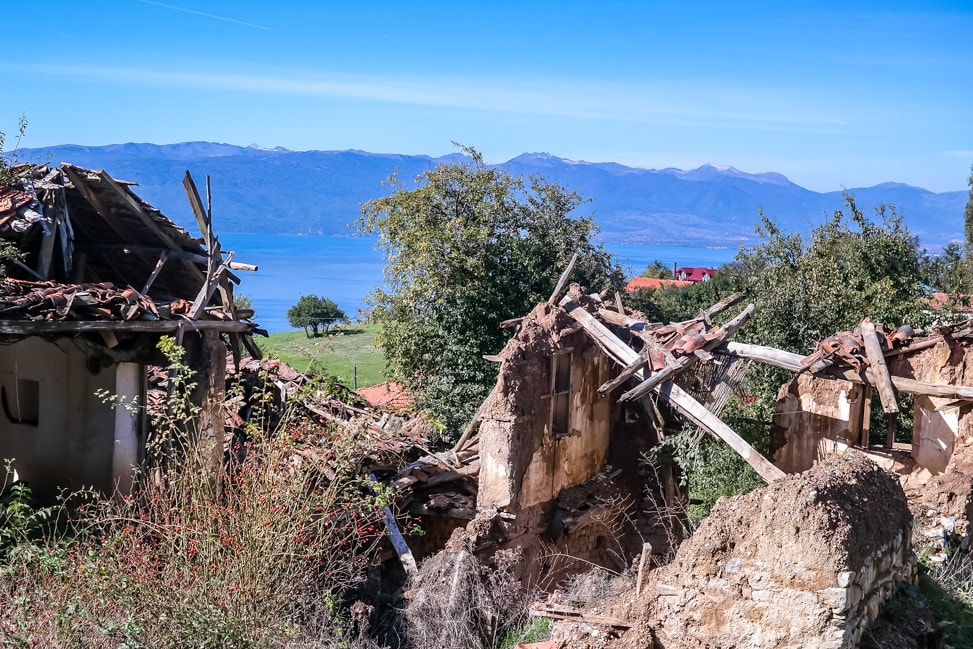 On our hike, we met three friendly dogs, two donkeys, one horse, and a few elderly men who we smiled and gestured with and said hello to over and over, in our non-existent Macedonian language skills.
They were as surprised to see us on their turf as we were to see other humans in an area that can only be described as the literal-middle-of-nowhere.
Overall it was a beautiful day. It felt fantastic to achieve a long hiking goal. The trail was well-marked through certain sections, but at those unavoidable forks in the road, when a marker would be oh so useful, we would frequently be without one. Fortunately, the actual path showed up on our GPS devices, so we were able to easily find our way back to the trail when we veered off. Here is the trail we chose to follow, after reading up online about other hikers' experiences in the area.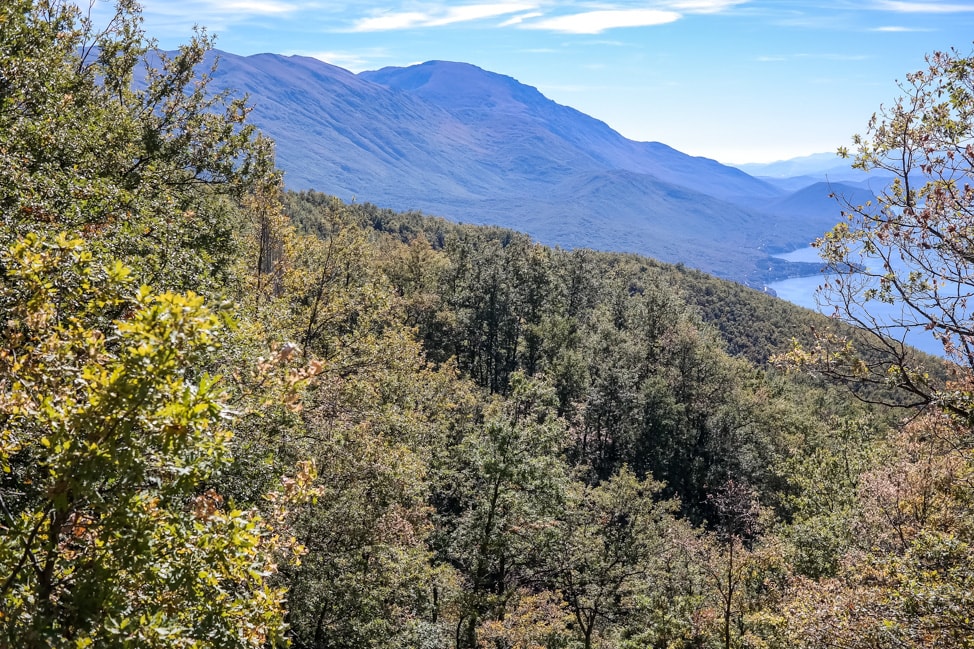 We loved our time in Ohrid so much that we decided to stick to rural locations for the next week or so, moving from Macedonia into Greece. The beautiful early autumn in this area of the world really can't be beat. Here, summers are hot and humid, and the heat just begins to break with the turn of the seasons. We were more than happy to take full advantage of it.
And those friends of ours who tout Lake Ohrid as THE place to go in the Balkans? Yeah, we completely get it.
Pro Tips:
—Certain attractions are closed in the offseason. Among these are the multiple daily boat trips around the lake, stopping at a few prominent lakeside monasteries. Instead, you can always choose to take a ferry to get a view from the water, or hire a private boat (they are available up and down the promenade and seemed to be reasonably priced).
—Like the rest of the Balkans, most Macedonians smoke. A lot. If you are sensitive to smoke, you'll likely want to stick to outdoor dining options if possible. Restaurants, bars and cafes are all stifling. My second hand smokers cough, acquired in early October, is just now going away.
—Want a break from Balkan food? Stop by Dr. Falafel in the center of Ohrid for freshly fried falafel with tons of fresh salads and hummus to mix into your pita. Fast, affordable (about $5 for 2 sandwiches) and the people were super friendly.
—Want to buy a bottle of wine, plan ahead. After 7pm, all groceries and shops stop selling bottles of wine. You can only drink at restaurants after that. Trust me, I found out the hard way, arriving at a market at 7:04pm, only to find the wine section closed off like a crime scene. Tape and all.