Bowls of chilled, sweet shrimp. Platters of perfect shellfish, teeming with mussels and crab. Plates of raw salmon bursting with a fresh taste of the sea. Norway may have stellar beef or lamb, but we wouldn't know because skipped all of that meat. Our time in Oslo was focused on the seafood, gorging on fish plucked from the rather chilly North Sea waters.
And they do seafood very well.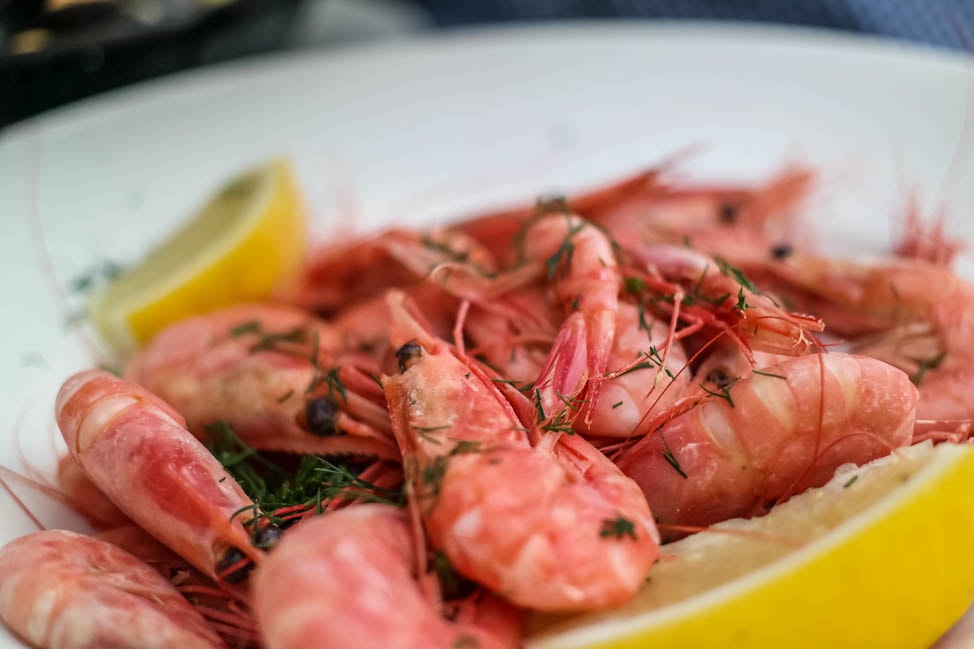 Seafood is an integral part of Norwegian culture. Norway exports more fish than the United States, accounting for a whopping 12% of the world's fish exports. They have mastered the art of farm raising fish too, developing some of the highest quality (and most expensive) salmon and trout in the world. They also have access to a large part of the North Sea, which is home to quality whitefish like cod and haddock, as well as tremendous shellfish like shrimp, mussels and langoustines.
It is a food lovers' paradise. So we wasted no time in diving right into the Norwegian seafood.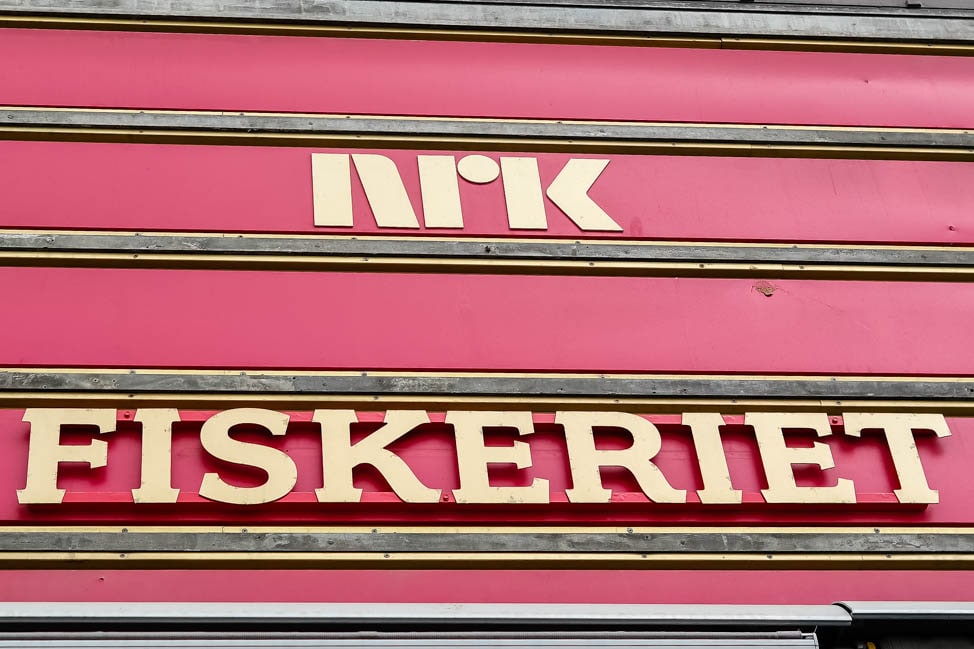 Our first stop in Oslo, direct from dropping off our bags at the Grims Grenka hotel, was a seafood shop. Fiskeriet, located in Youngstorget in central Oslo, is part fish monger, part restaurant. One side of the shop houses the retail market, selling seafood, sauces and some produce. The other side contains a small, rectangular bar with a chalkboard menu listing a handful of menu items. You simply put in your order at the bar and grab a table. After receiving our glasses of crisp white wine, we did just that, plopping down on the patio, enjoying the warm sun while waiting for our food. It was worth the wait.
A enormous bowl of head-on Norwegian shrimp arrived first. Steamed and served chilled with a garlic aioli, the shrimp were stunning. The sweetness of the shrimp reminded me of the famous Maine shrimp, only larger. Next was the fish stew, so packed with seafood you could not even see the tomato and fennel broth underneath. Piles of mussels, shrimp, cod and a shockingly large crab claw were super fresh. If most places sold fish stew this good, I would eat it everyday.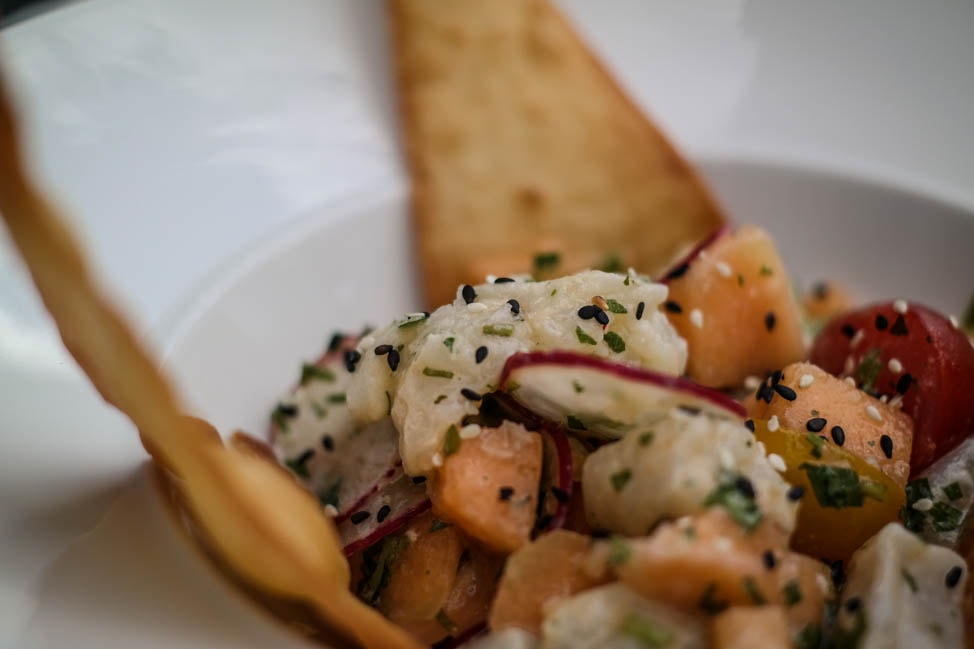 Our last dish was the cod ceviche, spiked with lemon juice and offset by sweet cantaloupe. It disappeared quickly, as we fought over the last forkful. It was a perfect start to our weekend.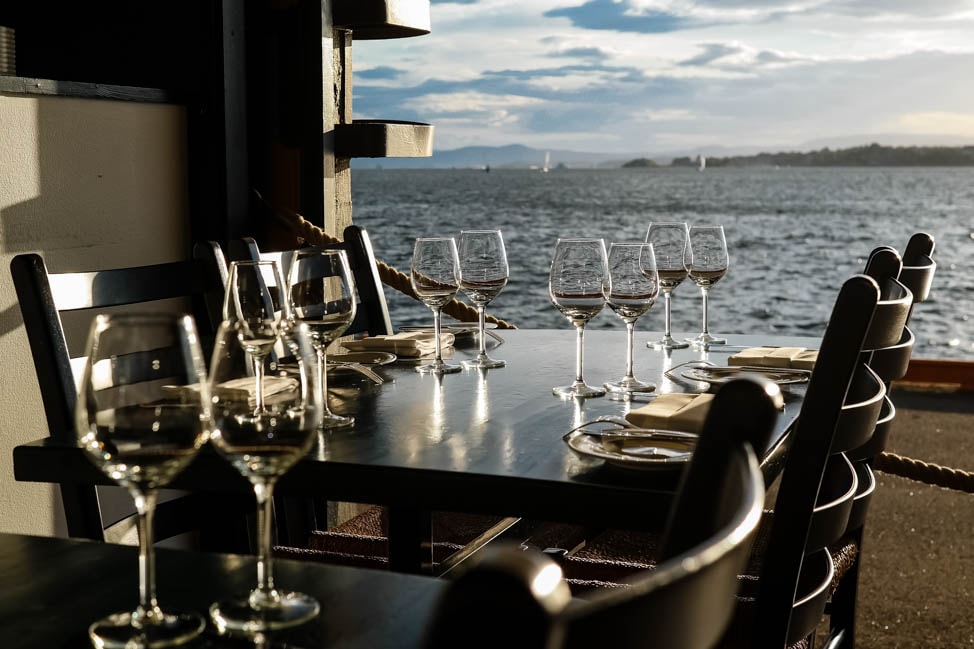 After our seafood bonanza for lunch, we settled into yet another feast from the sea for dinner at Solsiden. The waterfront setting was surreal, as a wall of windows folded back, making the entire restaurant open air, allowing us to gaze at into the harbor only a few feet away.
We enjoyed more raw fish as our starter, sharing a tasting of crudos, including tuna, salmon and scallops. For our mains, we went for the local redfish and turbot, one of the finest tasting (and most expensive) fish in the world. The preparations were straight forward, allowing the freshness and flavor of the local seafood to star.
We regretted passing on the shellfish tower, though frankly, there was no way we could have eaten it all. It is the specialty of the restaurant and contains more shellfish than I've ever seen on a single platter. A family of four next to us ordered it, piled high with whole crabs, lobsters, langoustines, oysters, mussels and shrimp. They spent almost an hour and a half eating it and did not finish it. It is one serious shellfish tower.
Our final dinner in Oslo was at Foodbar at THE THIEF hotel, which just meant more seafood. Bleak roe, turbot soup and halibut. We were wavering between ordering the beef ribeye or the halibut, both served for two people. The server smartly reminded us that you can get good beef in a lot of places, but it is hard to beat the quality of the local halibut. In fact, we were going to order a different starter too, but she quickly steered us towards the bleak roe and the turbot soup.
"You are in Norway. You should enjoy what we do best: seafood."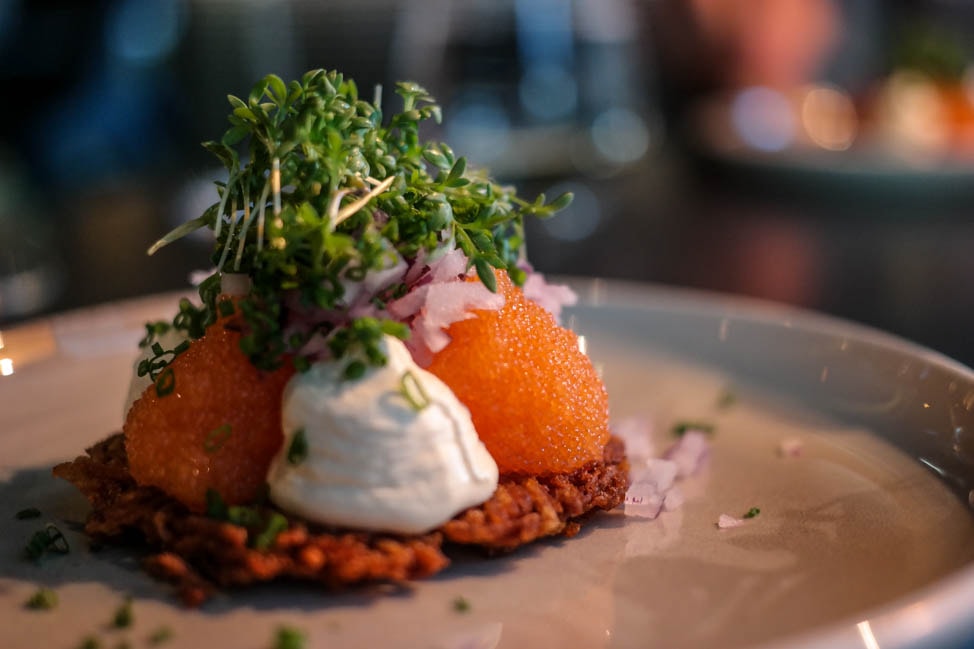 So in our 48 hours diving into the food scene in Oslo, we managed to sample 10 different types of seafood. Impressive work for such a short stay. The freshness and quality was just too high to pass up and as former residents of another seafood heaven (Maine) it is rare for our high expectations to be met so resolutely. Norwegian seafood is truly top notch. The UK has some great fish and tasty crab from Devon, but the quality is variable. In Norway though, every restaurant, market and fish shop was teeming with the pristine product. I can't wait to try even more.
Next time though, we won't pass on the shellfish tower.