We sat back in our bubbling, soothing jacuzzi, shielded from the pouring rain by our covered terrace. As the last bit of travel stress evaporated into the night, we opened a bottle of Modra Frankinja from local winery Malnarič, and listened to the rain drive into the Kolpa River at the Big Berry Resort in Slovenia.
Life, in this moment, was good.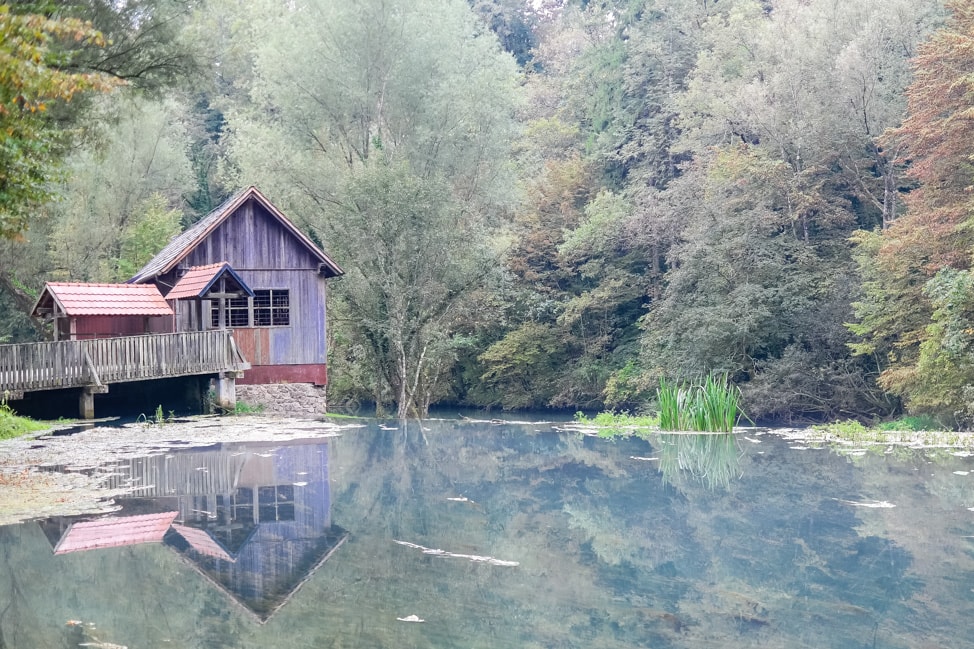 After a week road tripping the entire northern section of Italy, we needed a break. A break from our car, a break from the road race that is the Italian autostrada, a break from the city crowds.
We needed Slovenia.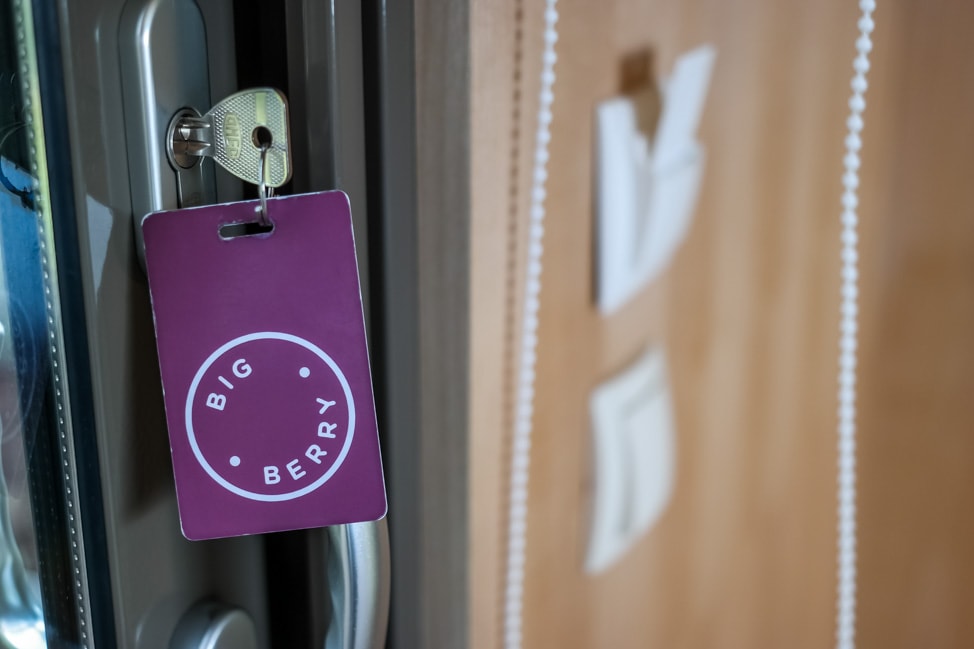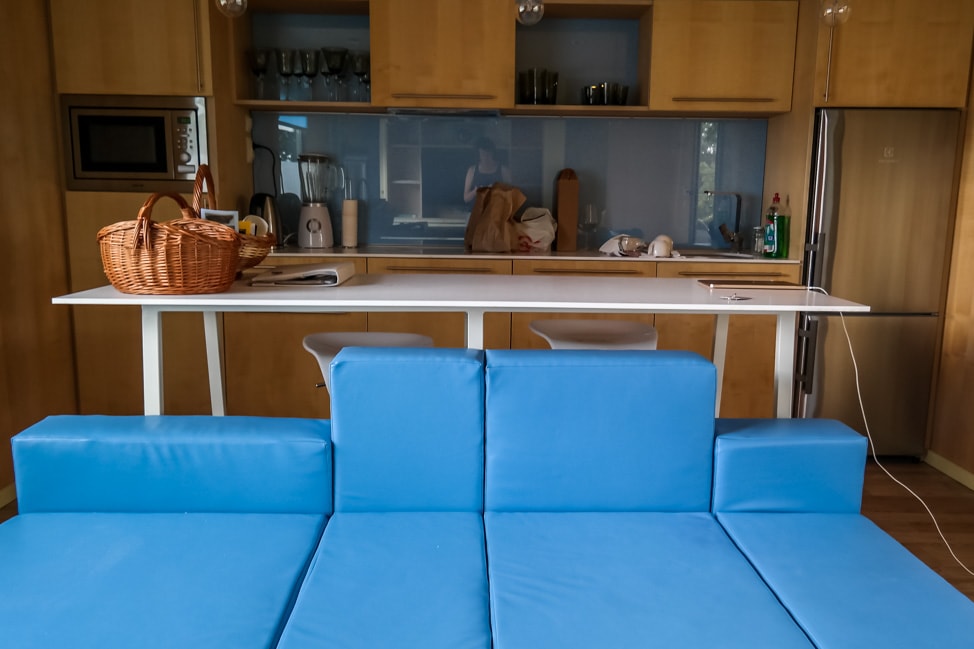 After our recent springtime visit, Slovenia shot to the top of our favorite European countries, packed full of surprises and natural beauty around every corner. It was with comforting familiarity that we navigated to Big Berry, our Slovenian home for a few days, surrounded by gently rolling hills, vineyards, farms, and a picturesque river.
The Big Berry Resort calls itself a 'Luxury Landscape Resort,' a title that perhaps needs a little explaining.
The resort consists of luxury mobile homes (which are also available for purchase, in case you really fall in love with the resort), accommodating 2-6 people per home. The design is modern and light, with huge windows, a full kitchen, a bathroom with rain-head shower, and even a private terrace containing the aforementioned jacuzzi, overlooking the river.
The grounds are spacious, and the homes are spread out, allowing for sufficient privacy. A covered barbecue area, complete with a massive grill and couches, heavenly daybeds strewn about the property, free canoes for drifting down the Kolpa River, and even a beach volleyball court await the guests of the Big Berry Resort.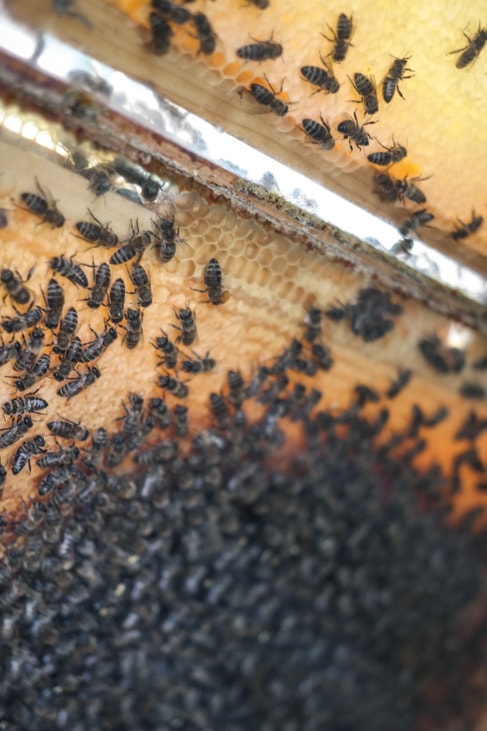 But unlike many "glamping" resorts (which, for the record, we love), which offer a luxe experience in a camp setting, Big Berry is has a more ambitious goal. They want the Big Berry experience to not just focus on the property, or the amenities, but to provide an authentic view into the local area, the Bela Krajina region of Slovenia.
Big Berry wants guests to connect personally to the area, use locally made products, eat local food and get to know local producers.
To achieve such ambitions, they have managed to foster relationships with over thirty vendors in the region, from linen makers to furniture manufacturers to honey producers. The mobile homes are custom made, and many of the furnishings are not just picked from a nearby Ikea, but rather, made by real people in Bela Krajina.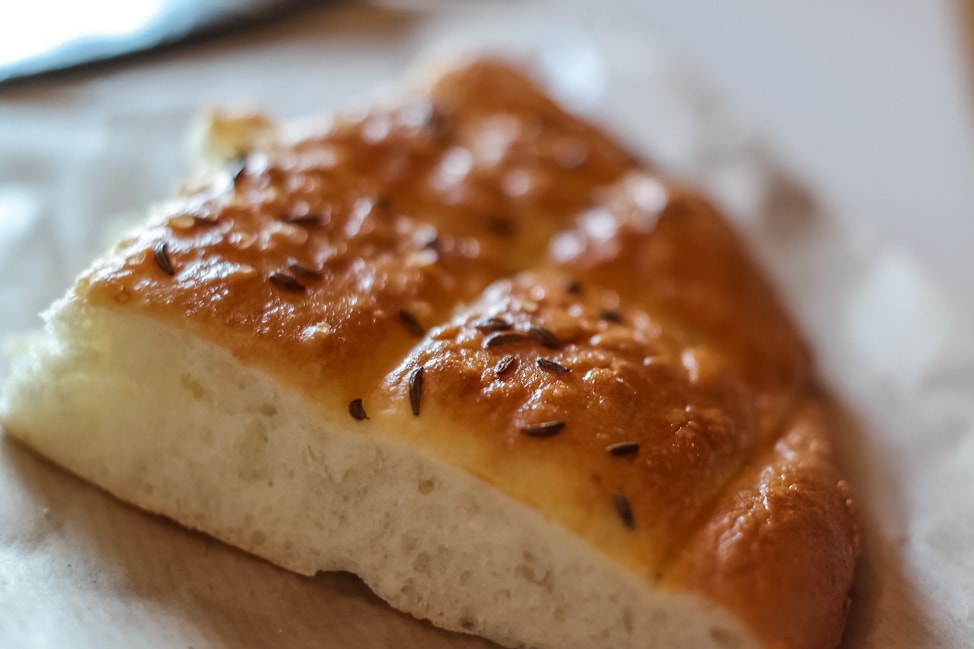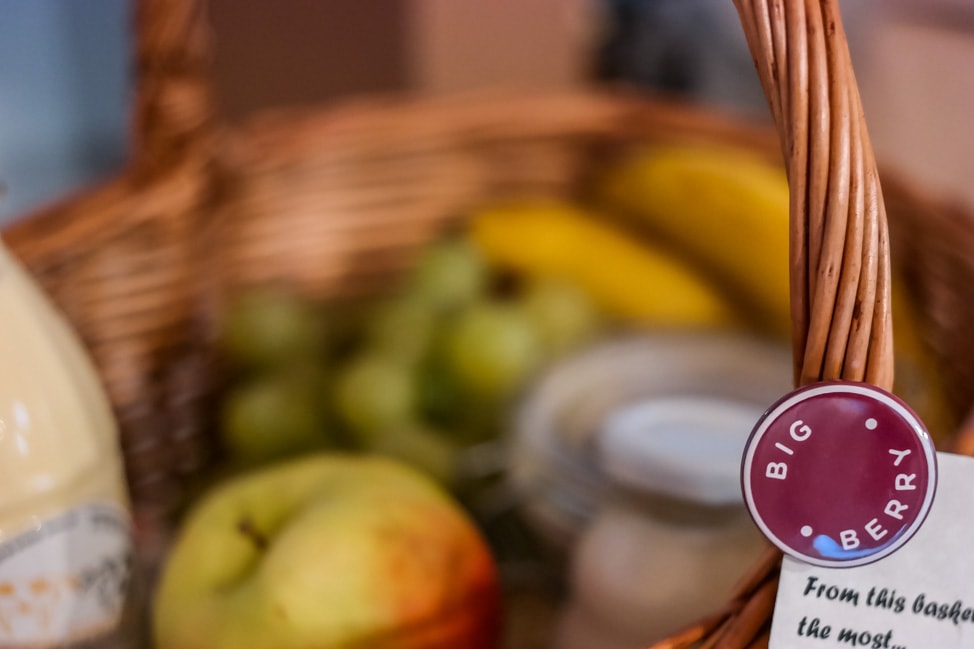 Thoughtfully left on our terrace table each morning at 8am, the breakfast basket was a perfect example of this dedication to community.
Every morning we were treated to local produce, yogurt, milk, apple juice. A quarter loaf of pogača bread, a focaccia-like bread that is an EU-protected Slovenian speciality, made by the gregarious local baker Mojca (who showed us her crazy custom-built motorcycle her husband built!) was tucked in as well.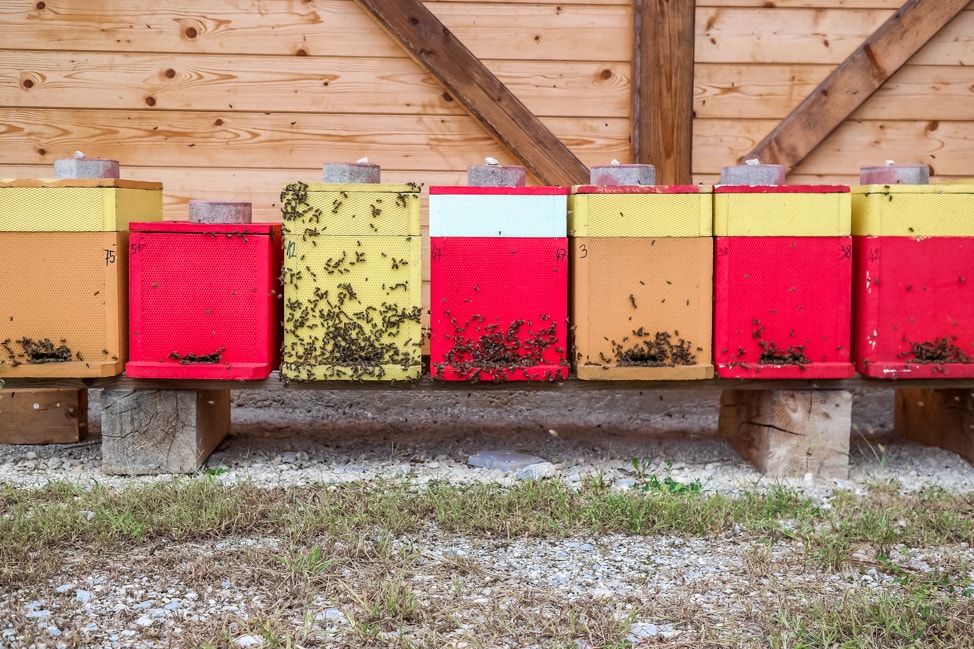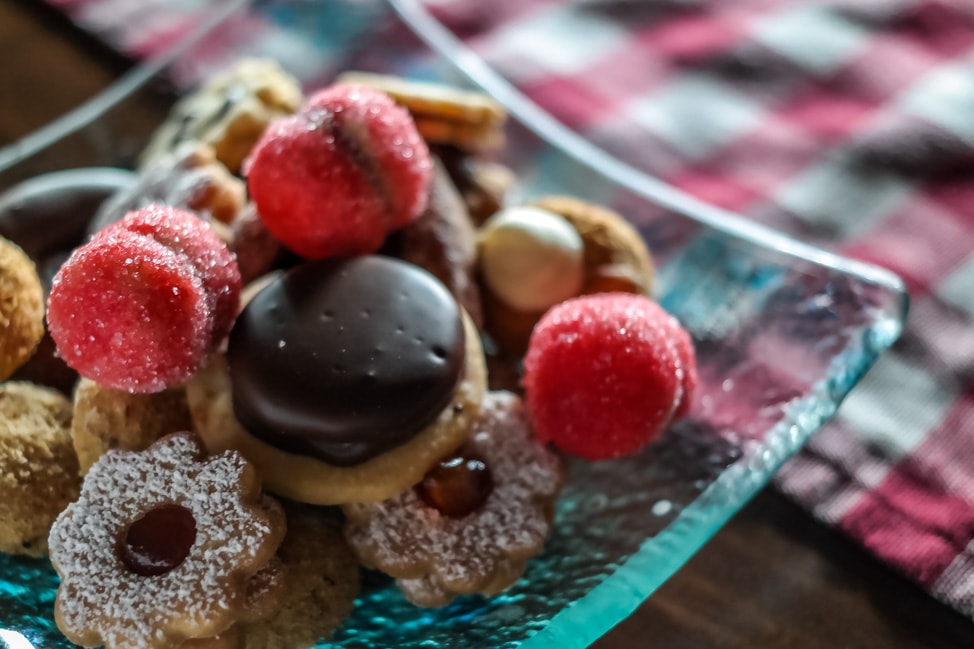 On a free afternoon, Alberto from the Big Berry Resort drove us around Bela Krajina introducing us to several of the local partners who contribute to the resort. We had a snack and some freshly baked cookies with Mojca, tasted homemade honey liquor made by local honey makers Čebelarstvo Veselič while surrounded by thousands of (apparently chilled out) honeybees, and popped in for an evening wine tasting at the winery Malnarič.
Our interactions were utterly genuine. We went to their homes, joked, talked, and listened to their stories. For a brief moment, we were part of the community, too.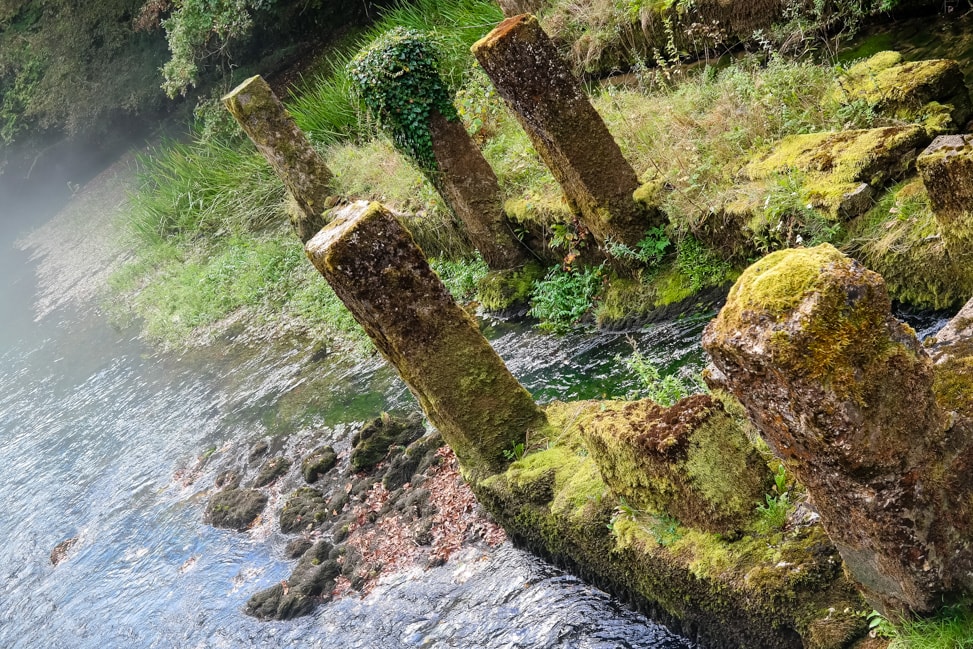 Alberto even took us to a few secluded spots along the way, hidden gems down dirt roads and narrow rural lanes, that showcase the natural beauty of this area of Slovenia. We hiked up an ancient street, its stone barriers still visible. We saw the perfect picnic spot, but abandoned the idea when it started to rain.
It would be easy to just wax poetic about the luxury camp, about the fantastic mobile homes, about the riverfront setting, about the jacuzzi, or about the generous breakfast basket. But that would be missing the bigger picture.
Big Berry is about all that, but it's about showcasing Bela Krajina even more.
The concept of Big Berry Resort, with its luxury landscape resort lifestyle, can be replicated anywhere, but no matter what, Big Berry Kolpa River will always be unique to Bela Krajina. A Big Berry in Norway, for instance, would not include the same local ghee or delicious pogača, but rather artisanal smoked seafood, or local rye bread. The amenities and features of the resort would be the same, but the experience in the region would be totally unique to that location.
And that is what sets Big Berry apart from so many other similar destinations. There are plenty of eco-friendly "glamping" resorts out there, but I have yet to discover one so connected to its neighbors.
And the guests of Big Berry resort get to benefit from those relationships, allowing for a truly unique experience in Slovenia.
Logistics
The Big Berry Resort is located in Primostek, Slovenia, along the Croatian border. It is about a 90 minute drive south of the Slovenian capital of Ljubljana and about 90 minutes from Zagreb, Croatia. The daily rate is €200/night for one of the mobile homes, including the generous breakfast basket. There are a few restaurants within a 10 minute drive, but don't forget cooking in the fully equipped kitchen. There is free wifi around the property, but it can be a little spotty in areas.
We were guests of the Big Berry Resort, and our stay was complimentary. As always all opinions are our own, though now we're considering tiny house living in the future. Seriously.