Monaco. Home of mega yachts, exotic sports cars, and some of the wealthiest individuals on the planet. After one night in this luxurious principality, I can tell that its reputation of a bizarrely extravagant place is well deserved.
So what on Earth are we doing here?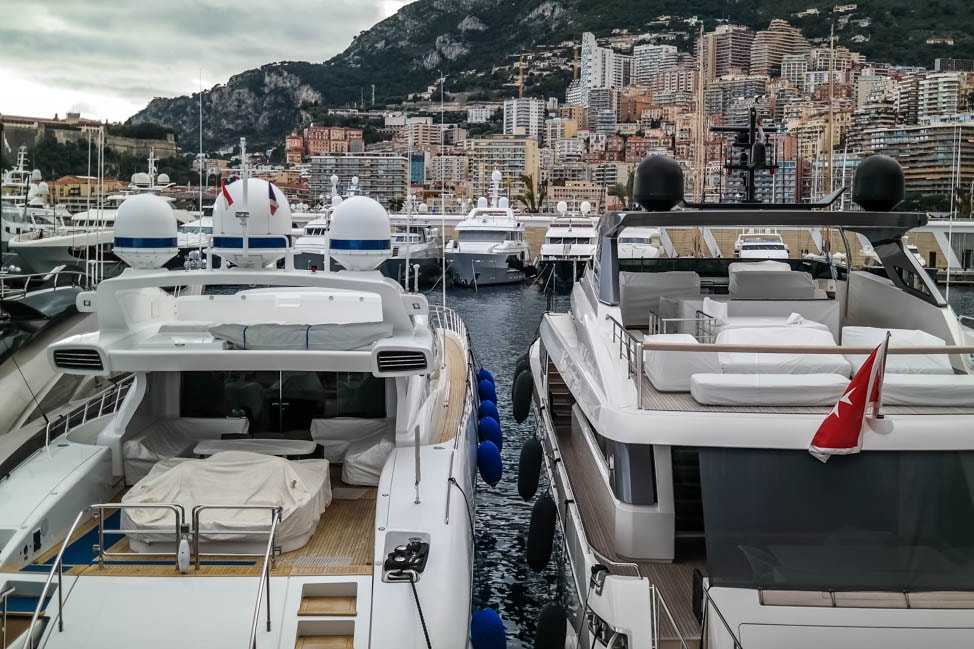 With a free weekend in October rapidly approaching, we toyed with the idea of visiting Monaco. Julie was game if only to check it off her list of countries visited. My interest in the area goes way back. Being a tennis fan, I always tuned in for the annual ATP Tour men's tennis tournament at the Monte Carlo Country Club, awed by the red clay courts, perched on a hillside, with the Mediterranean Sea as its backdrop. Monaco is also home to the historic F1 road race, the Monaco Grand Prix. For a tiny country, with tiny narrow streets to match, the idea that F1 race cars drive through the city at speeds upwards of 180mph is always exhilarating. I also know the course intimately from many hours perfecting my digital driving via the video game Gran Tourismo.
Before we get into the details of our time in Monaco, be warned: this is not the destination to visit on a shoestring budget. The NY Times Frugal Traveler visited once back in 2008, claiming it as the ultimate challenge, but was able to save some cash by not actually staying within the country limits.
It's best to think of prices and cash in Monaco as just play money – it's much easier to spend it with abandon that way.
Our digs for the night, the Monte Carlo Bay Hotel and Resort, was one of the better deals (€279 per night!) in town. Our room was well appointed and had a large balcony with a view of the Mediterranean and the surrounding hillside. As sometimes happens in nice hotels, we were nickeled and dimed straight away.
The wifi was an additional €10 per day (charges for internet is my biggest travel pet peeve). The breakfast options truly set a new bar for price gouging though. A simple breakfast of coffee, orange juice and a bread basket with jam and butter? A cool €29 per person! Even an a la carte omelette was €18. That was a steal compared to "Bay Luxury Attitude", a €200 meal for two, which featured a continental breakfast, eggs, pata negra ham, foie gras and a bottle of champagne.
Just like that, I realized we were out of our league.
As we walked along the waterfront in search of lunch, we passed Rolls Royce, McLaren, Ferrari, and Bentley car dealerships. All in a row. In a single long block. On the road, luxury car after luxury car passed us, revving their engines aggressively if they were forced to slow for pedestrians. The occasional Citroen or Renault drove by, reminding us that we were in a real town, not just Disneyland for car lovers, but normal vehicles were quickly overshadowed by the inevitable subsequent fleet of super cars.
We settled down at Avenue 31, a restaurant I had read about prior to our visit, for a late lunch. The food was delicious and the portions were massive, which helped offset the prices. We popped a bottle of rose wine, as you do when you are dining on the Mediterranean. The buzz from the wine helped us cope with the large bill, as we reminded ourselves that spending money here is part of the fun.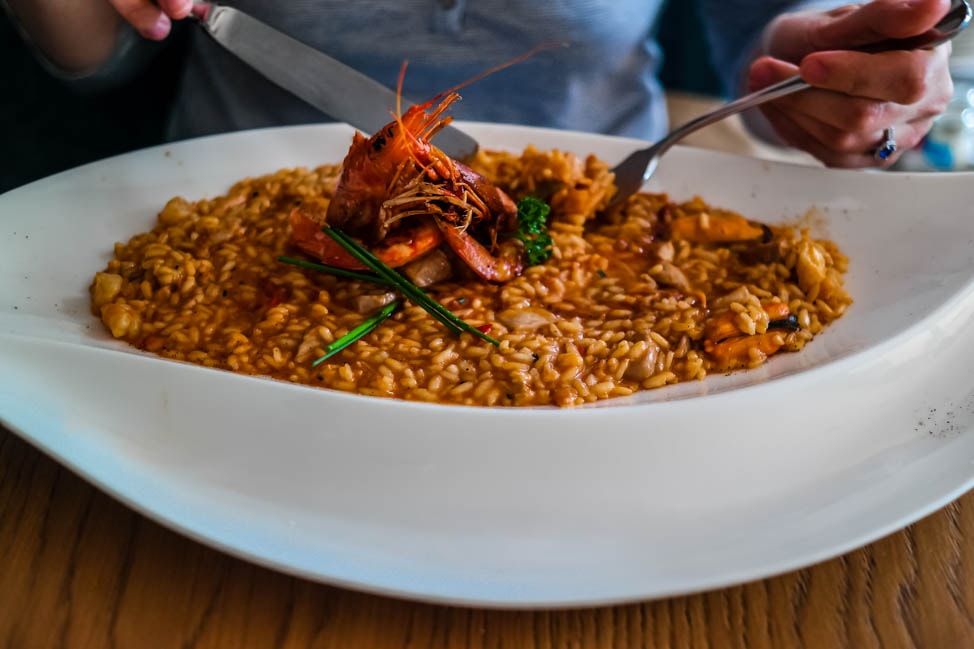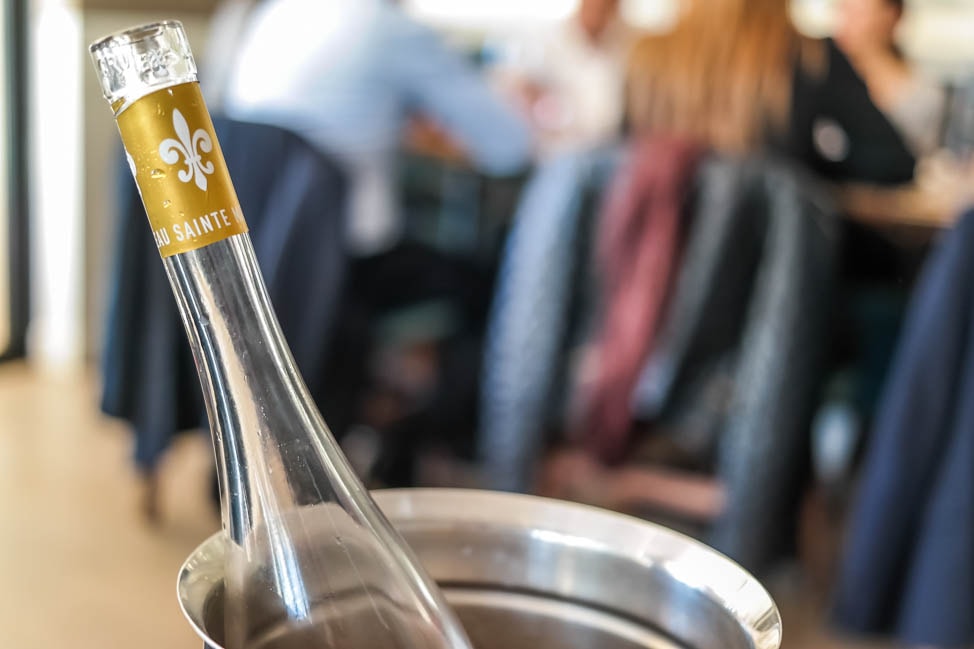 We spent the bulk of the warm afternoon meandering around the marina. While I have seen large yachts before, I have never seen such them in such density. There were dozens anchored in the harbor, lined up one right after another. There was probably more money floating in that harbor than the GDP of a lot of countries. We joked that only in Monaco would a yacht-touting oligarch feel out of his league, pulling up to the even bigger boat in the next mooring.
Our evening was spent around the Monte Carlo Casino, dining first at Buddha Bar, a sushi restaurant set in a former concert hall. The interior was dark and bathed almost entirely in red, from the ornately draped walls to the painted ceiling to the baroque upholstered chairs. An enormous, golden Buddha statue greeted us as we entered the dining room with a DJ spinning records on a balcony. Subtle.
The finale of the evening was taking my masterful roulette game to the next level at the Monte Carlo Casino. I anticipated several martinis (shaken, not stirred), glamorous high-rolling patrons, tuxedos and maybe a celebrity or two. The casino was a beautiful as Bond made it look – marble columns supporting an intricately carved and muraled ceiling. Polished gold and silver coated every free surface.
An hour later, we ducked out into the night, having blown through a lot more cash without a single significant win. To be honest, we were underwhelmed by the whole thing. The annoying €10 entry fee deters the crowds. The massive space isn't quite filled enough by gaming tables to create that heady, buzzy atmosphere that makes gambling fun. Free-flowing cocktails, a standard feature of any self-respecting casino, were all but non-existent, and we balked at the idea of a €20 martini. My vision from Casino Royale, it was not.
Real or play, we had spent enough money for one day. It was time for bed.
The next day we were back to our normal, frugal selves, sampling pastries for a €1 and walking around, the best free activity there is. We played the game where you pick your dream yacht and we talked about how living in a place like Monaco must do a number on a person's perspective in life.
There is a feeling of getting swept up into a world of unlimited resources while visiting Monaco that makes it feel more like a fantasy world than a real place with real people. Yet, the money, the wealth and extravagance are very much real. Getting lost in that world, albeit for a short period of time, has a sense of playfulness about it, an escape from your economic reality that makes Monaco a rather unique (and expensive) destination for a getaway.
As we boarded our train to Nice, France, we bid adieu to the country that stole all our money, tempted us with luxury at every opportunity and made us feel a part of madness. If just for one night.