It shouldn't be too big of a surprise that we ate well this year. Frankly, we eat pretty well every year.
Compared to previous years, we didn't have as many once-in-a-lifetime meals, or extensive (and expensive) tasting menu experiences. Thanks to all of the craziness surrounding our move to China, we didn't write a "must eat" restaurant list this year, and were more invested in a "where are we going to live?" list.
Despite all of that, we still managed to squeeze in some great meals, around the globe. Check out our highlights from 2016 and 2015 if you want more inspiration. Rest assured, we like to keep things interesting on the food front.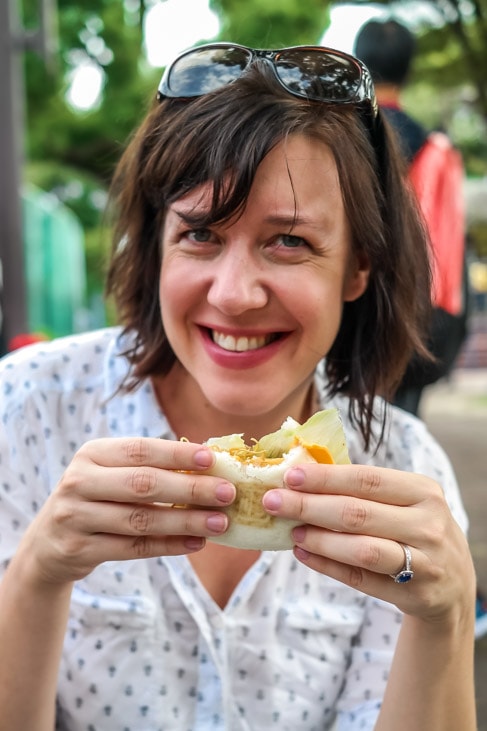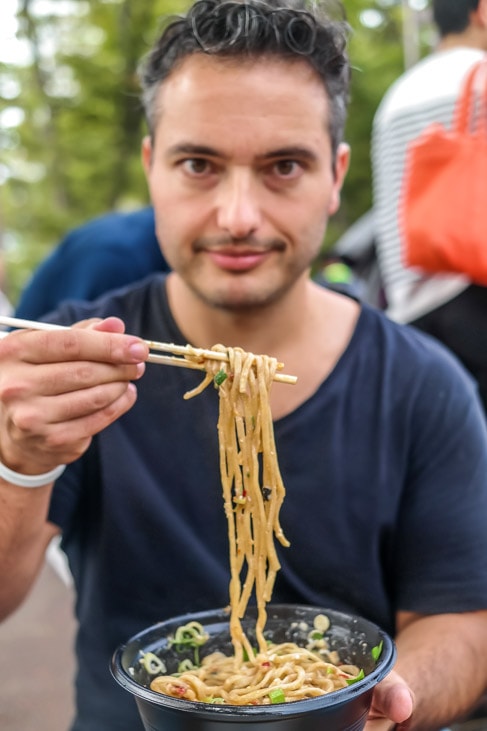 Best Meals of the Year
The "Where Have You Been All My Life" Award: Taco Billy, Asheville (North Carolina, USA)
We stumbled upon Taco Billy during a stay in Asheville, NC. We had heard a few things about a taco joint called Taco Billy, dishing out tacos from a brightly painted shack, in West Asheville. What puts the place forever in the pantheon of best eats for us is that they serve the best breakfast tacos we've ever had.
The "Billie Holiday" is a basic breakfast taco with scrambled eggs, sausage, and cheese, topped off with a little hot sauce. Totally unfussy, but so gosh darn delicious it's a shame we don't live down the block. Our visit was part of a self-proclaimed quest to sample the best of West Asheville breakfasts, and Taco Billy came out the resounding winner.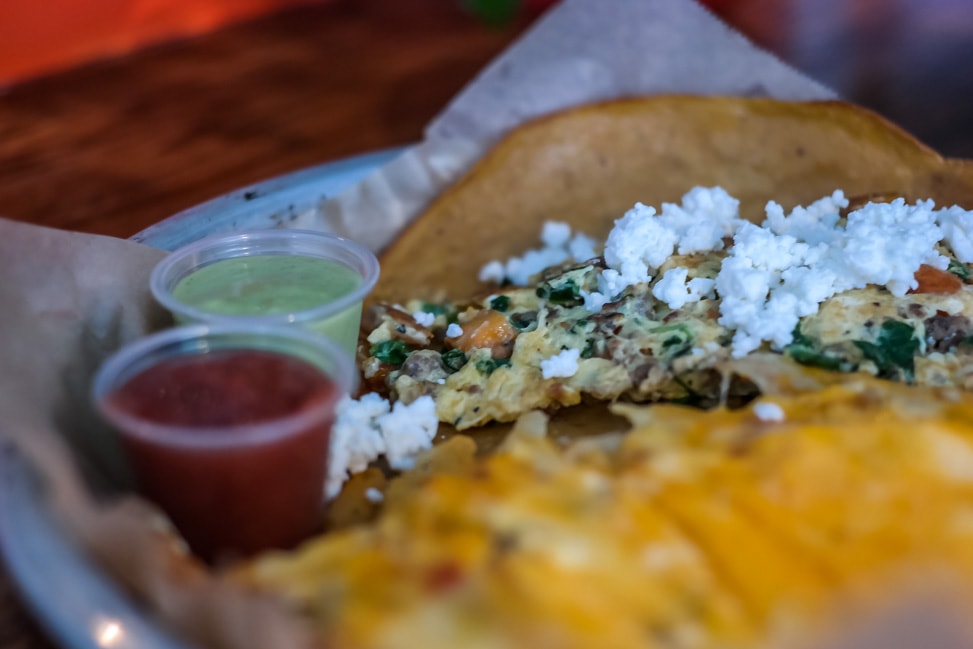 The "Worth Waiting in Line" Award: Swan Oyster Depot, San Francisco, USA
The Swan Oyster Depot (no website, naturally) is vintage San Francisco, in operation for over 100 years. It is the kind of place that hasn't changed much over the years, and still attracts plenty of locals amongst the hoards of hungry tourists. For what, you ask? For the piles of super fresh seafood, served up with plenty of saucy attitude.
Let me put it this way: if you came to San Francisco for Dungeness crab and find yourself at some kitschy, nautical-themed Fisherman's Wharf monstrosity, you chose poorly.
We arrived just after 2pm on a weekday and were greeted with a line out the door and down the sidewalk. With room for 18 diners, we were in for a wait. Almost two hours later (!) we snagged two seats at the bar and were quickly handed a couple glasses of white wine.
Swan Oyster Depot has a large selection of oysters and raw shellfish, not to mention "salads" which are actually just mounds of seafood piled on some shredded iceberg with Louie dressing on the side. Plus, they have a whole secret menu of dishes, like "Sicilian Sashimi' which is a large plate of raw tuna, salmon, and scallops dressed with olive oil, capers, and lemon juice.
We love that despite its popularity, the guys who man the kitchen at Swan Oyster Depot haven't let their popularity go to their head. Once you get a seat, they will never rush you. Have a second glass of wine. Order another plate of oysters. The seat is yours until you have had your fill of the Bay Area's best seafood.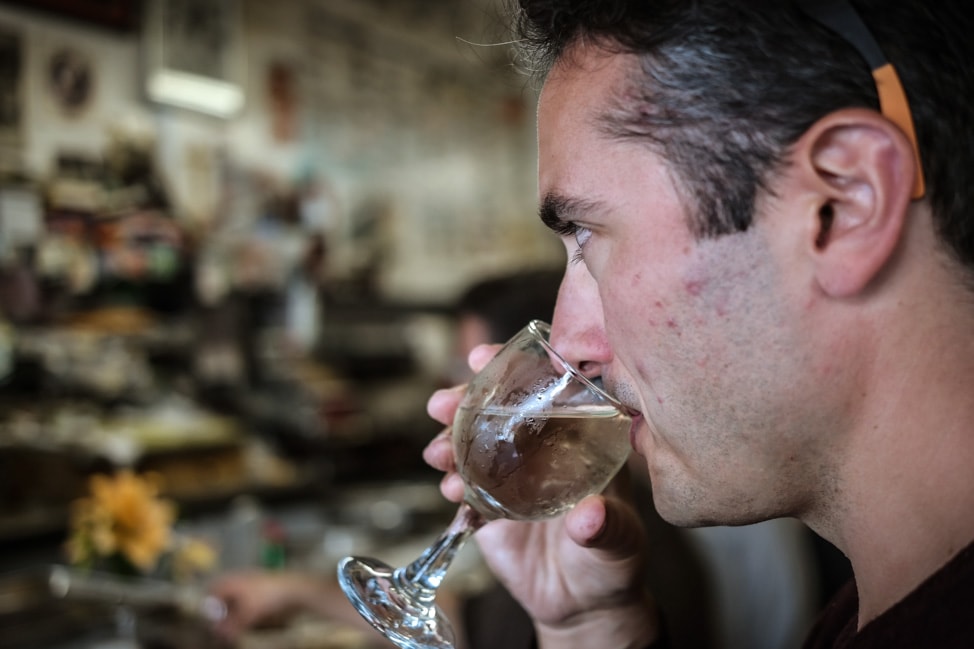 The "Good Value Wine Country Staple" Award: Farmstead, Napa Valley, California, USA
Can this be an award? Yes, because I just made it one.
Farmstead is a restaurant in St. Helena that has become our go-to eatery when we find ourselves in Napa Valley (which you'd think would never happen, but randomly has several times this year). Housed in a homey, refurbished barn, Farmstead is the place where locals eat because very impressively, the food is well priced, something that is challenging in a place where $40+ entrees and $200+ tasting menus are the norm.
When we go to Farmstead, we come in with our friends (locals) and several bottles of wine from their cellar (of course they have one, they're self-respecting Napa residents). We snag a seat at the bar and enjoy our own wine for the price of a ridiculously low $5 corkage fee! When we get hungry, there are ham sandwiches with pepper jelly on biscuits, deviled eggs with pimento cheese, and other Southern comfort food inspired plates. On nights we are particularly hungry, we'll share some smoked St. Louis ribs, too. Then after having perhaps one too many glasses, we simply walk back home, no car needed. It has become an integral part of our wine country experience in Napa.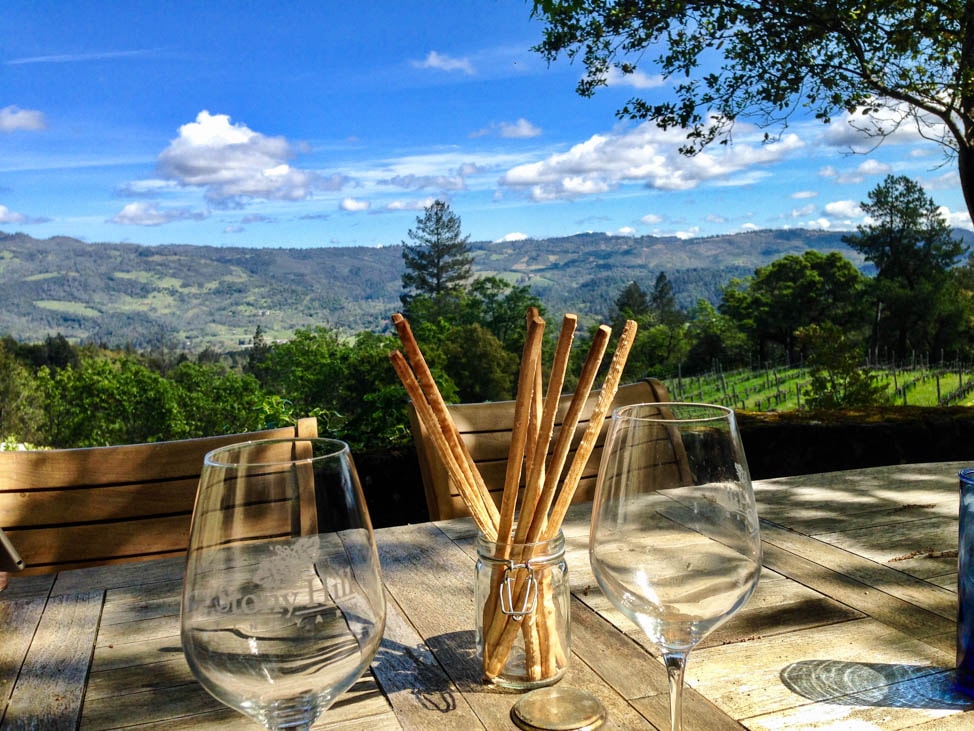 The "This Is Exactly What We Needed" Award: Liquid Laundry, Shanghai, China
After a few months of living in Shenzhen, we were sorely missing our weekend brunch ritual. On our first visit to Shanghai, we happily discovered a vibrant brunch scene just like we're used to, complete with fun cocktails that somehow make it okay to drink at 11am and menus full of our favorite combinations and twists on the classics.
Our first pick for brunch in Shanghai, and the gold standard by which we've measured each and every other place is Liquid Laundry. The look of pure joy on Julie's face when the "McBretzle Sliders" hit the table was like a kid on Christmas morning. One of our favorite dishes is a deconstructed Reuben sandwich of sorts served in a cast iron skillet, devoured so fast we didn't even take a photo. The potato rosti with poached eggs and smoked salmon was our 'healthy' pick and was a nice contrast to the massive piles of breakfast meat we consumed.
If we ever live in Shanghai, we've already made a pact that we'll live near this restaurant. No joke.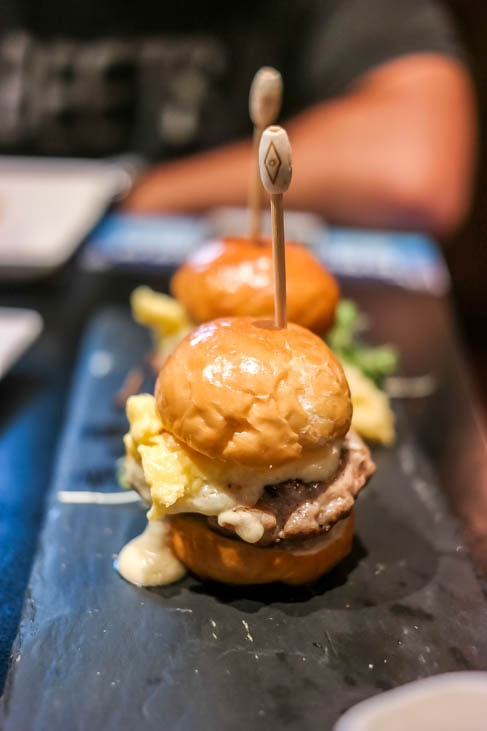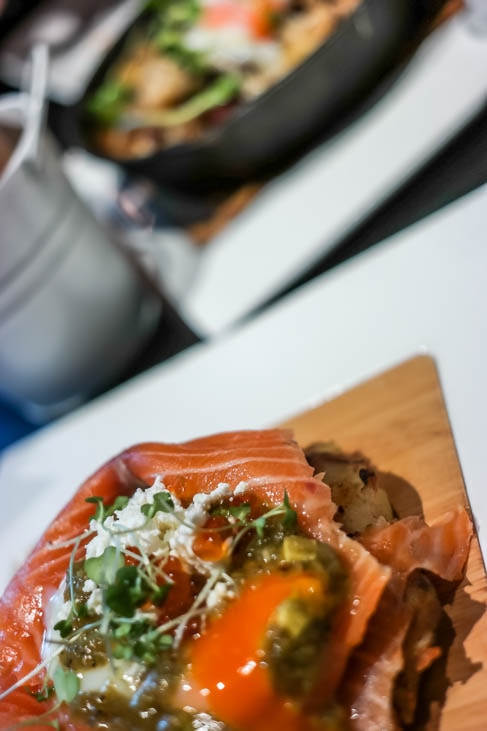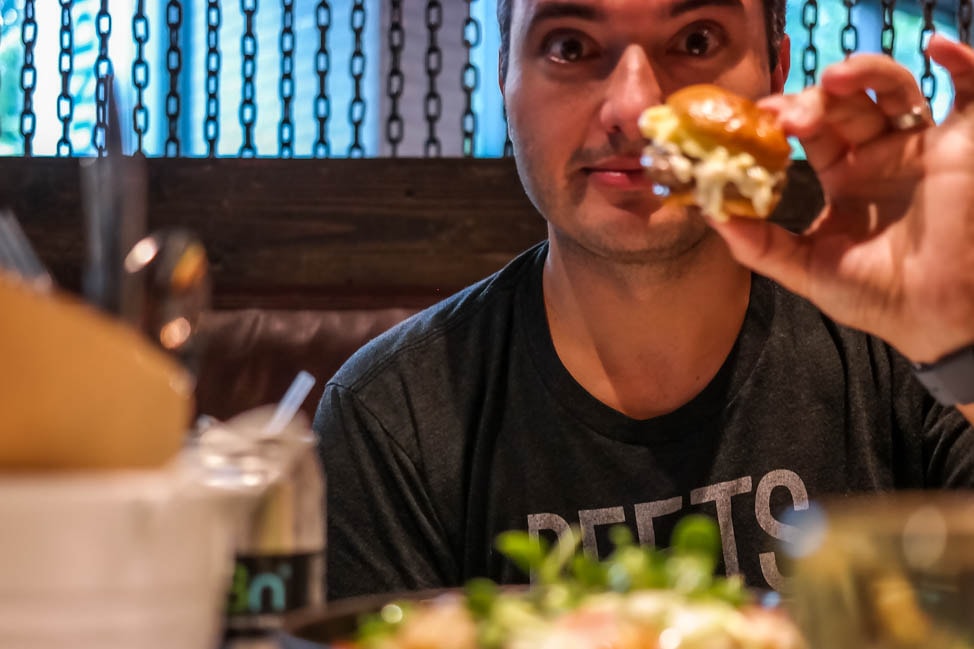 The "So Simple Yet So Good" Award: Yakitori Nanbantei, Tokyo, Japan
We arrived in Tokyo ready to hit the ground running and eat like champions. We had a food tour planned and a list of the sushi places and ramen joints to explore. Yet despite all of the hype over the sushi (I disagree, to an extent, with the "you've never had sushi until you've been to Tokyo" belief), our meal at a random yakitori restaurant was our favorite.
Maybe it was because we had no idea what to expect when we walked into the tiny Yakitori Nanbantei, located on a quiet street near the chaos of Roppongi Hills. But when they delivered that first plate and we took a bite, we looked at each other with the big-eyed "Is this as good as I think it is?" look. Yakitori is grilled meat, fish, or vegetables on a skewer. That's it. Totally simple. We could make it at home. Except we can't because every attempt we've made is far inferior to the magic we experienced in Tokyo.
We loved everything we tried (about 25% of the options), but we both have a soft spot for the regular old chicken skewer. Because how can a skewer of chicken be that good???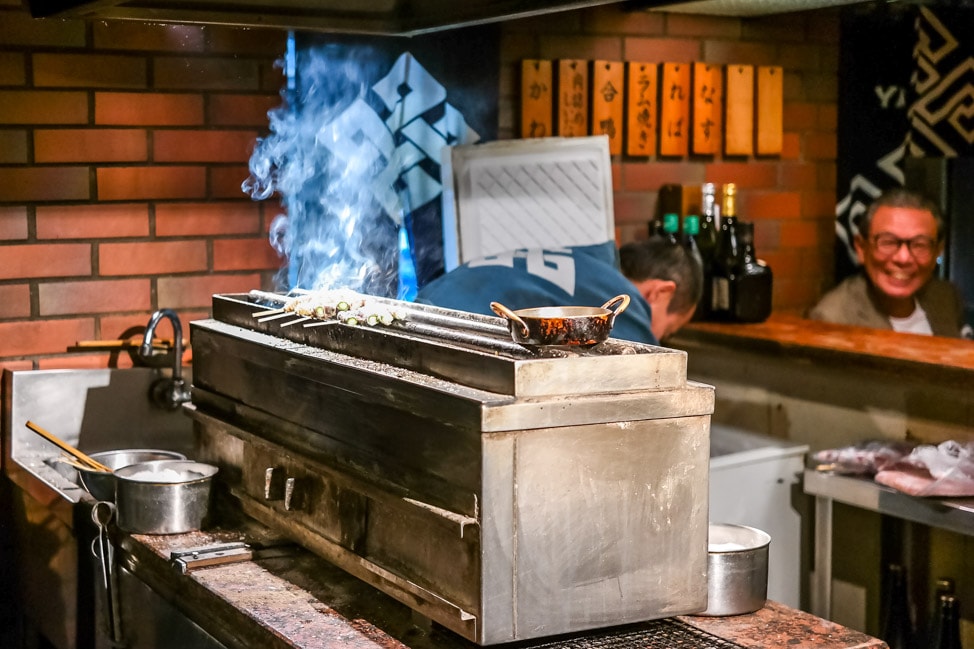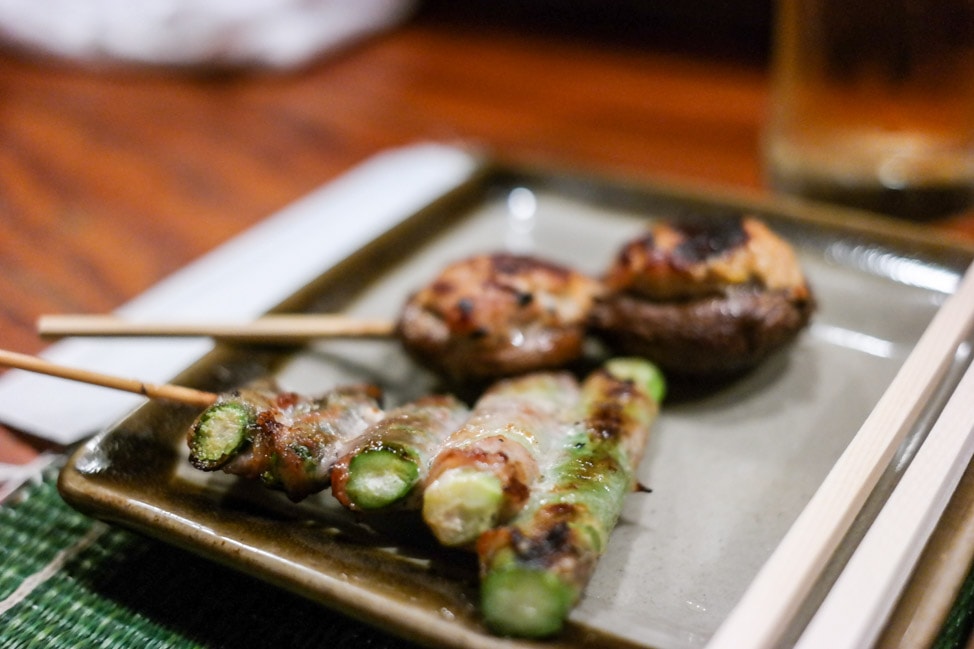 The "Best Meal Under $3" Award: Yang's Dumplings, Shanghai, China
The star of Shanghai cuisine for most food lovers is xiao long bao, better known as soup dumplings (check out our guide to Chinese dumplings for more details). These little gems are a favorite of ours, and we have done our fair share of eating them whenever we make it up to Shanghai. But there is another dumpling that calls Shanghai home, one that is rarely seen outside of China, and it might be even better than xiao long bao.
Yang's Dumplings is a small chain in Shanghai that specializes in this other dumpling, called shen jian bao. The dough for these dumplings has a leavening agent in them, so they are more dough-like than a thin, delicate dumpling wrapper. The crucial difference though is the cooking process. Instead of being only steamed, shen jian bao are steamed and THEN pan-fried in massive cast-iron skillets, leaving the bottom golden brown and crunchy, the top soft and pliable, and the filling incredibly juicy. At Yang's, they have three fillings to choose from, and with six to an order for about $2.50, it's the best value lunch we've ever had.
I never thought I would say this, but I like them more than soup dumplings.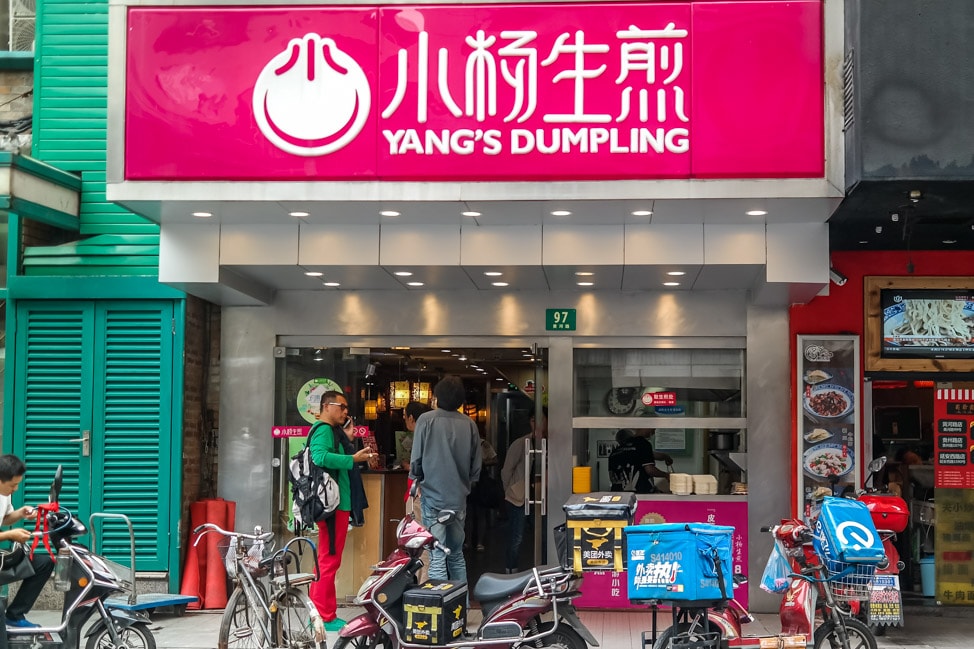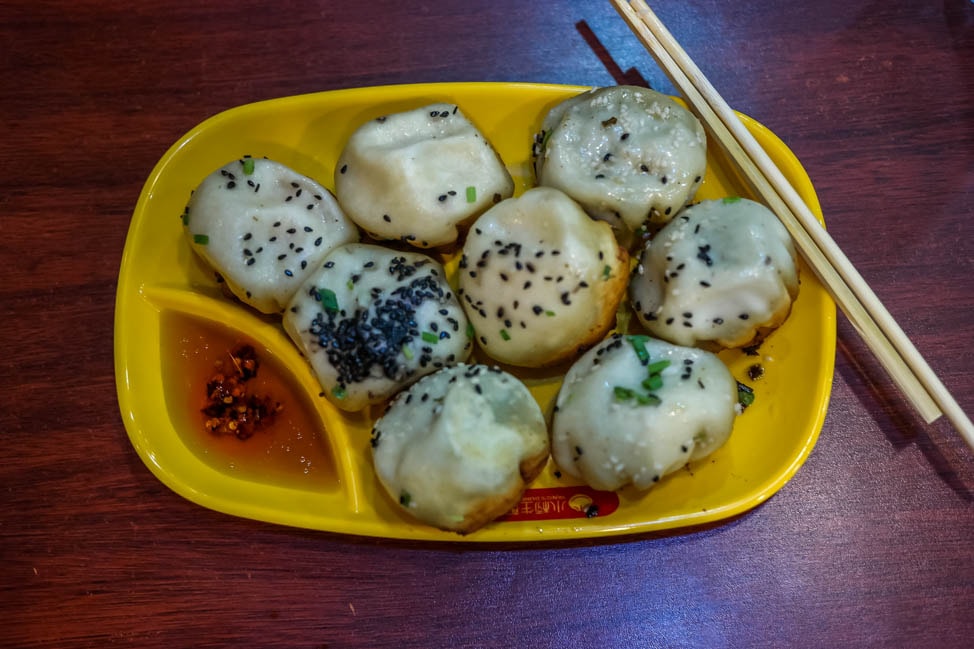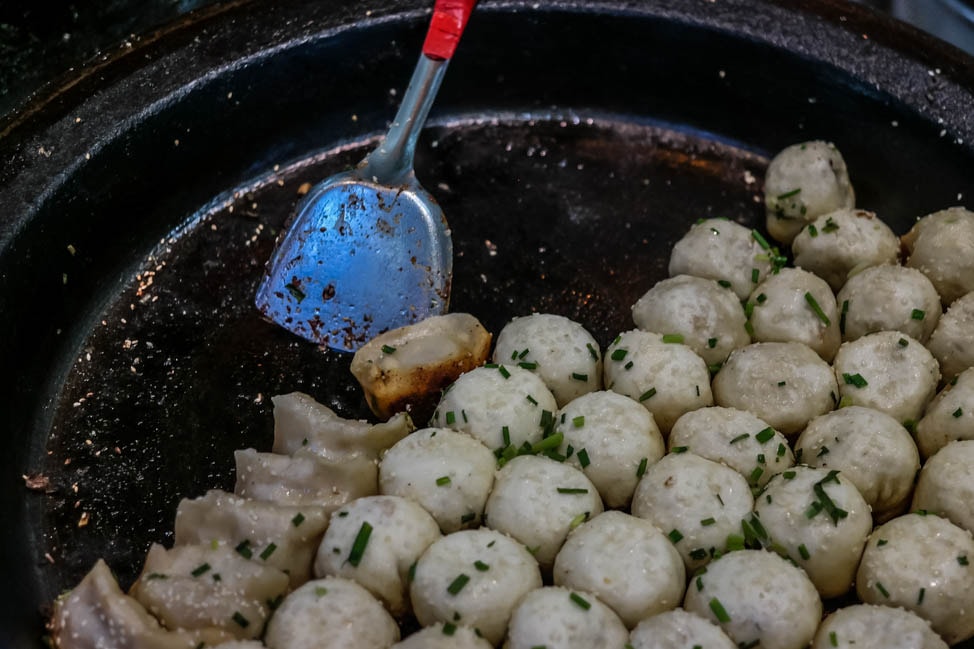 The "Pimento Cheese?" Award: Husk, Charleston, South Carolina, USA
Sean Brock's Husk Restaurant has become one of the main attractions in the city of Charleston. His fine dining restaurant exclusively sources products from the South, celebrating the heritage of Southern cuisine. We went out of our way to visit Charleston for the first time this year partly because of Husk. Thankfully, Husk didn't let us down. It was delicious.
We sampled their famous cheeseburger, which uses a heady mix of beef and bacon and is topped with plenty of gooey American cheese. The shrimp and grits was also one of the best versions of the dish we've had. But it was the pimento cheese that put this meal over the top and necessitates its inclusion in this list.
We saw most tables around us ordering the pimento cheese starter, and being fans, we went along with the crowd. The wooden board arrived, with grilled bread smeared with pimento cheese, crispy country ham, and pickle relish for sharpness. It is the kind of dish that puts a smile on your face.