Brunch is my third favorite thing in the world, after my family and my dog.
I love everything about brunch. I love the time of day it's served, I love the selection of savory and sweet treats that are offered, I love that drinking bubbly cocktails is encouraged, I love the lingering over the table, and I love that brunch ends early enough in the day to feel like there's time left in the weekend. It's just the best thing ever invented.
For a brunch lover like me, it's unsurprising that I seek out interesting brunch spots all over the world, and count brunch as the single best thing about being a resident of New York City (the meal and the city are nearly synonymous). London, unlike New York, doesn't have quite the same brunch culture.
Instead, London happily embraces the Sunday roast and afternoon tea as its contributions to the world of 'meals that are located in between other meals.' Worried about years without a proper brunch fix, upon arrival in London, sussing out the brunch situation was among my top priorities. I needn't have worried.
With all of the incoming New Yorkers, well, let's just say that brunch culture was an inevitable addition to the London food scene.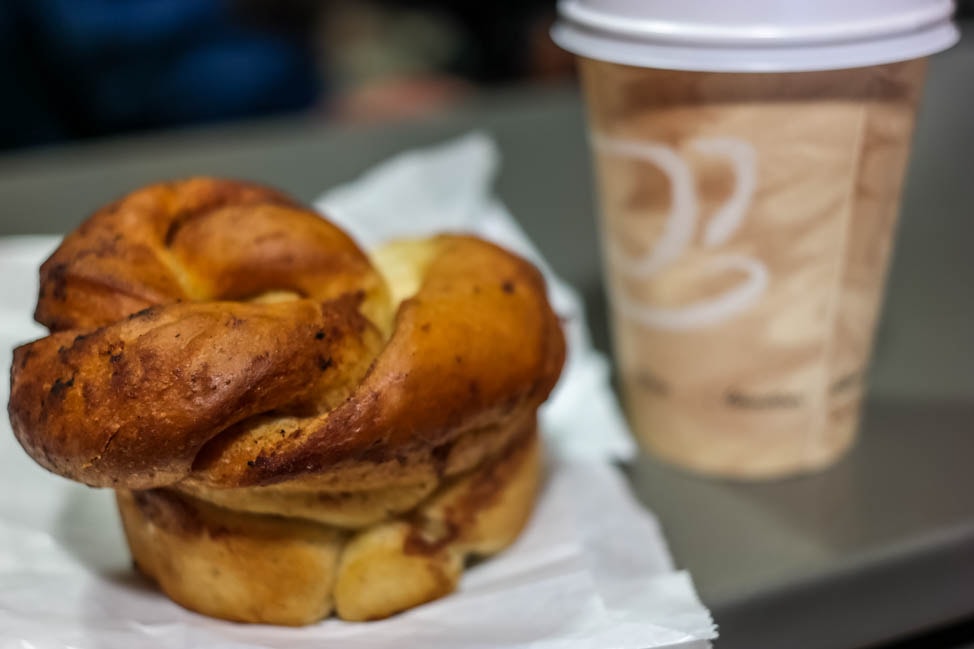 Here are some of my top choices for a stellar Sunday brunch in London, where even the pickiest 'brunchgoer' is bound to be satisfied.
Duck & Waffle –  Thank heavens for Duck & Waffle. It may be impossible to get a last minute booking, but making that reservation a month in advance is totally worth it. Perched above the city on the 40th floor of the 110 Bishopsgate building, a meal here is served up with quite the view. On a recent visit, we actually cheered the early setting sun as the city's lights came to life around us.
The eponymous brunch treat is crispy and sweet and doughy all at once, and the signature Bloody Mary packs a serious punch. The sweet waffles are pretty much a heart attack on a plate, but when you've waited a month for a booking, well, you deserve it.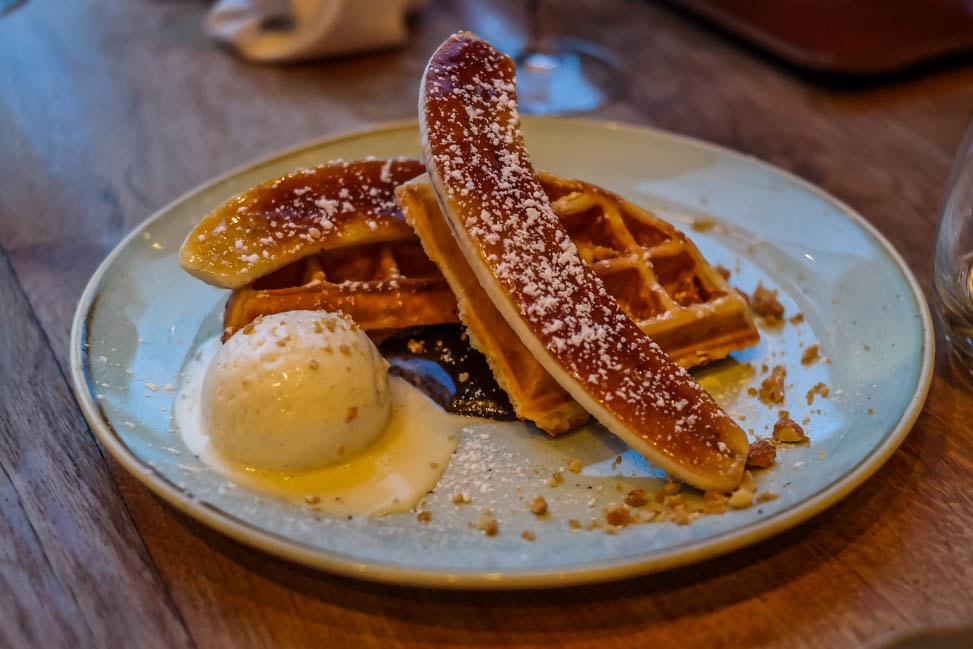 The Breakfast Club – We've mentioned The Breakfast Club so many times on this site. We're just super-fans. We went to our neighborhood location the first weekend we arrived in London, feeling homesick for our Sunday routine. The decor, 1980's American cinema-chic, had us at hello. We talked about John Cusack while drinking one of the best lattes around. I even remember what I ordered – avocado toast – my first taste of a London brunch menu stalwart. I was smitten with novelty.
We've been back to The Breakfast Club many times, to several of their London locations. Be warned, the place is insanely popular, so we like to arrive early. It's best when you're in the mood for a little game of Connect Four, and a trip down memory lane.
The Humble Breakfast Sandwich – Ok, this isn't an actual restaurant, though now that I write it out, I think it would make for a fantastic addition to the long list of London restaurants with bizarre names. I wanted to mention the breakfast sandwich because, truth be told, it's my single favorite dish that brunch has to offer. There are lots of great offerings out there, but they nearly all contain some kind of salty meat, a runny egg, and buttery, toasted bun.
I prefer to get breakfast sandwiches at weekend markets, while I'm browsing for flowers or used books. They're the best when standing on the sidewalk, leaning over so as to avoid dripping egg yolk down your shirt. The breakfast patty from Mother Flipper at the Saturday-only Brockley Market is perfection in a bun.
Dumplings' Legend – Dim sum is a nice twist to a normal Sunday brunch. It takes place the same time of day, and you leave with the same overindulged feeling you get after any well-executed brunch. Dim sum trends to the savory side, and is usually served with green tea, so if you're in the mood for a mound of sugar and alcohol, skip it.
Instead, small plates of dumplings and noodles and broths and more dumplings will litter your table until you cry, 'Enough!' And then you swear you will never eat anything ever again. And then four hours later you wish you had an order of dumplings nearby.
This Chinatown favorite is popular for good reason. The food is fantastic, the service quick and efficient and it's a great value. I'm getting hungry.
The Grazing Goat – Residents of Marylebone will no doubt be familiar with this local restaurant. Thanks to friends living nearby who insisted we cross town to meet them once for breakfast, we've been fans of the brunch here ever since. The coffee drinks are seriously some of the best in town, and they feature a menu that strikes the delicate balance of savory and sweet perfectly. Eggs benedict? Check. Fluffy ricotta pancakes with berries? Check, check.
In addition to the great food, The Grazing Goat is the kind of place where people come to hang out, that vague ingredient that makes brunch so special. Dogs lie under the tables, kids run around, coffees and cocktails flow steadily. And before you know it, the afternoon is almost over and you forgot to go grocery shopping and tomorrow is Monday. So you just say yes to one more drink and call it a day.