I sat admiring the scene unfolding at Brookfield Place, the new retail and restaurant complex in Battery Park City. The glass-filled atrium, with views across the Hudson River, was packed with men and women in suits and tourists wearing socks with sandals, all scurrying around, on the hunt for the best lunch spot. Two years earlier, when we lived just down the street, this building was empty. It was a retail wasteland, thousands of square feet of space devoid of life, save for a smattering of sad stores that never seemed to have any customers. My, how things have changed in Battery Park City.
Battery Park City Neighborhood Guide
Battery Park City is one of Manhattan's newest neighborhoods. And by new, I do not mean that some real estate firm, desperate to charge more for their luxury condos, mashed together words to rename an existing area, like Nomad (North of Madison Square Park) or Nolita (North of Little Italy) to create a new "neighborhood".
No, Battery Park City is the newest piece of land in Manhattan, created during the excavation for the World Trade Center in the 1960's. All the rock and debris removed to create the foundation was splashed into the Hudson River right next to the site, and Battery Park City was born.
Since then and up until a few years ago, nothing exciting happened on this new landmass. High rise condos went up, and that was about it. What's crazy, is that the location is ideal for all kinds of development. It sits on the Hudson River, and is close to the Financial District and the perennial hip and trendy Tribeca.
Now, Battery Park City is finally getting its due. The Brookfield Place has been a major driving force in developing the area and now, it's one of the better areas in NYC to eat, with a wide variety of options packed into a small area. The open, light filled food court area, called Hudson Eats, is jammed during lunch hours, with fourteen amazing food outlets and views of the Hudson.
It is basically the mall food court of my dreams.
Across the street from Brookfield Place, famous restauranteur Danny Meyer opened Blue Smoke, a barbecue restaurant, North End Grill, a high end spot featuring a massive scotch selection, and a Shake Shack. Restauranteur Stephen Starr opened the Mexican themed concept El Vez. Even famous chef Joel Robuchon is opening not one, but three (!) restaurants in the neighborhood, including his high end L'Atelier de Joel Robuchon. Oh, and don't forget that the new World Trade Center complex, complete with the newly opened One World Observatory on the 100th floor, is located right across the street.
Battery Park City, so hot right now.
Orientation:
So, where the hell is Battery Park City? It is located on the southwestern tip of Manhattan, stretching from Chambers Street all the way down to the aptly named Battery Park. It is long, but quite narrow, no more than two blocks wide at any point.
If coming from uptown, you can take the 1/2/3 train to Chambers Street and walk three blocks west, or the R/4/5/6 trains to City Hall/Brooklyn Bridge and walk about fifteen minutes west. The World Trade Center station on the E train also has a direct underground link to Brookfield Place, so you do not even have to venture outside to get to your eat-on at the complex.
If you are near the west side of the city though, you can hop in a cab and fly down the West Side Highway, getting from midtown to Battery Park City in as little as fifteen minutes, depending on traffic and how insane your taxi driver is.
Food and Drink:

This the the heart of the Brookfield Place food complex. Think of it was a French version of Eataly. The site contains two restaurants, a small grocery and retail store and a wide variety of stalls. There is the charcuterie bar, a fishmonger, a butcher, a cheese shop and of course, a bakery packed with buttery, delicious French pastries. There is also a wine bar, a rotisserie counter for takeaway meals and a salad/sandwich area for a quick lunch. It's quite an impressive operation.
You may remember Mighty Quinn from the last NYC guide, and here it is again. That's because it's awesome and is, hands down, my favorite barbecue in NYC. Their pulled pork is simply magical. The beans, the sweet potato casserole, the perfect sauce, the pickled chiles and cucumbers. Frankly, you can't go wrong.
From the guys behind Mile End, a smoked meat mecca, is this bagel concept, featuring not NYC bagels, but Montreal style bagels. The differences are minimal, but these bagels contain a little honey in the dough for added sweetness, but still have good chew. Their bagel sandwich concoctions are next level, especially the beet cured salmon. Probably the best possible way to start off your day.
Yes, Shake Shacks now dot the city (and country for that matter), but they are popular for a reason. This was our local Shake Shack when we lived in the area, so we had just a short walk between our front door and their famous concrete shakes and a burger. The fries are just okay, so save on calories there and treat yourself to a shake, preferably mixed with seasonal fruit and the brown butter crumble, a fruit crumble in milkshake form. It has fruit in it, so it's healthy, right?
One of our favorite sandwich joints in the city. Technically, the sandwiches are Cambodian, but they are almost identical to a Vietnamese bahn mi. Perfectly crusty, yet soft baguette, pickled veg, cilantro, chili mayo and whatever filling you want. My usual is the pulled Duroc pork with spiced honey, though the peppercorn catfish should not be overlooked. They also do grilled corn on the cob as a side, slathered with chili mayo, coconut flakes and chili powder. It would be best not to eat it on a date or around people you don't know well. You face will literally be covered in mayonnaise. In a good way.
Most takeaway sushi sucks, but Blue Ribbon Sushi puts out some high quality fish, even if you are on the go. This is one of the newest additions to Brookfield, opened in May. There is a full service sushi counter, where you can enjoy an omakase (multi-course tasting menu) if you choose, or just grab some rolls and get about your day. Everything is made fresh, so there are not stacks on stacks of pre-rolled maki rolls. They do it right.
Bonus Tip:
A Battery Park City neighborhood guide would not be complete if I skipped over our favorite hotel. If you want to splurge while in  NYC, think about the Conrad Battery Park City. It was our home for almost three weeks after Hurricane Sandy damaged our apartment building back in 2012 and for another week just before our move to London. It holds a special place in our heart.
The lobby is also stunning and the site used to be a Embassy Suites years ago, so that means that every room in the hotel is a suite, with a separate living room and bedroom. The Conrad also features the gold standard of my favorite amenity, a huge walk-in marble steam shower, complete with rain head. It is located across the street from Brookfield Place, the Shake Shack is around the corner, it has a rooftop bar with Prosecco on tap (!) and there is an eleven screen movie theater in the hotel. Not a bad place to spend your days in NYC.
Have you spent time in Battery Park City? What are your thoughts? Share in the comment section below!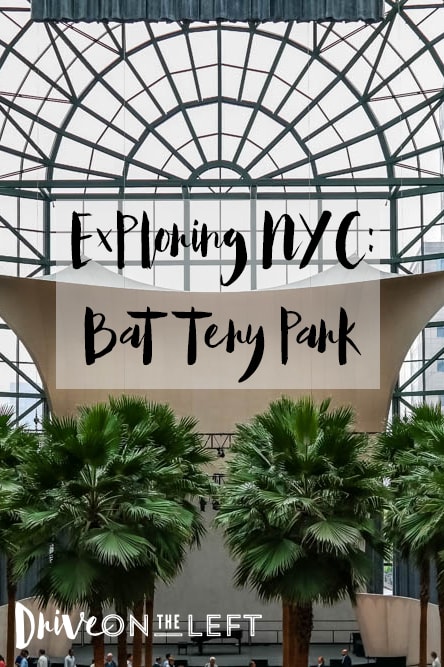 <!–MAP→